Stealing a line from Kiss- "You wanted the best, you got the best, the hottest un-used bike in the world…. Yamaha YSR 50!"
(Did you play the guitar intro to Detroit Rock City in your head like I did?) I know, that's both corny and a bit of a stretch, but this little fella has A LOT to offer the right person and I mean A L O T!
If the 1.9 mile headline didn't grab your attention surely this little tidbit from the seller will-
This is a 2 mile never titled YSR50. Yes the bike has 1.9 miles on it. Prev owned by Brock Yates the founder and screen writer of the Cannonball Run movie starring Burt Reynolds. This bike is a piece of history with documentation to match. This was the bike that hung on the wall in the Cannonball pub in New York for years.
I'm not going to deep dive into the previous owner and all of that because the seller has it well documented, but for us that grew up in the 80's, it definitely adds to the fun factor of this machine.
It's no secret I love Yamaha's and I love them even more when they're dressed in red and white. The little YSR's are high on the fun factor scale, but with their 49.3cc 2-stroke single and 38 mph top speed rank a little low on the performance scale. Granted, I'm not sure I'd want to go faster than 38 mph, but I would like to get to it a little quicker.
Designed to look like it's much, much larger and more powerful RZ500 sibling, Yamaha packed a lot into the YSR's such as a disc brake up front, a 5 speed transmission and a full set of lights. Did I mention it's a two-stroke 🙂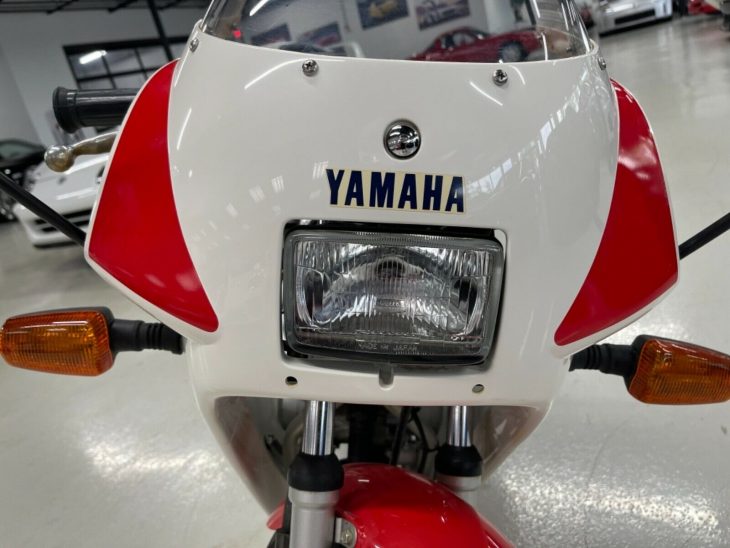 As can be expected after hanging on a bar wall for a few years, this one will need some TLC, but by the looks of it, it won't take much to bring it back to showroom condition. The seller states it's not in running condition and is being sold in "as is" condition. I suspect this will be the preferred condition for most serious buyers because they will want to bring it back to life under their own watchful eyes.
Fluids are in bike and was running approx 6 months ago however wont currently start. Carbs prob need cleaning.
Also the fuel door seems to be stuck. Key does go in and slightly turns however wont unlatch. The bike remains untouched as it hung in the bar. Still dusty and has spider webs on it. I did not want to clean it and tried to preserve its heritage.
Again, it shouldn't take much to bring it back, but you will have to bring some serious cash to the table to park this one in your collection. It's being offered at $15,000 B.I.N. or you can submit an offer. I'm thinking this one will sell because unused anything from 1987 is far and few between and when you tack on the history of this machine . . . well, it simply makes it more fun.
dd