Update 2.18.2012: Back on eBay due to dead beat bidder… Links updated. -dc
Update 2.3.2012: Originally listed in October 2011, this RZ350 is back on the market and now on eBay. Links updated. -dc
Our latest feature listing is for this incredible time capsule Yamaha RZ350 showing just 1391 miles! The RZ350 is one of the most popular bikes on our site and this one looks like a great opportunity.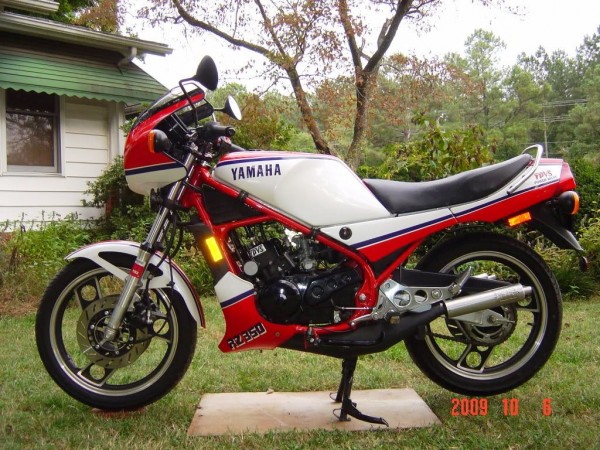 From the seller:
This is my 1984 RZ350, This is probably the cleanest RZ350 you will ever see unless you can find one still in the crate. The bike only has 1391 original miles on it, the bike is pristine, 100% flawless and is bone stock with exception of the DG chambers and jet kit and K&N filter in the original air box. The bike has never seen rain, nor has it ever been dropped. i usually put one mile a month on it just to keep all the seals wet and put new gas in it every three months or so. i just retired and am moving to medellin colombia and cannot take the bike with me due to strict importation laws in colombia. the bike is located in alachua florida, the bike can be picked up here or will help your shipper load the bike for you. price 6900.00 dollars
What can be said that we haven't said before about these great 2 stroke machines?! Here are some excerpts from previous previously listed RZ350's on our site:
Yamaha Power Valve Systems worked as well as any back in the day and if memory serves me correctly the little RZ sported about 45hp. I know 45 ponies doesn't do much for today's sport bike rider, but you couple that with less than adequate 18? bologna rind tires and you've got a lot to handle.
[…]with roughly 52 ponies of two-stroke power and weighing in at 370lbs, I suspect it's a blast.
These little bikes are lightweight, offer nimble handling, have decent power, and make all the right noises. Unleash your inner hooligan and cover your tracks with a fog bank of blue smoke!
As described in previous RSBFS posts, RZ350s are fun little strokers that are getting harder to find.
[a great] opportunity to grab that elusive 2-stroke that you might have missed in the showroom back in the 80's. Although these bikes are not as rare as some of the hand-built Italian hardware we occasionally see on RSBFS, finding a good example of a survivor is difficult.
You get the idea — there is a reason these are so desirable and collectable!
Good luck to the seller though I doubt it will be difficult to move an example this perfect!
dc