Please join me in welcoming back Doug to the website — Yep, the same one that wrote for the site between 2008 and 2012! Feel free to give him some crap in the comments below to make him feel right at home again 🙂 -dc
Oh, hey RSBFS.com readers!  I would like to make you aware there is a bit of hazing going on at the corporate RSBFS.com offices.  You know, being the new guy and all Dan, Donn and Mike told me I had to start small and work my way back up to the real meat and potatoes and prove my worth (again).  You know- "Get my feet wet".   Not being one to back down from a good challenge I went off in search of something to blog about.  Guess what?  I landed one!
Now, before you start throwing stuff at me, hear me out…   In some cases, "rare" is in the eye of the beholder- whether it is a piece of Prime Beef, a limited run Italian twin or a one year only Honda 50cc screamer.  In this particular case, it's the later- a 5 speed, Honda 2 stroke screamer!  Food delivery anyone?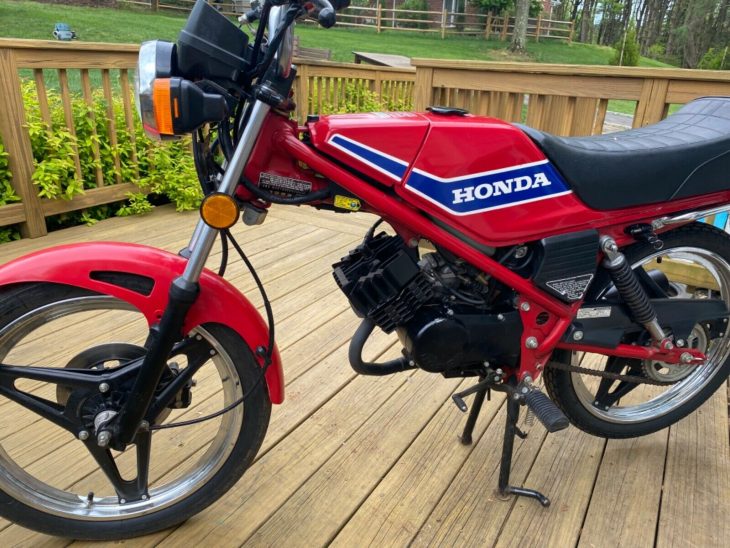 What do ya think?
Okay, I'll get down to business.  The Honda MB5 was imported for one year and one year only.  1982 was the year and you could park it in your driveway for a mere $598 bucks!  That would be steal in today's market, but as it sits, this one has an asking price of $3,000.  What that will get you is a very nice looking 39 year old motorcycle loaded with some pretty nice 18″ Comstar wheels, business in the front disc brake and a party in the rear drum brake, and a 5 speed gear box.  I would like to come clean on this one and let you know it's currently not in running order.  However, according to my long time buddy Steve@Speedwerks, "If your 2 stroke won't start you have a gas, air or spark problem."  Sounds simple enough right?
From the seller-
You can see by the pictures it is in very good condition I have the title it does not run seems to have some kind of electrical issue has perfect compression but no spark
I think this one is fun, neat and pretty trick with those Comstar wheels.  Is it worth the asking price?  I'm not sure, but I'm guessing you can jump over to HondaMB5.com and find out real quick what it's worth and while you're there, you can probably find the answer to why it won't start.  If you make the drive to Delaware to pick this one up you can always stop by and have Steve look at it.
Oh, I forgot to mention it only has 1053 miles on it!
dd