Update 3.16.2014: The last time we took note of this CBR400RR was July of 2012, and before that was 2010. Maybe 2014 will be the right year for this one. Links updated. -dc
If rare Honda's are your thing, then you got to check out this CBR400RR. Granted, these aren't too rare in certain other countries, but here in the US they don't show up to often. These feature a 53hp inline four that screams to 14,500rpm while tipping the scales at roughly 360lbs dry.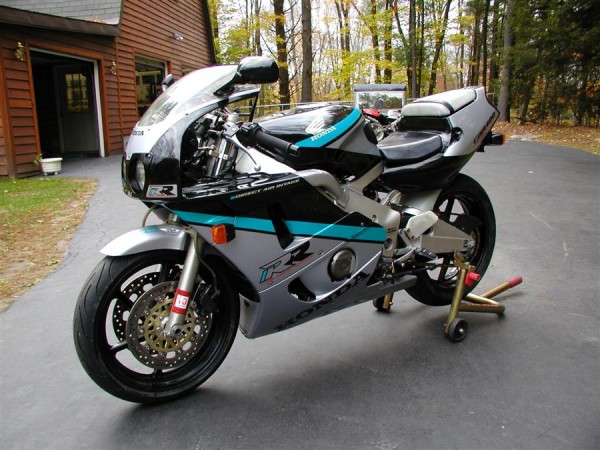 OG RSBFS readers might recognize this exact bike being for sale in October 2010 (check Doug's post here). It doesn't look to have accumulated a single mile since the last go around and the sale ad is virtually the same, though now with more pictures.
From the Seller:
As much as it pains me to do this, I am putting up my NC29 1990 CBR-400rr for sale. I have owned this bike for years and now have a new grandson to spend my money on. My baby RR is 100% street legal and you can ride it anywhere the day you get it! NO WORK NEEDED! She has new Pilot Powers front and rear, EBC brake pads, braided lines, carbon slip-on and Motul 300v synthetic in her veins. Motul brake fluid, Fox rear shock, steering damper, F-3 rear wheel conversion (17 inch) and progressive fork springs. ALL lights and electronics are 100%. I have safety-wired most every critical bolt because frankly I don't like thinking about wheels, brakes, or oil plugs falling off. The bike runs and rides perfectly. For some unknown reason the speedo needle is stuck on zero but the odometer is still working, so mileage is accurate and is in kilometers. She is jetted and piped for optimum performance. Cosmetically all the ORIGINAL PLASTICS are in good shape, with the exception of a few rash marks from a previous owner. I always intended to restore the bodywork, so I purchased a set of aftermarket plastics and never got around to switching and restoring the originals. ALL will be included in this sale as well as a plethora of NEW SPARE PARTS (a couple grand worth) that are impossible to get and will keep you riding for years to come. SEE THE PARTS VIDEO for details. Please look closely at all the pictures and watch ALL the VIDEOS for the most accurate representation of this bike and the included parts — and to see it run. I have transferableVermontregistration of ownership so this bike is street legal in allUSstates. If you would like a copy to check with your local DMV, I would be happy to provide it.
One of three videos from the auction page
http://www.youtube.com/watch?v=OPd7XmC1Ybo
Looks like the bike is still in the condition it was in back in 2010, including the suspension modifications (among others) and the slightly scrapped fairings and engine case. Now, I will say that this appears to be the exact ad and photos from the previous go around. Having said that, if this bike truly hasn't acquired a single mile in that time I would hope that it is still in the condition as described. But this is a cool and unique bike that you can ride and enjoy without being afraid of a scratch. It also comes with a bunch of spare parts and a title ready to go. Check out the auction here for more videos and to place you bid!
-JS