Has it really has been over 20 years since the 916 debuted?  Back in 1995 the blood beauty from Bologna Italy appeared in the USA and was a sensation, a bike that tempted with a form that couldn't possibly match the function…but it did.  The shape became a signature for Cagiva (who owned Ducati at the time) and was replicated in the lineup via the 748/Cagiva Mito and continued on in the 996 and 998.
The Tamborini penned design was so iconic that it still appears in lists of important designs in motorcycle history by authorities like the Guggenheim Museum.  In a retrospective on the 1990s, Motorcyclist magazine simply stated, "1994: Ducati 916 debuts. Did anything else happen that year?"
Note: The 916 was introduced in 1994 but didn't become available for sale in the USA until 1995, so even though this is 1995 model it is a first year edition in the USA – Marty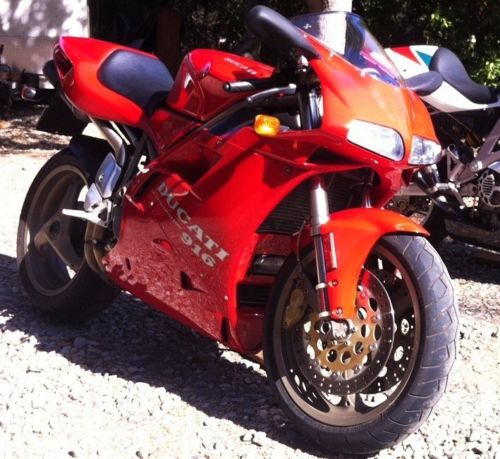 This lovely survivor appears to be a basic 916 edition, which is also referred to as the "Strada".  It isn't as exotic as the SP or SPS versions that followed it so it probably won't appreciate in value dramatically and it lacks the refinements of the 996 and 998, including most significantly the better riding position.  Also even though it has some Cagiva stampings on it, the VIN# leads me to believe this is not an early Varese produced model.
On the plus side condition looks to be quite good, it has under 8,000 miles and I am pretty sure there is a Bimota in the background so it seems safe to say this one is owned by an Italian bike fan and possibly a collector.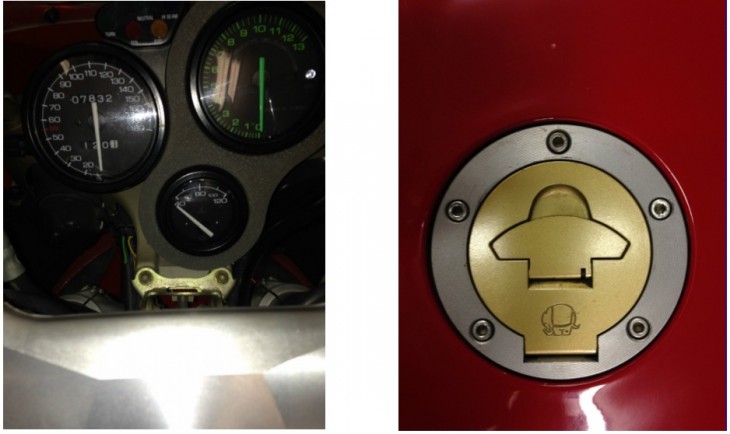 According to the seller has had some recent services.   However I don't see any mention of fresh tires/rubber or the all important belt maintenance so some additional monies would probably be needed to get this one back on the road.
Here is what the seller has to say;
First-year-in-the-USA unmolested Ducati 916 in excellent, low mileage condition.
Almost completely stock
Starts immediately and runs perfectly.  Brand new lightweight Lithium-Fe battery just installed
Oil & filter changed, forks serviced 30 miles ago.
Sargent seat
Termi mufflers (stock Ducati mufflers included in sale)
Evoluzione clutch slave cyl and braided steel brake lines are the only mods done to this survivor bike.
Some very small flaws- typical scrapes on the wheels due to tire changes, a small and barely noticeable ding on tank, very small chip on the tank about 2″ in front of the gas filler.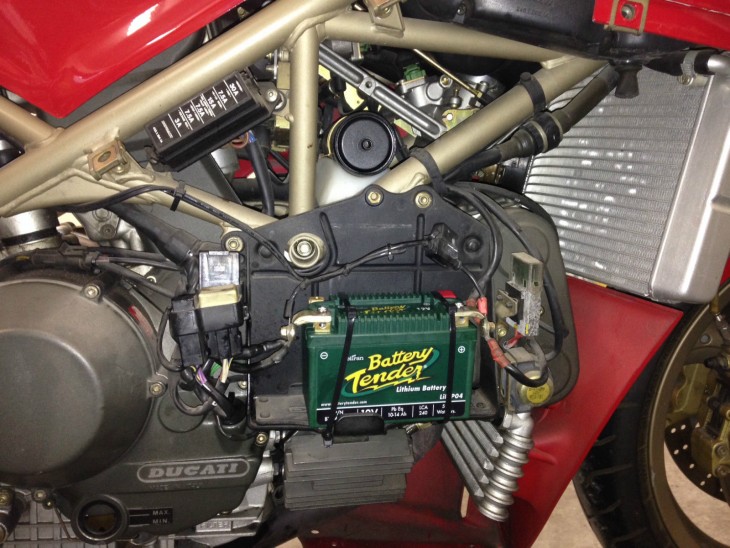 Is this clean early edition 916 worth the $7,000 USD asking price?  Well the last one of these we had on RSBFS looks like it went for about $6,900 USD so the price is right in line with that one. However right now prices for these seem to be a bit all over the place; I found the following current listings with a range from $4,000 to $16,000 for a couple of SPS editions.
I know some would make a case that the 916/916SP/916SPS and later 996 amd 998 appear here on RSBFS so often that they aren't really rare sportbikes.  This one looks to be in very good shape but it isn't completely stock, the seller indicates a few minor blemishes and it is the Strada model which does not seem to be highly sought after by collectors.  But the 916 was probably THE bike that took Ducati from being a still struggling mid-level manufacturer to object of lust for a generation.   I think this one might appeal to someone who originally lusted after one and couldn't afford it at the time…perhaps good for weekend rides and then life as a living room object d'art the rest of the week.
-Marty/Dallaslavowner