Vying for additional power without displacement, the 1980's saw major cycle makers attempt to tailor the excess heat and complexity of turbocharging to sport bikes.  Suzuki's entry is the rarest and this one has ultra-low mileage, and just one tangle with the mischievous elves that tip stuff onto parked motorcycles.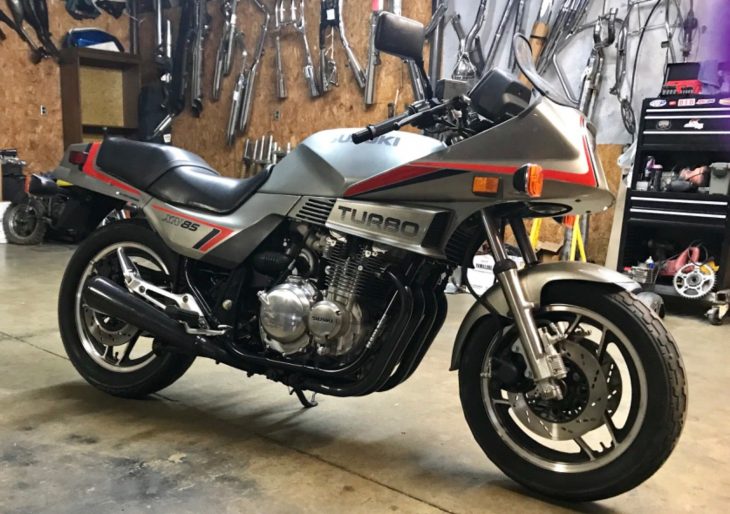 Suzuki based their turbo on a 673cc inline four, and used electronic fuel injection to tailor the fuel delivery through the variable throttle / boost map.  85 hp are claimed, leading to the model designation.  An early adopter of innovations like Full-Floater rear suspension, air-oil cooling system ( with piston squirters ), and 16-inch front wheel, the XN85 was a bit of a tech showcase.  Kayaba provided the suspension, with anti-dive forks.  Triple disks are big but not oversize considering the 550 lb. ready-to-ride weight.  Angular fairing and sculpted tank owe royalties to the then-recent Katana.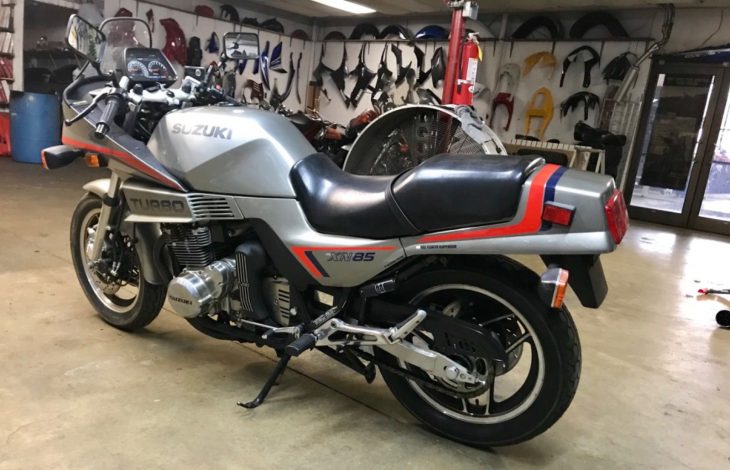 Detailed photos should be part of an auction with a high falutin' buy-it-now, which this eBay bike parts dealer probably knows.  Nothing a pre-purchase inspection can't remedy, however.  Some history and service record(s) would be a help, even for a bike with so many years and so few miles.  Short and sweet from the eBay listing:
483 miles – all original except petcock, last ran in December 2018. Also, have Service Manual, and original title.

Right rear tail section has scratches that can be fixed.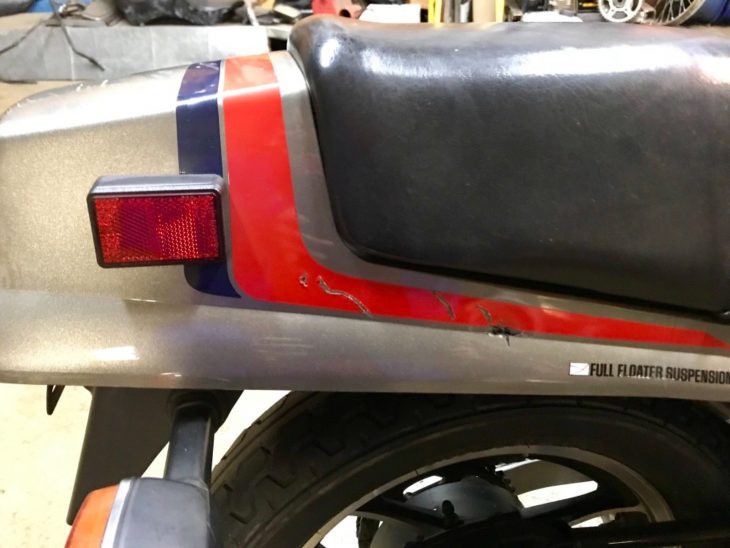 Suzuki's turbo was the sportiest of the big four's litter, though even at that it's more of a GT.  None were real showroom success stories, but maybe their role was more of leading edge glitterati for the dealer.  Under just the right conditions, the XN85 could woosh through the traps first, or just look great on the sidestand.  Either way the XN85 can provide liter-size performance from a boosted mid-size, and maybe the make offer button will let us know whether this is a survivor or museum piece.
-donn