Descendant of Yamaha's OW01 homologation special, the YZF-750R was a vaunted endurance racer in race trim, and a two-time Bike of the Year winner in the mid-90's.  A victim of the displacement arms race and an aging platform, the Yamaha 750 lasted only a few years.  This YZF might be a little rough around the edges but has great potential.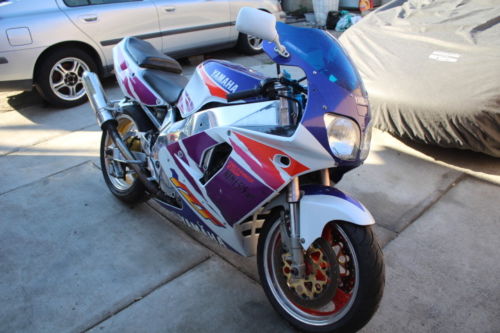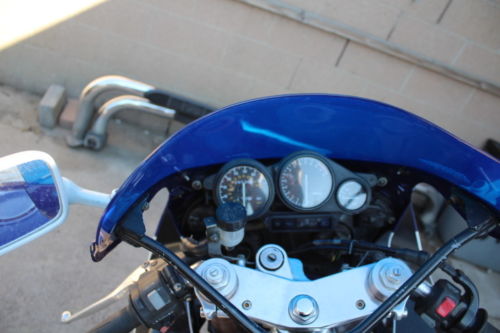 The five-valve Genesis head was used on the YZF-750R, pushing 125 hp, with the EXUP exhaust valve helping broaden the curve for the 59 ft-lbs. torque.  The quick-handling chassis was complemented by 41mm upside-down forks and slowed with six-piston calipers over 320mm disks.  Full bodywork has an aggressive stance and room for a co-rider.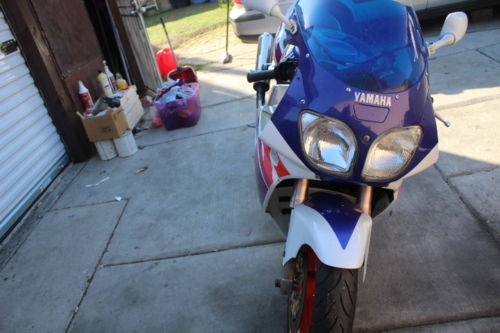 Resident of sunny California, this YZF appears to be complete, with mandatory rear fender-ectomy, turn signal change and smaller muffler.  Pictures need more resolution but this bike may be Öhlins equipped, and only minor scuffs are apparent.  From the eBay auction:
29,000 miles
carbs recently rebuilt, may need to be adjusted
starts and runs

a few other items of interest:
MSRP of $10,500 back in 1994.
inverted forks
6 piston calipers
26,000 mile valve adjustment intervals
Genesis 5 valve head
1995 bike of the year for SportRider
1994 bike of the year for Cycle World
only real contender against the Ducati 916 in those years
The Yamaha had a great combination of handling, power, torque, and brakes, and a number are seen with significant miles.  Build quality was second only to Honda and got demerits for just the 432 lbs. dry weight and notchy transmission.  Though better photos and history would help a serious bidder, it's a no reserve auction and might be right for a knowledgeable fan of the model...
-donn