Warning!
This post is in our archives. Links in this post have been updated to point to similar bikes available to bid on eBay.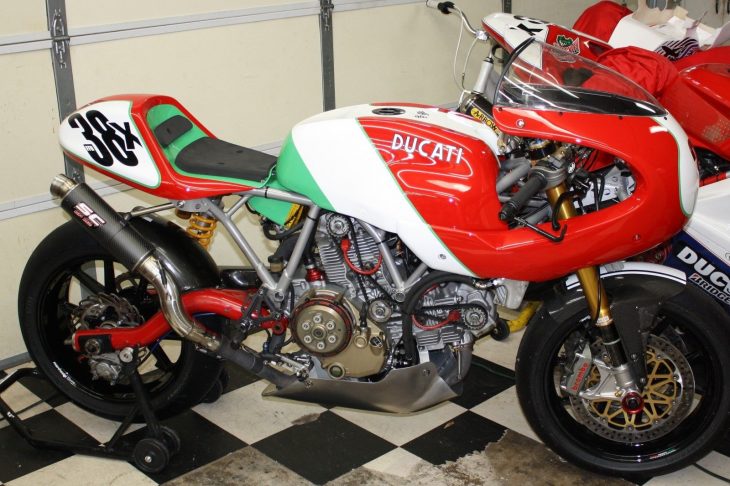 One school of thinking about fast bike riding posits that the goal is speed, and that the motorcycle itself is a mere tool for achieving that end. But although a track-day GSX-R makes plenty of sense from a purely practical point of view, practical can be a little boring, so why not go fast with a bit more style? A buddy of mine is a fan of the MV Agusta F4 and found an example hiding in the Pacific Northwest with a shockingly low price a while back. Apparently, the rear wheel bearing failed ["Oh, don't worry, they all do that…"], leaving the bike an unrideable, but repairable albatross around the owner's neck, and he was selling it at a shockingly low price. It might seem like sacrilege to turn Tamburini's masterpiece into a track hack, but let's face it: that's where it belongs, since it sucks out loud as a road bike. And it just seems much cooler to go racing or track day riding on something like an F4, or a Bimota YB9, or today's Ducati SportClassic Paul Smart 1000LE.
Powered by the twin-plug "Dual Spark" version of Ducati's air and oil-cooled two-valve v-twin that was good for a claimed 92hp, the SportClassic line wasn't especially fast in a straight line, and you'd think that, racing cues aside, the Paul Smart is more of a bike for posing during weekend espresso runs to the local cafe than the foundation of a race-winning machine. In stock form, you'd basically be right: obviously, wire wheels aren't ideal for a real performance machine, and that air-cooled engine isn't exactly a powerhouse. But Ducati really don't seem to know how to build something purely for posing, and the basic platform is very sound. Throw in some top-shelf suspension bits like the Öhlins TTX rear shock and FGRT819 forks on this bike, replace those heavy wire wheels with some magnesium hoops, fit some lightweight bodywork, build a big-bore engine with the very best parts, and the result is something pretty special.
Obviously, if you plan to actually race your collectible Ducati, you've got to carefully build the machine to meet specific class requirements. Luckily, that's already been done in this case. According to rider "Fast Frank's" web bio, it looks like this Paul Smart was prepped for the AMA's PRO Moto-GT2 or maybe the Lightweight Superbike class. Racers can feel free to chime in in the comments.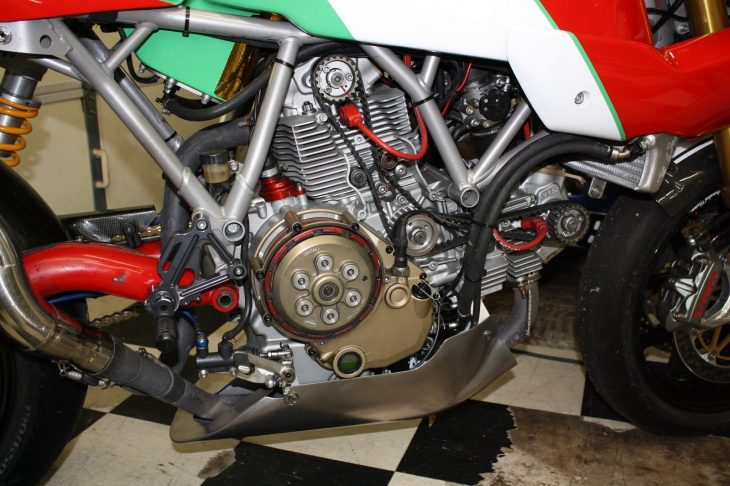 From the original eBay listing: 2006 Ducati Paul Smart 1000LE Race Bike for Sale
2006 Ducati Paul Smart 1000 Limited Edition Road Racer

This bike has an Excellent history of winning races and Championships at the hands of Fast Frank

Chassis Specifications:
AIM Dash
Ohlins FGRT819 forks with DLC coated for tubes, forks built by Fast Bike Industries
NCR adjustable offset triple clamps
NCR Fairing Bracket
Custom built Ohlins TTX rear shock (built by Ohlins USA)
Brand new Marchesini Magnesium Wheels
ETI Carbon/Kevlar Fuel Tank, underside of tank covered in Gold heat resistance tape
New Brembo HP Front brake Rotors
Brembo RCS19 Brake and Clutch master cylinders
Brembo Mono Block front brake calipers
Lightened rear brake rotor
Spiegler brake lines
Vortex Clip-ons
Air Tech Fairing and seat
Custom Paint by Asher Finishing (the flags on the tank are hand painted)
Hand made Aluminum belly Pan
Carbon fiber vented front fender
Carbon fiber rear fender
Fast Frank Front and rear wheel quick change kits
Under mount rear brake caliper
Shorai Lightweight battery
75% of hardware is Titanium
DID ERV3 520 Chain
Motion Pro Rev 2 Throttle
Rizoma Brake Lever Guard
Quick Shifter

Engine Specs:
2009 Ducati M1100 Engine (cases are lighter, stronger and have top mount ign pickup and oil sprayers under piston)
Lightened, balanced and knife edged crank
Carrillo Rods
1098 Crank Main bearings
Pistal 100mm 1123cc Pistons
Millenium tech bored and plated cylinders
JPrecision CNC ported heads with 47mm intake and 41mm exhaust valves
MBP Valve collets
Low resistance closing rocker springs
NCR Race Cams
NCR Large Oil Cooler
Micro Tech ECU
Magnesium Valve Covers
NCR Magnesium Side engine cases
Ducati Slipper Clutch
SC Projects Racing carbon muffler with Termignoni Headers
Tip Over Sensor
Ducati Superbike Stator/rotor (lighter weight)
Lightened primary and cam gears
Billet aluminum cam belt pulleys
Custom 8mm Spark plug wires
MotoCorse over sized throttle bodies and velocity stacks with K&N filters
Billet engine breather
I normally try to edit parts lists down a bit, but this one is pretty exhaustive and the inclusion of some choice NCR parts suggests very deep pockets: this obviously not some quick-and-dirty conversion from a salvage-titled roadbike into an affordable trackday ride, it's a fully-developed, race-winning machine. The starting bid is set at $44,995 which is probably far less than it cost to build. Obviously, the owner will never recoup their investment, and their loss is your gain, assuming you have a air-cooled Ducati racebike-sized space in your garage and enough skill to take advantage of this example's well-developed handling.
-tad