In an unusual North America-only Special Edition, Ducati kept a low flame under interest in the SportClassic. The numbered edition of 100 is one to consider for fans of the model, with great retro looks ( spoked wheels and all ! ), 992 cc dual-spark power, this one with neat Zard exhaust.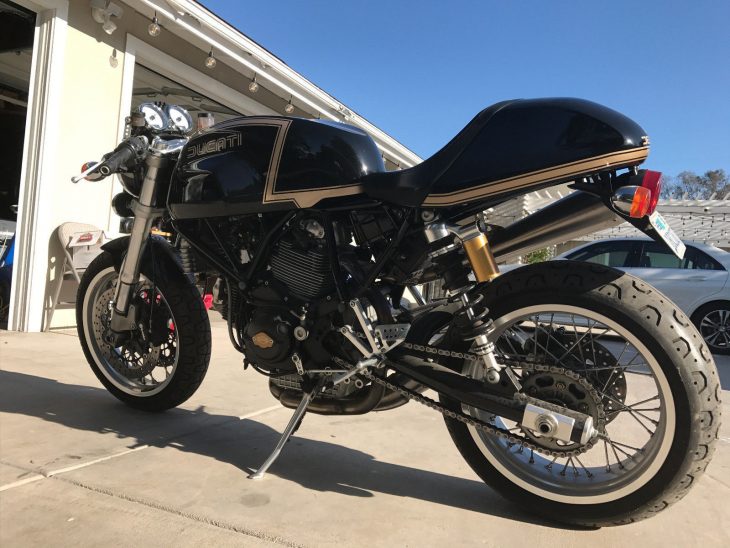 The SportClassic had been around since 2003, fuel injected with nice power at 92 hp from the 992cc air-cooled desmodue.  Great torque with 67 ft.-lbs., and cafe racer looks.  The side-mounted Sachs rear shock makes you think they're will be one on the other side, where the mufflers are.  The 43mm upside-down Marzocchi forks have a more modern look, as do the big dual-piston Brembo brakes.  Back to the past for the 70's Ducati logo and gold stripes over black, but it's cool.
A little dusty from its rest in the back office, the owner reports SE number 88 has seen less than 5,000 miles, and has a few nice mods, plus the red master key.  No word on maintenance but except for the valve adjustment and belt change, it's an easy annual affair.  Notes from the eBay auction:
Sport Classic SE #88 out of 100
Fat Duc emulator
Zard full exh. stainless
billet flywheel
i have the stock mirrors
i also have a 749s front end if someone wants to convert it over. with 4 piston calipers.

title is free and clear
has less than 5k miles on it.
super clean bike. i just do not use it. nor did i plan to use it.
lucky number #88 out of 100 made. i bought it specifically for that and now its just time to let her go. Always sat in my warehouse and was taken cared for.
The SportClassic line was a nice success story for Ducati and Pierre Terblanche, and used asking prices are routinely more than MSRP.  The starting bid for this SE is half-again as much as it was new.  Perhaps coincidentally, the model also ushered in the era of special editions, limited runs of colors and configurations, sometimes a few at a time !  More versatile than the occasional retro model, the special edition has become a major tool in the marketing department.  Allowing Ducati to tell the story of the mid-70's Darmah, the Special Edition SportClassic has great livery in a back-to basics package, guaranteed to push the buttons of at least 100 fans.  This one has the makings of a great ride…
-donn