For Sale: 1983 Honda CX650 Turbo on eBay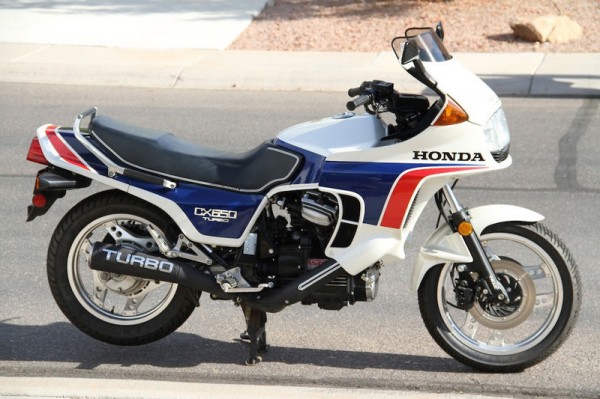 Welcome to the future: The Turbo era! It is hard to believe that this beauty is 28 years old – it still looks futuristic, and the roll-on performance must be experienced to be believed. This survivor has just over 18,000 miles on the odometer, and still shows very well.
The heart of the CX650 Turbo is a traverse 80 degree v-twin last seen in the CX Customs and Silver Wing series of bikes. Internals have been heavily fortified to manage the nearly 17 psi of boost, along with larger valves and a slightly lower compression ratio. With computerized fuel injection (which included the ignition control unit), the CX650 Turbo was civilized for daily riding, but a beast on the boost.
These CX650 Turbos are rare. Less than 1,800 were built worldwide, and just over 1,000 made it into the US. Original pricing put them thousands of dollars over the cost of a brand new literbike. Because of the expense, most people did not jump on the turbo bandwagon, leaving Honda (and others) with a poor seller. Fast forward 25+ years and that poor seller now becomes a collectable model!
From the seller:
1983 Honda CX650 Turbo
Very rare and desirable motorcycle, Honda only imported 1015 back in 1983, far less exist today and far less in this condition.

18,700 miles
Current tags and emissions, clear title.

Bike is ready to ride and enjoy or add to your collection. All the known issues with the CX turbo bikes have been serviced (stator, water pump seal and cam chain). I have receipts for all the service work completed.

Recent service includes:
new stator
new cam chain
new water pump, countershaft, shift shaft seals
front and rear brakes and calipers rebuilt with new brake pads
front forks serviced with new seals and fresh fork oil
air filter serviced
new front and rear Metzeler tires
new spark plugs, oil and filters
new rear drive differential oil
new radiator coolant
suspension has been serviced and fresh grease installed

Bike is complete with enameled key, Honda shop manual and original owners manual and tool kit. Decals are bright and clear, paint is glossy and still looks great! There is one slight scratch on the front fender (see photo) and the trip odometer knob is missing (very common on the CX500/650 turbo bikes, see photo), clock on dashboard does not work. This is a beautiful motorcycle that is ready for a new home.

If you have never had the opportunity to ride a Turbo CX650 you are missing a real treat, these bikes sound amazing and the highway speed roll on acceleration is amazing. I am going to miss this bike from my collection, I hope it finds a good new home with an owner that can enjoy the bike as much as I have.
These Honda Turbos are pretty bulletproof – after all, it IS a Honda… The only weak link in the CX650 Turbo's armor is a weak stator which tends to burn out early, leaving the bike to run on battery power only, and eventually resulting in a no start situation. Fortunately, this one has already been replaced! Other than that, these bikes are good for miles and miles of sport touring fun.
Now the hard part: This seller is asking a BIN of $9,500 for this '83 CX650T. The bike does look to be in great condition, and prices have gone up on these recently. However the asking price represents a few thousand over the going rate… Turbo owners the world over are secretly hoping that the seller gets the asking price to help push up values, but I see this one sitting on the shelf for a little bit longer at this price. The seller is open to offers however, so you might still want to check it out here. Enjoy!
MI