Warning!
This post is in our archives. Links in this post have been updated to point to similar bikes available to bid on eBay.

While the majority of RSBFS posts are tied to North American ebay listings we really do like to showcase bikes from all over the world.   You could even say we seek to span the globe to bring you a constant variety of RareSportbikes…the thrill of the Britten V1000…the agony of  the Bimota VDue (NOTE: Bonus points to you if you read that bit of text and heard the voice of the dearly departed Jim McKay).

Today's post is a very nice 1998 Suzuki TL1000R located far from the RSBFS offices in Wellington New Zealand.  This one looks to almost completely OEM and has the lovely and cleanly-styled phlolina-yellow bodywork which seems to be the most desired by collectors.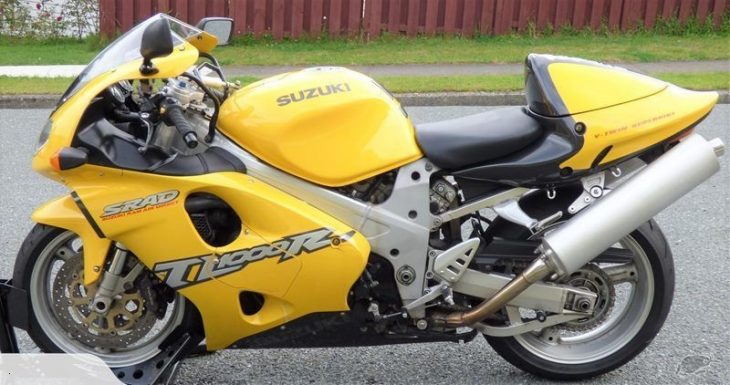 For anyone unfamiliar with the TL series, lets begin by saying there aren't many motorcycles that have been through such a roller coaster of desirability.  It all began in the late 1990's when Ducati V-twin powered machines were killing it on the track and the sales floor.  In response Suzuki announced they would deliver their own V-Twin powered sportbike, including both a WorldSuperBike/WSB capable machine to compete against the Ducati on the track and a street version for everday use.  The result was the TL-S/R series.
Anticipation for the new Suzuki V-Twin was very high and the TL-S/street version was launched in 1996 with the R version scheduled for the next year.   The quick verdict was that the new 90 degree v-twin engine was equal to or better the Ducati .  However, while the engine was good,  a significant handling issue quickly reared its head; front wheel lift (no pun intended).   The problem was quickly traced to the rear suspension, which was an offset rear shock with a separate rotary damper, a setup that had been chosen due to the reduced space caused by the new V-Twin configuration.  While this configuration worked in day to day riding,it could become overwhelmed by heat and heavy loads, which obviously happen on a sportbike quite a lot.  The result would be front end lift and when a rider rolled off/dropped the wheel, major tank slap and high side crashes could happen.   The problem was so significant that Suzuki offered steering stabilizers as standard on both the TL-R launched the next year and TL-S's but the entire TL lineup never really shook its reputation as a "widowmaker".
Note:  For anyone interested, a really good explanation of the rotary suspension function on the TL can be found here.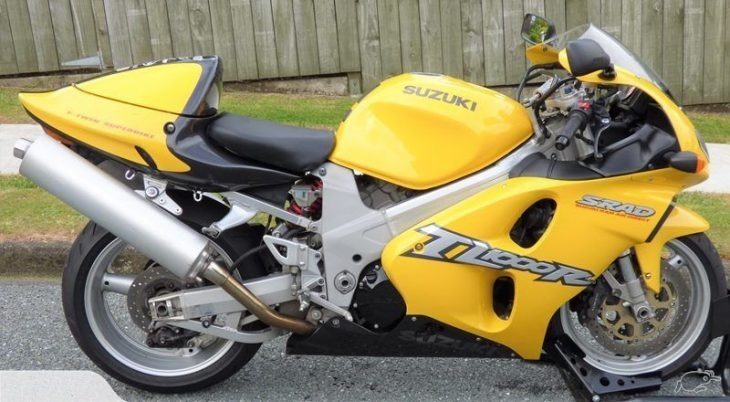 The handling wasn't the only challenge the TL1000R had to deal with.  Another major issue was that the R version never really delivered on its promise to rival the Ducati as a WorldSuperBike/WSB machine.
"The real killer though was that the R never came close to being the Ducati-beating WSB-contender Suzuki intended it to be.  Despite its stumpy wheelbase, the R was confoundingly both heavier and larger than the S and too bulky all around.  Equally problematic was the motor: although producing a claimed 135 bhp in stock TL-R trim. it proved difficult to tune…After only 2 seasons Suzuki decided it'd be too expensive to develop/race successfully and re-focused its race development efforts on its proven inline 4 GSX-R750 series instead."  – Practical Sportbikes 2017
Perhaps the final issue that set the TL1000R up for sales failure was that Suzuki never developed a unique identity for the bike.  The TL1000R was even offered in the Suzuki traditional blue/white color scheme which made it hard to distinguish from the its GSX-R sister bike.  Since a large part of the appeal of the TL was supposed to be that it was NOT an inline 4, making it look just like one seems to be quite an odd decision.  The result of all this is that the TL1000R developed a reputation as a big failure for Suzuki and some models were left on the sales floor for quite a while.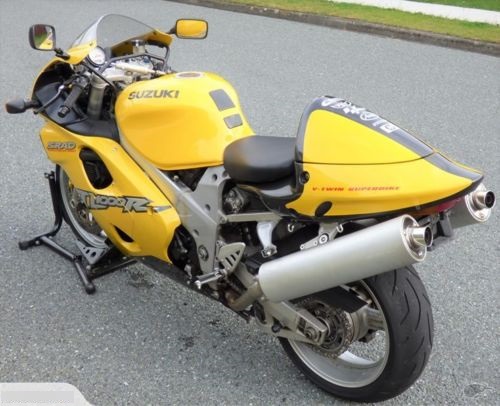 Now despite all the issues noted above and the bikes general reputation as a failure, the TL1000R was still a very good bike for 98% of riders.  While it didn't live up to the hype at the time it was launched, it still had a bonkers engine that was significantly easier to live with than its Italian competitor (no belts!).  It was also surprisingly comfortable and was quite attractive.  Later models came with the aforementioned steering damper which solved much of the handling problems and many of the concepts introduced on the TL1000R can be seen in the later Hayabusa.
Unlike many late 1990's Sporybikes the TL1000R has managed to maintain an active community of owners on the web and the fandom for the bike never really went away.  More importantly from a collectors standpoint, the TL was recently named as one of the top 10 collectible bikes to acquire "before prices get stupid".
OK, now lets turn our attention to this particular 1998 Suzuki TL1000R.   First, location means this one is probably only going to appeal to one of our Australian or New Zealand readers, or perhaps someone who is willing to incur some shipping costs.   The seller indicates that was previously a Japanese bike but unlike a lot of bikes we see from Japan, this one it looks to have been well cared for/not treated as a disposable item and kept in stock trim.  The only non-OEM pieces I am seeing are some rear turn signals/indicators and some stickers on the rear fairing hump.  NOTE:  The rear seat cover/"hump" is a fairly rare item so bonus points for it being in place and looking to be in good condition.
Mileage is stated as just about 14,000 miles/22,000 kilometers.  A new battery and rectifier have also been fitted and rubber looks to be in good condition but no mention is made of age and fluids would probably be due for a refresh.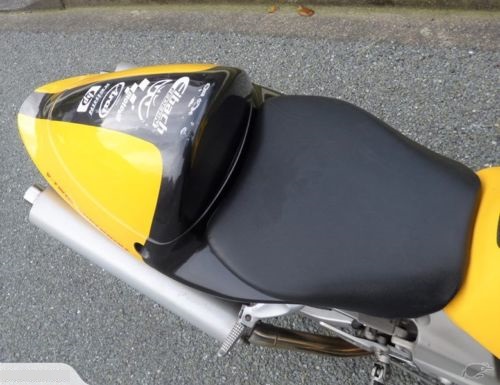 So what's this V-Twin bit of Suzuki history going to cost you?   Prices for a pristine TL1000R have definitely started to climb but aren't reaching stupid money yet.  The asking price for this one is $6,900 USD which is towards the high side of recent TL1000R's listed on ebay but given the condition of this one and the fact that its in the best looking color scheme, the asking price doesn't seem to be out of wack.    Also the seller does appear to be a dealer so some negotiation wouldn't seem unreasonable.
Let me just conclude by saying this –  I have always liked this bike a lot; I think it looks like a meaner and more manageable Hayabusa.  Also I think most potential buyers will admit that a large part of the TL1000R appeal is that its different and its reputation for not suffering fools gladly.   While a TL1000R probably won't experience a dramatic appreciation in value, if it was located closer to my current location I would definitely be considering trying to acquire it for my personal collection.
-Marty/Dallaslavowner