Update 8.11.2022: Jonathon has renewed his Featured Listing and is now available on eBay with an updated description and pictures. Buy-it-now is $13,500. Please note BST wheels are no longer included. Thank you again for supporting the site! -dc
Ducati packed a host of worthwhile changes into the 4th Generation Monster, and RSBFS reader Jonathan has modified his extensively for the racetrack.  With its Paul Smart style fairing, NCR look belly pan, and custom race-prep for just about everything else, this Monster race bike is ready for this season's Battle of Twins.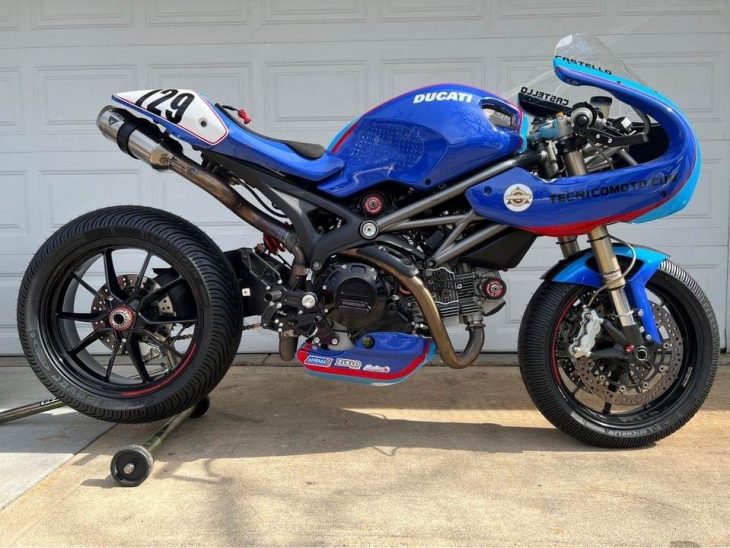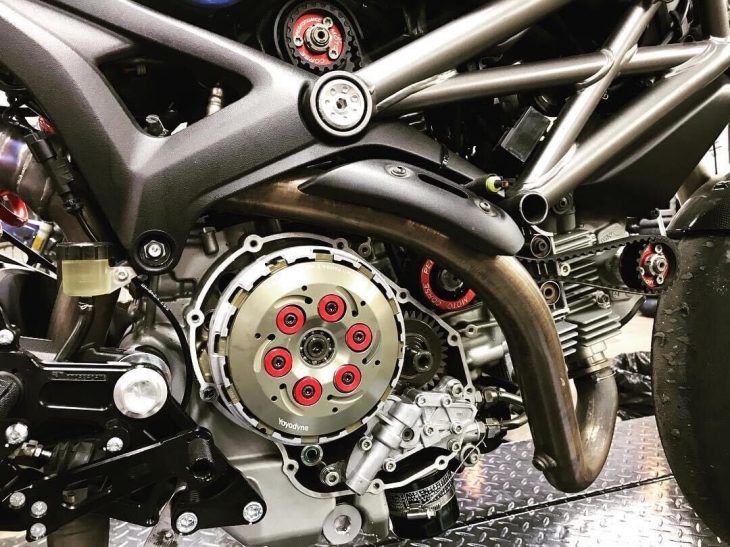 Ducati massaged the air-cooled desmodue and achieved 100 hp for showroom machines, and was able to stretch valve adjustment intervals for the dual-spark motor.  Accompanying the big power was a heavily triangulated trellis from headstock to engine, and a cast aluminum subframe holding the single-sided swingarm.  Its high gear ratios are a natural for the race course, and the 43mm Marzocchi forks can handle the force of the 320mm cross-drilled brakes.  A plastic fuel cell hides under the tank covers, and the stock seat fairing has a remarkably similar shape to the racing seat.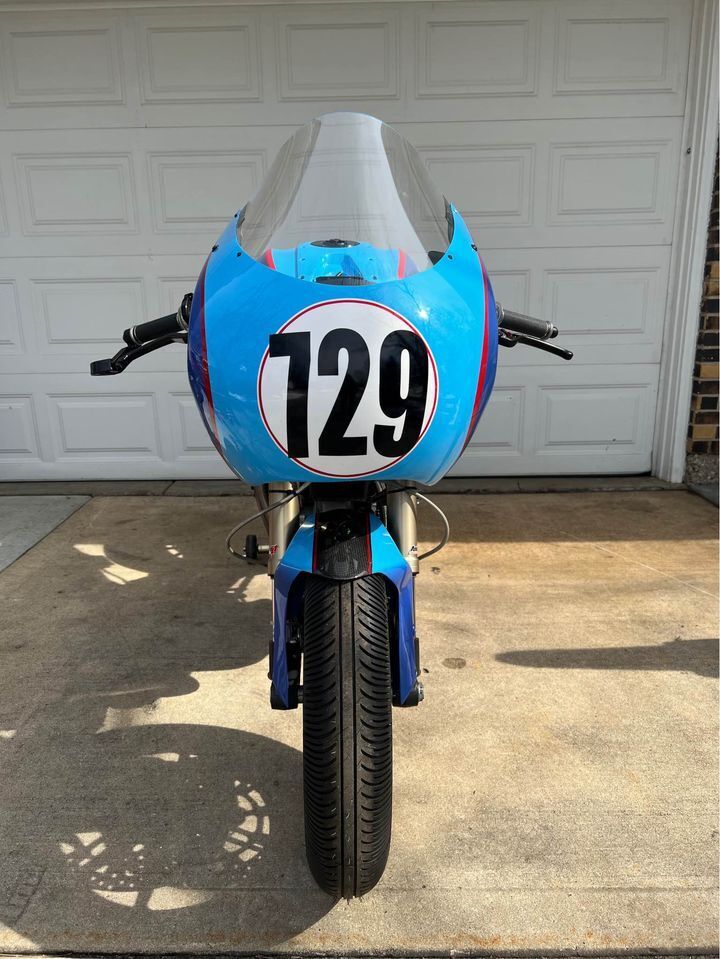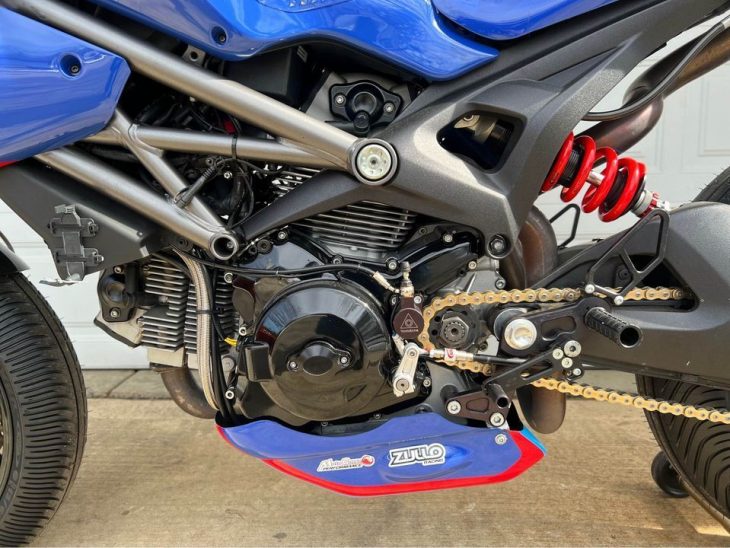 Jonathan works in a Chicago motorcycle shop when he's not practicing his AHMRA or BoT craft, and has raced and wrenched many different bikes.  The Monster has had the engine done by MotoCorse in Fort Lauderdale, and shows a dyno sheet with 90 rwhp.  There's a long list of mods for the track, with a custom exhaust and seat subframe.  Here it is single-spaced:
2013 Ducati Monster 1100 EVO

This is a racing motorcycle for competition use. Built to run in the AHRMA Battle of the Twins 1 class. This machine is in a great condition and has been meticulously maintained. It has some blemishes and wear from normal use which can be seen in the photos provided. This includes seat foam pad has cracking, the rear tail section as a hairline crack roughly 2-3mm long, the front fairing has some light scratching, and the clear coat on the front fairing has been retouched. Overall the bike is in excellent overall condition. Monster 1100 EVO BOT1 Bike with PS1000 style fairing, Custom Aluminum Fairing Stay, Custom Aluminum Subframe Mounts, Custom exhaust, NCR style belly pan, race tail, and blueprinted engine from Motocorse Performance.

Has the following components and modifications:

Yoyodyne Slipper Clutch
Andreani Fork Cartridges Sprung for 180lbs rider
Penske Shock
Ohlins Steering Damper
Rapid Bike with Quickshifter
Zullo ECU Flash
Woodcraft Rearsets
Woodcraft Clip-Ons
Woodcraft Lever Guard
Throttle Tamer Tube
Brembo GP Mk2 Front Brake Master Cylinder
GP routed Brake lines (ABS deleted). The dashboard does not indicate vehicle Speed with this modification. This also means the odometer is not accurate.
Shift Tech Muffler with Custom exhaust
Driven Keyless Fuel Cap
Woodcraft Clutch Cover Guard
Pro bolt Race Spec Caliper Bolts
Motocorse Performance Adjustable Camshaft and Layshaft Pulleys
Pitbull Rear Paddock Stand Included
New Rain Tires (currently mounted)

Built on a Salvage Title. Mileage is not accurate as the dashboard does not record mileage with ABS removal.

Just had major service, fluids, belts, valves checked.

Video Walk Around:
https://youtu.be/q30BHwwhtwQ

Video Fly By NJMP:
https://youtube.com/shorts/NgyT4CIj-aA?feature=share

Video Of Corner Exit:
https://youtu.be/C2RGfpmFbZI

Just had major service, fluids, belts, valves, fork oil, etc
Fresh and Ready to ride!


Jonathan can be reached via email here – Tecnicomoto729@gmail.com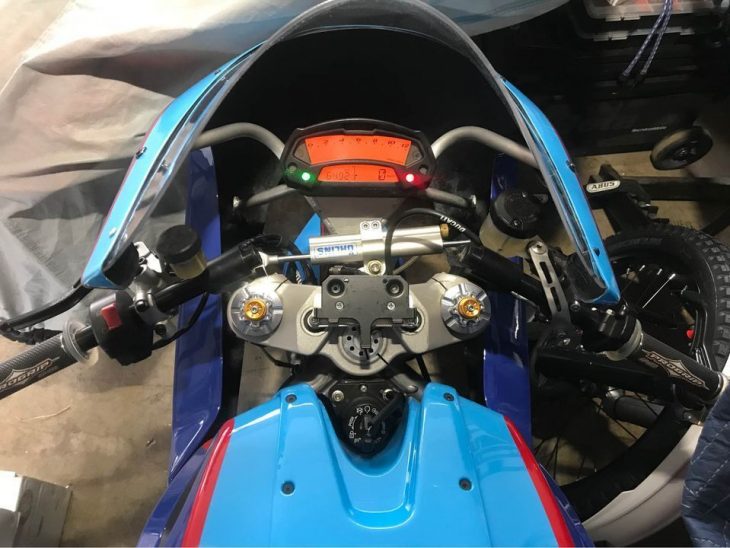 A short corner exit video shows the torque – 20220115 2012 ducati monster race bike on track
This Monster road racer is up-to-date gear for a track day or club racing.  Race bikes always need more maintenance than their road cousins, but the 1100 dual spark is as reliable as they come, and apparently free of any major mishaps.  Spring is on the way and the calendar is already filling in.  Contact Jonathan to discuss this special Monster – Tecnicomoto729@gmail.com
-donn