Most often we find the junior two-strokes in a much sadder state, but this one has been given some recent attention.  This Canadian example might be a good entrée into the smoky side of sportbikes.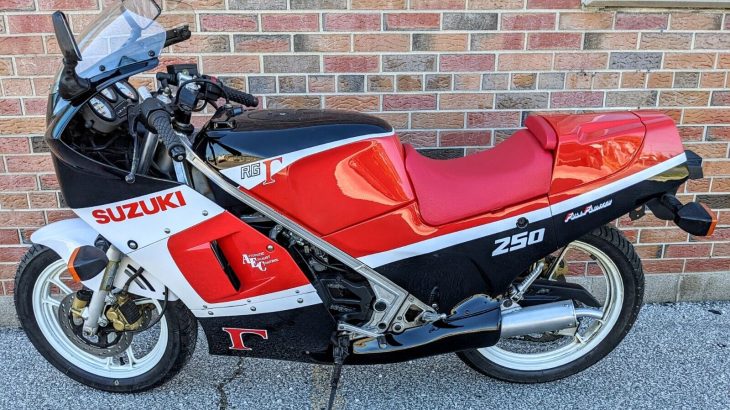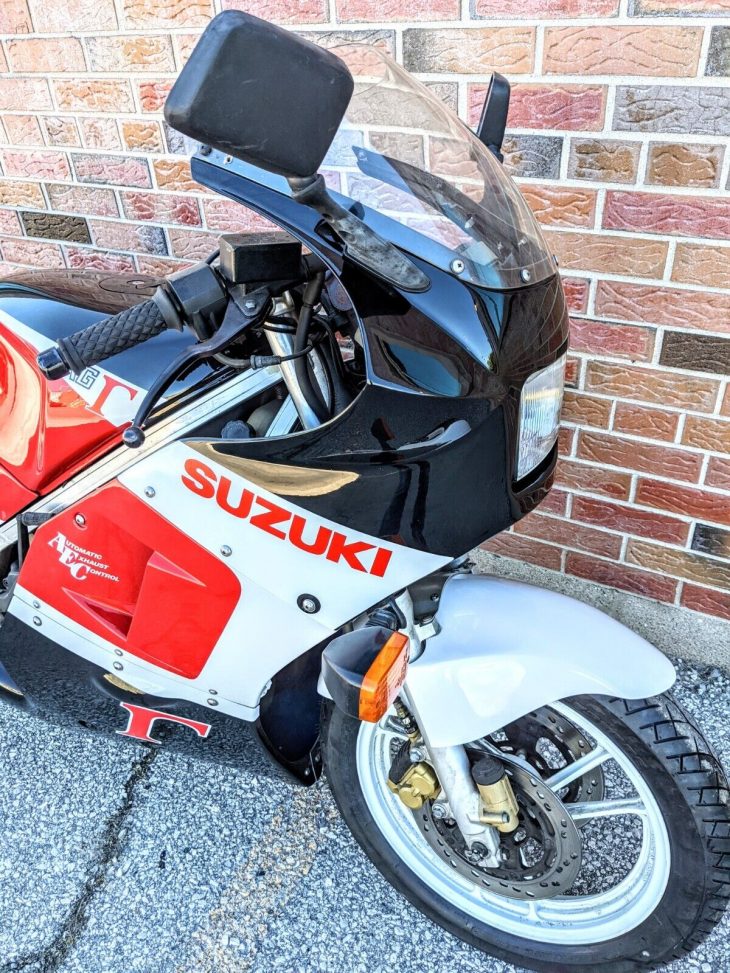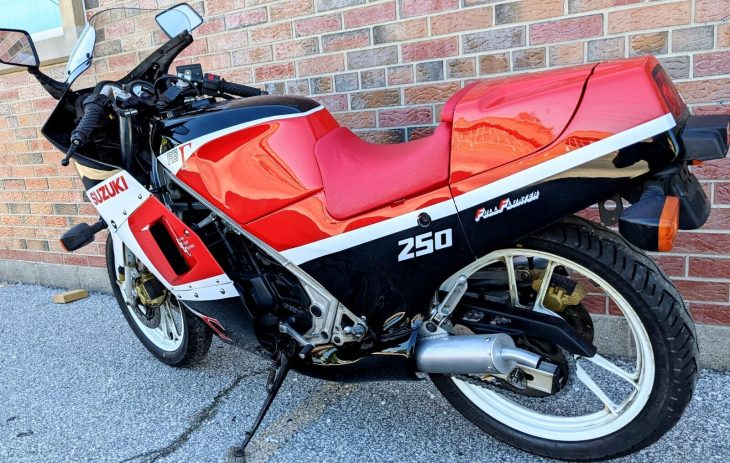 Suzuki seems to have had a 247cc two stroke twin in the line-up forever, but the RG250 and Gamma took the model to sportier places.  For 1986-7 the Mk. 3 Gamma used a power valve – Automatic Exhaust Control in marketing lingo.  49 hp was a slight increase but the width of the power band was the emphasis.  Revised brakes were dual four-piston affairs, and the forks included an anti-dive circuit.  The Full Floater monoshock had made its way over from the motocross side and allowed the shock to be positioned further forward, centralizing mass, and the fully adjustable shock could be shorter and use lighter springs.  16-inch front /18 rear tires have -80's stagger, but with a 100mm section not much width.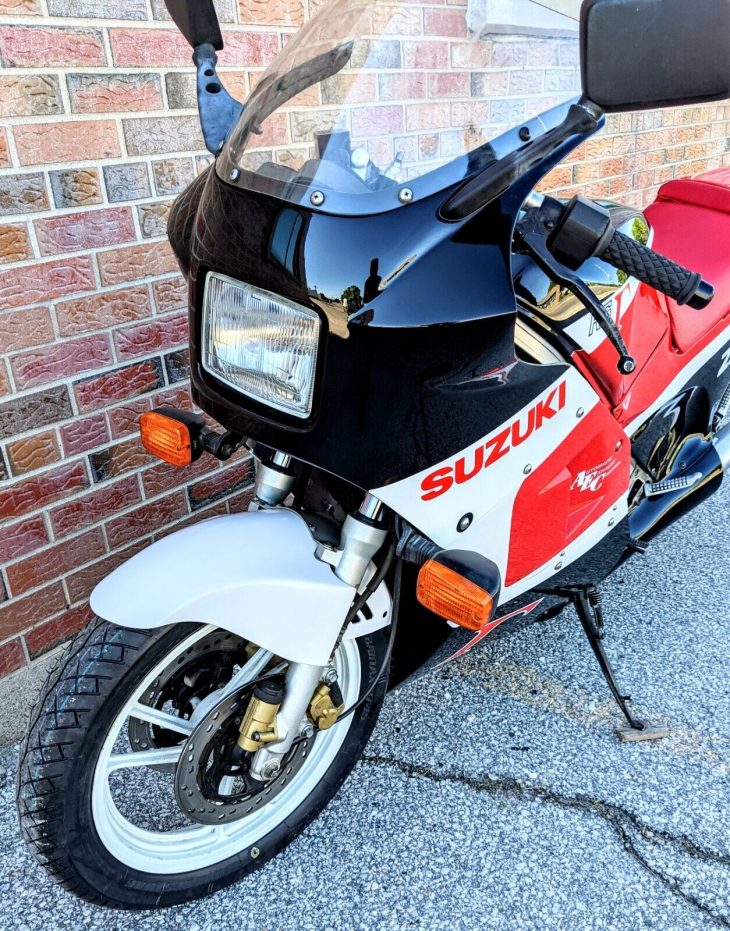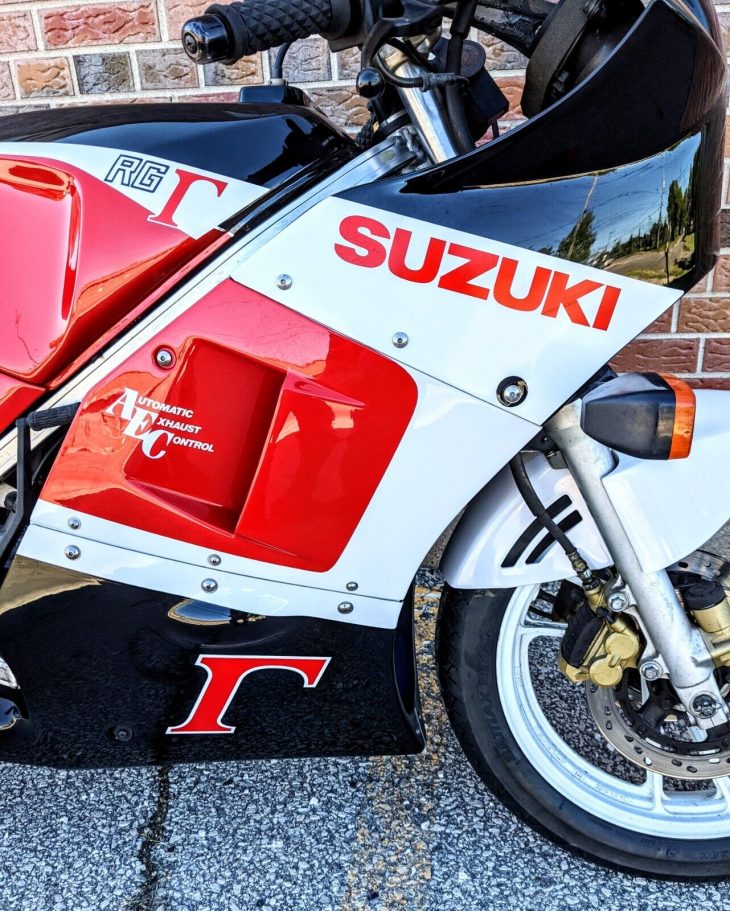 Though not quite a full resto, this owner has done more than just paint work and gives some options to the next rider.  Some rubber hole plugs and a bar-end mirror might slip this 250 through the air easier, and as problematic as they can be, some lower profile front blinkers seem to be in order.  The white wheels are the next cosmetic item, or they could go black and pretty badass.  With new tires, brakes and battery, more improvements could be made without taking it off the road.  A short – video – is offered, along with notes from the eBay auction:
Numbers matching engine and frame and the bodywork is original – not aftermarket.  Original Canadian Bike.

 

The bike was originally the two tone blue and white but was repainted in the factory correct 1987 colour red/black and white (it just looks better with this livery)

 

Sounds great – tons of power for the size and razor sharp handling with the aluminum twin spar frame (it was known as the first street legal race bike)

 

Parallel Two Cylinder with Suzuki's AEC system – Automatic Exhaust Control – power is about 50 hp and weight is under 300 pounds! Full Floater Suspension, Six Speed transmission.

 

– Brand new tires

– Brakes fully rebuilt

– Brand new battery

– New upholstery on seat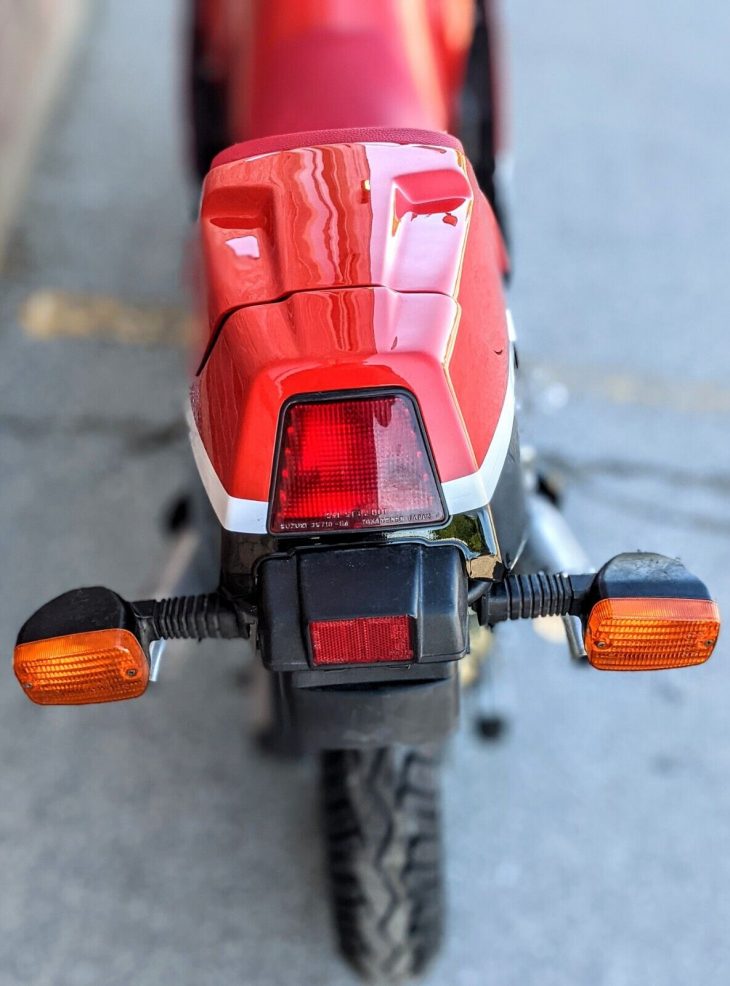 Only the reserve will tell whether this owner considers this a finished piece or a nice rider with a few details to address, and of course repairs which any 35 year-old bike can expect.  Many RG250's are shown without the lowers, and the factory fairings are a strong positive.  At this point in their lives, most have less miles but more corrosion on the exposed aluminum.  A lot of pluses and minuses to weigh over the next few days.
-donn