In 1997 one could have walked into the Suzuki dealer and had a choice of GSX-R1100, TL1000S, or GSX-R750 ( even an RGV-250, of course not here ).  Here's a recently updated SRAD model which has had quite a makeover.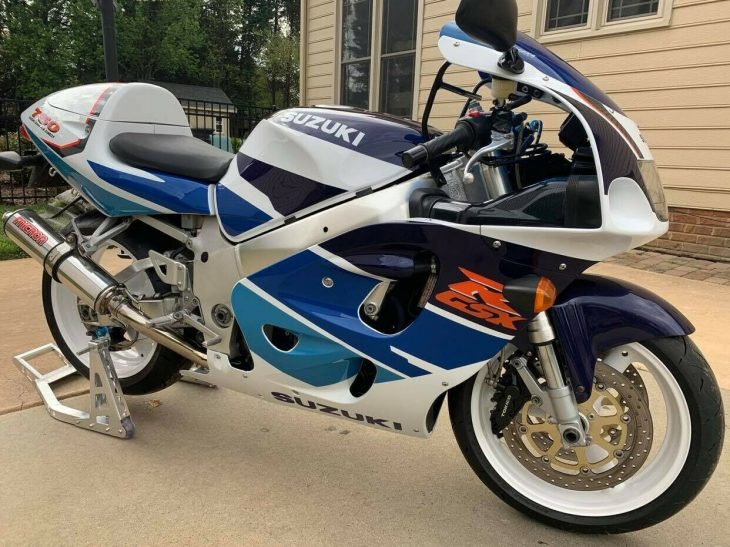 The 750 SRAD was an all new model in 1996, with a newly designed engine using a lot of fresh techniques in the casting and cylinder wall treatments, and ram air intakes helped make 128 hp at 12,000 rpm.  The oil radiator was updated to a oil-to-water heat exchanger mounted on the engine, helping reduce the ancillary plumbing.  The RGV-500 racer was the basis for the twin spar alloy chassis, with a swingarm similarly fabricated of cast and stamped pieces.  Width, wheelbase, and weight were trimmed to a compact package with a dry weight under 400 lbs.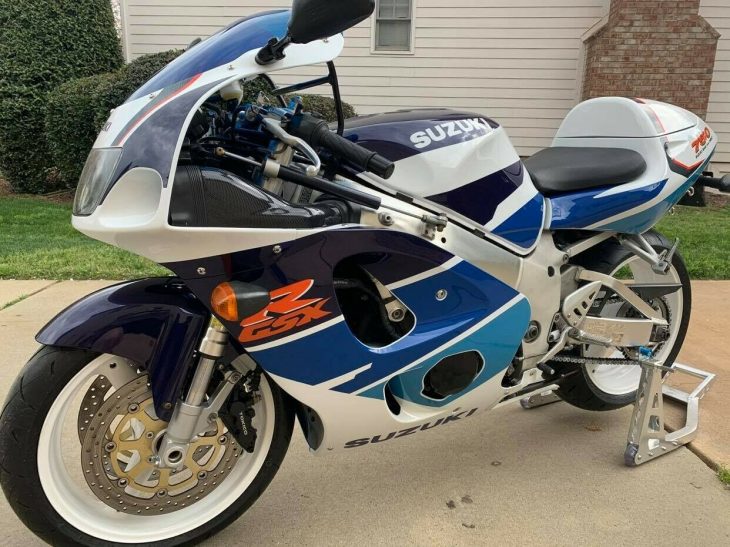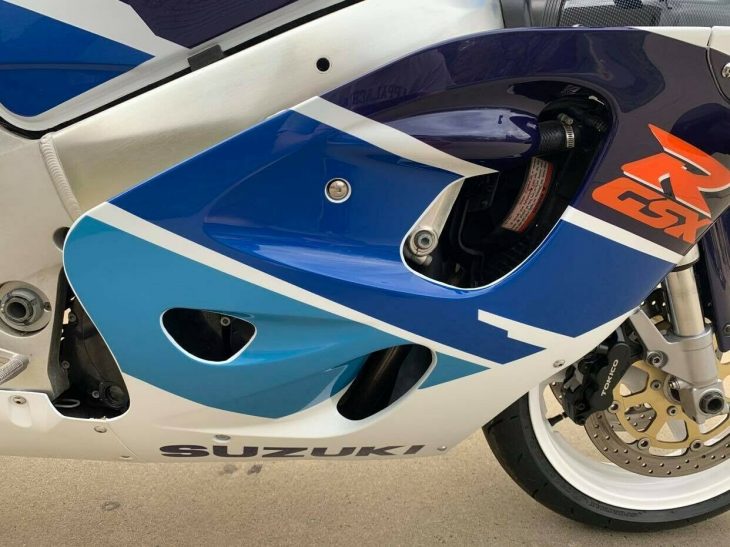 Not much in the way of imperfections on this GSX-R, with mostly new chassis bearings, exhaust, paint, windscreen, and expendables.  Many parts have been cleaned with an abrasive slurry which can cause less damage than dry media blasting.  The new owner could clean up a couple of isolated fasteners, but just in between rides.  Comments from the eBay auction:
The 1996 and 1997 models were the last of the carburetor-fed bikes in the GSX-R line. The 1996 was the T model and the 1997 was the V model.

The bike has undergone a light restoration including: a repaint in factory colors (bodywork is original), cleaned tank, new fuel pump, new plugs, tapered steering stem bearings, wheel bearings, powder-coated wheels, new tires (under 100 miles), brake rebuild kits,brake pads, brake fluid, oil change and filter, radiator flush and fill, carb clean, etc. Finding one of these bikes that does not have a polished frame, extended or just completely ragged out is becoming harder and harder. The bike runs flawlessly and will be a great addition to anyone's collection or as a rider.

Vapor blasting has been done on many of hard to clean parts such as the top triple tree, sprocket carrier, brake carrier, discs, etc. Take time looking at the pictures and you will notice how clean the bike is.

The bike is upgraded with a Micron full exhaust and jet kit as well as stainless steel brake lines. A Lockhart Philips windscreen is installed and the right front turn signal is an aftermarket unit.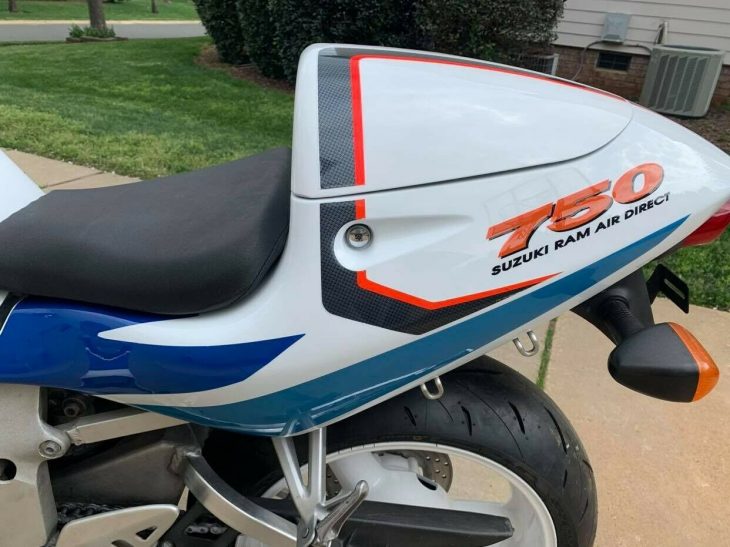 The SRAD generation was a winner, if not in WSBK, Suzuki's engineering made them a force in the World Endurance championship.  And in the showroom, though the seller is right that seeing one in any kind of nicer stock condition has become an event.  More expert fans will have to weigh in, but this restoration seems pretty faithful and the mechanicals have been taken care of as well.
-donn