Thank You Great Britain:  1996 Suzuki RGV250SP, 1987 Yamaha SDR200 And 1985 Honda NS400R Project
After a week where I thoroughly enjoyed setting off high explosives in celebration of sending the Brits packing I have to throw a big "thank you" in the Queens direction.  We American's had taken the week off for the most part and there aren't a lot of for sale signs out there right now.  Enjoy these three from the UK.
---
First up is a nice stock (I'll get to the paint) and low mile VJ23.  The seller lists the mileage at a very low 4,500 miles.  If accurate, that is one of the lower mile 23's I've seen in a while.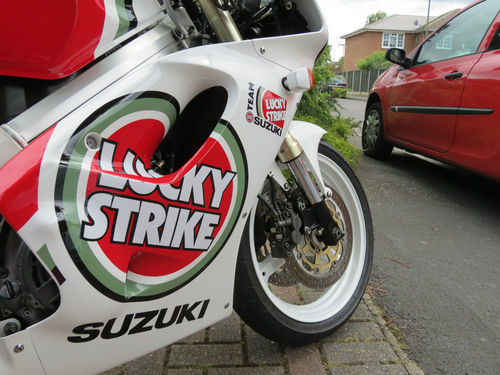 I didn't call this one a Lucky Strike 23 (the seller does not either) because it looks like it is a respray.  The turn signal should not be white and  a clip on the front fender is white which makes it look like it has been sprayed.  The green in the Lucky Strike symbol seems to be a little off as well but that might just be the camera.  Even though it is a respray at least they got the proportions correct.  I can't tell you how many butchered Lucky Strike resprays I've seen.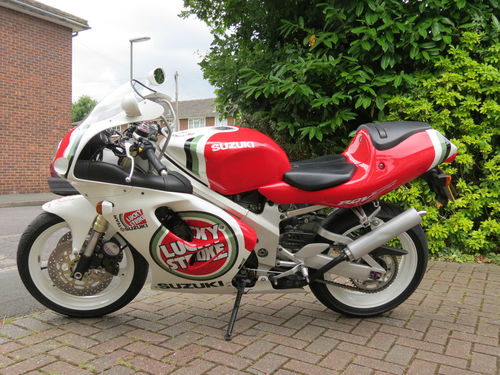 I consider the paint a relatively minor aspect of the bike.  Paint can always be changed.  More important is the stock condition.  It looks like it hasn't been touched.  I'm even  noticing stock brakes lines and stock rear sprocket.  I'm going to assume it is still in restricted form.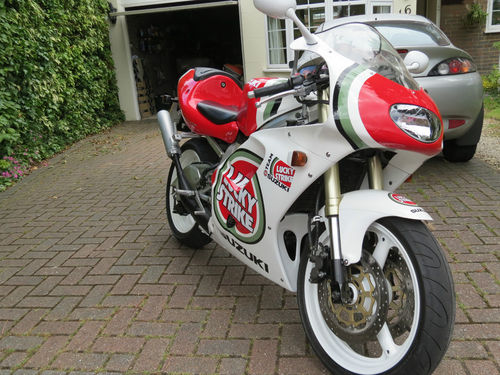 See the center piece of the lower?  That should be black.  The mirrors have been painted as well.
I'd take a serious look at this one if you want a unmolested 23.
---
Now this looks like fun:  a 1987 Yamaha SDR200.  A single cylinder two stroke, wrapped in a great looking trellis frame.  They didn't last long as Yamaha only produced them for two years in the Japanese domestic market.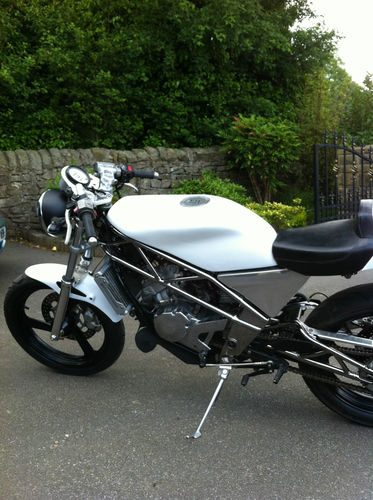 The chrome frame is OEM by the way.  You can see they skimped on the front disc with there only being one and probably with the usual basic suspension they would put on domestic market bikes.  I bet there are plenty of options though with that engine if you like to tinker.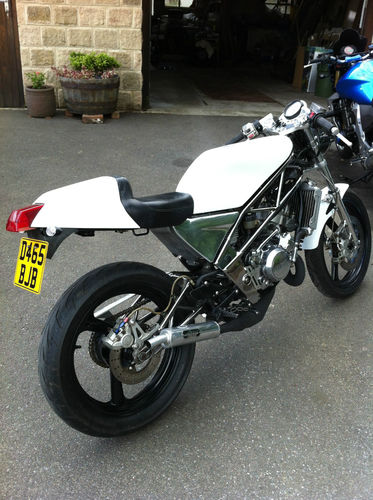 I like it damn it!  It has that minimalist yet modern look that so many builders seem to be after now a days.  Plus it smokes!
Tiny!
From the auction:
Yamaha SDR 200 (1987) ,  I brought this bike a few months ago in a bit of a state and have spent hours for the last few months doing it up, anyone who knows anything about these SDR's will know how rare and sort after they are. The beauty of this sale is you get one complete perfectly fine bike PLUS a near complete bike in bits as spares! there is a spare frame, swing arm, sub frames, complete engine, very clean barrel as pictured, tail piece and a massive box full of components! like i said you wouldn't be far off building another complete bike from the spares! only selling due to needing the cash.




I have had the bike frame, engine cases, forks, etc polished, wheels powder coated, and rebuilt it up from a frame with new nuts and bolts etc to make it as good as possible, the only thing the bike requires to finnish it is a speedo cable, it runs perfectly and goes very well for a 200cc YPVS engine! all lights, indicators etc work as they should. no problems at all.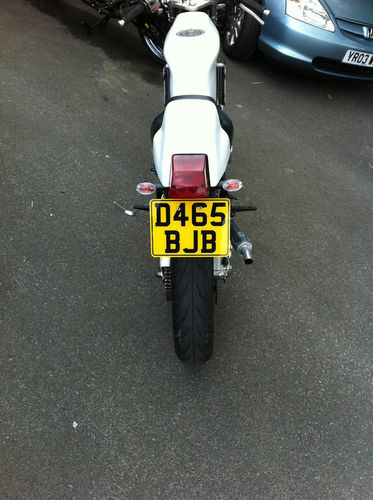 There you go, almost a two for one deal.
---
Even though these bikes are in the UK I thought this one might have some appeal to American buyers.  Even though this bike is over 25 years old, I know most American buyers aren't game to ship a two stroke to their home. With this one torn down it could easily be shipped  without fuss.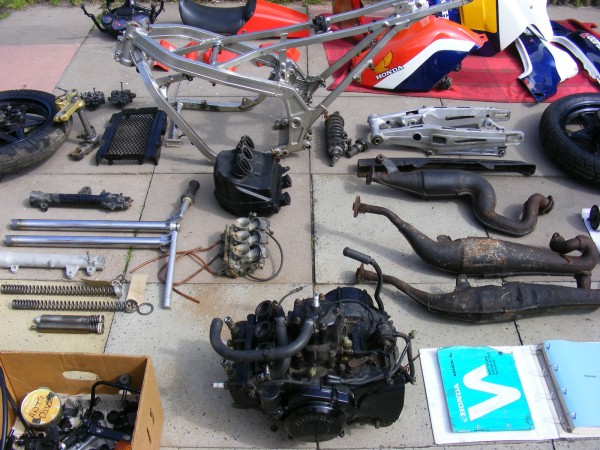 I wouldn't normally post a bike in pieces but read the story:
HONDA NS 400 RF FULL POWER UK MODEL,  1 OWNER FROM NEW,  25000 MILES,  FULL SERVICE HISTORY, USED FROM NEW ( 1985 ) TO 1990 ONLY THEN PARKED UP ,  IT REMAINED PARKED UP UNTIL 2010 WHEN THE OWNER DISMANTLED IT TO RENOVATE IT, HE HAD SOME PARTS  POWDER COATED READY FOR REBUILD BUT SADLY PASSED AWAY BEFORE HE COULD COMPLETE THE RENOVATION, I PURCHASED THIS BIKE FROM HIS RELATIVE,  I HAVE THE ORIGINAL REG DOCUMENT,  THE ORIGINAL PURCHASE RECEIPT,  SERVICE BOOK,OWNERS MANUAL,THE ONLY MOT FROM 1988,A MASS OF RECEIPTS FOR SERVICE AND PARTS INCLUDING A FULL ENGINE REBUILD IN 1988, ALL RECEIPTS ARE FROM THE SUPPLYING DEALER,  A METICULOUS RECORD OF EVERYTHING BOUGHT FOR THE BIKE DURING OWNERSHIP,  ALSO A RECORD OF MPG. ACHIEVED OVER THE FULL 25000 MILES,  I HAVE BOTH IGNITION KEYS, EVEN THE HONDA OWNERS CARD, A STACK OF MAGAZINES FROM WHEN HE PURCHASED THE BIKE, I EVEN HAVE TWO THIRDS OF A GALLON OF THE GENUINE SYNTHETIC HONDA 2 STROKE OIL FROM 1989,  THE BIKE IS COMPLETE EXCEPT FOR THE BRAKE DISCS WHICH I AM INFORMED THE OWNER DISCARDED AS THEY WERE UN – SERVICEABLE ( AVAILABLE ON EBAY NEW ),  THE ENGINE TURNS OVER FREELY,  IT ALSO HAS A COMPREHENSIVE SERVICE MANUAL AND PARTS MANUAL, THE BODYWORK IS IN LOVELY CONDITION AND IS AS GOOD AS IT LOOKS IN THE PICTURES, AS ARE THE END CANS,  THE SEAT IS LIKE NEW , TYRES ARE GOOD WITH NO CRACKS OR SIGNS OF PERISHING, IT HAS A FULL STAINLESS NUT AND BOLT KIT WITH IT, THIS IS A PROJECT THAT WILL NEED PARTS CLEANING/POLISHING AND A FULL REBUILD BUT WILL BE VERY REWARDING AS THESE NS 400'S UK MODELS ARE QUITE RARE NOW AND A ONE OWNER WITH THIS AMOUNT OF HISTORY AND PAPERWORK IS UNHEARD OF,  A GOOD INVESTMENT NOW AS THERE IS A LOT OF INTEREST IN THE BIG 2 STROKES NOW,  THIS IS A 3 CYLINDER V CONFIGURATION ENGINE, IT IS THE TRUE GP REPLICA OF THE DAY FROM THE FREDDIE SPENCER ERA
It sounds like a great project for anyone interested in a restoration.  Follow this link for a lot more photos.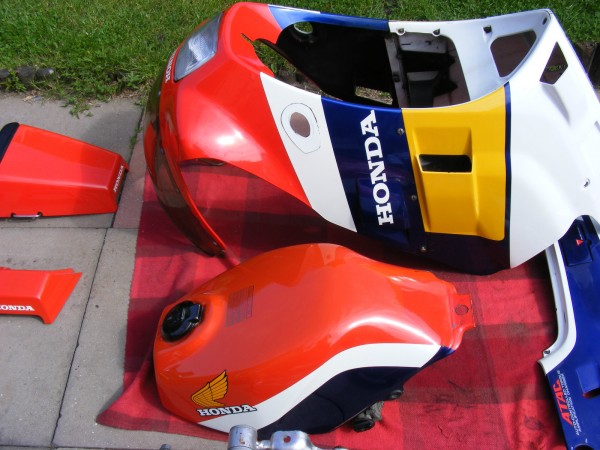 Ian