For Sale: 1987 Suzuki RG-500 Gamma Walter Wolf Edition
Update 12.20.2011: Originally listed in September, this RG500 WW is now listed with a buy-it-now of just over $24k. Links updated. -dc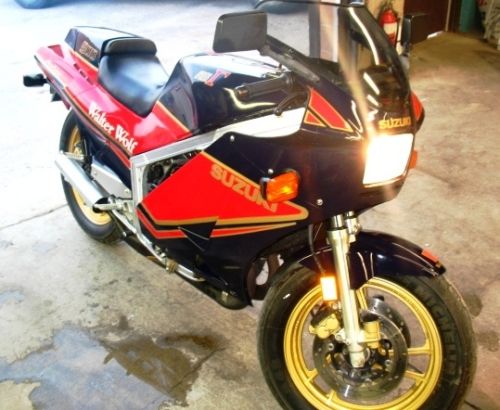 If you are living in the US, you too might wonder why it seems that Canada got to play with all of the cool motorcycling toys. After all, two strokes were not banned in the North like they were here in the States, and the Canadians were privvy to Euro-spec toys that never made it to the US shores. Of all the bikes missing in the US, the Suzuki RG500 Gamma must be the most sought after – and potent. And of the Gammas, the Walter Wolf edition is the most unique and rare of the (road going) model lineup.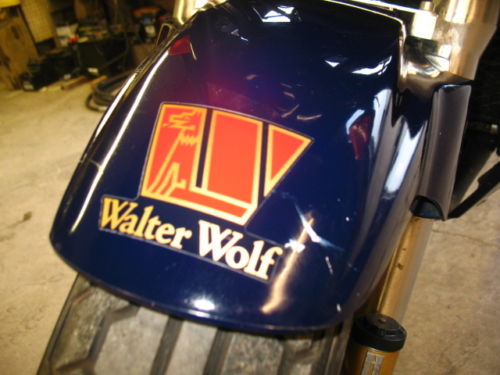 The picture above shows exactly what the Walter Wolf edition is all about: color and decals. While in some light the bike might look black or dark grey, the WW paint scheme is actually a deep blue (some might call it purple). With the red and gold WW livery to offset the dark color, the result is a striking visual effect that makes these models stand out.
Walter Wolf was a business man who made a fortune in oil during the 1970s. Like many individuals, he attempted to make a small pile of money in motorsports by investing a large one. Wolf was involved in Formula 1 with Walter Wolf Racing, inadvertantly sponsoring the inception of what was to become the Williams Gran Prix team. When Frank Williams left to go on his own, Walter Wolf Racing continued under the Wolf banner – only to fold a few years down the road. Still, the Wolf legend continued throughout car and motorcycle circles, ultimately leading to this limited edition model RG500 Gamma by Suzuki.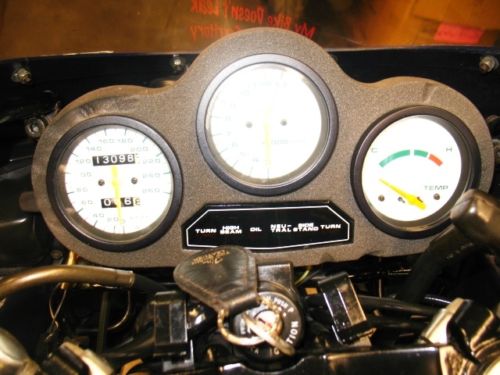 With a reported 95 horsepower and weighing in below 350 pounds, the Gamma was a potent performer. The WW livery was paintwork only, and as such all other RG500 reviews, nits and modifications can apply. The difference is that the WW machines were very limited in number, making them more desireable than the standard Gamma. Because of this, we have seen some standard Gammas turned into WW editions via paintwork. As with all rare and collectable bikes, we recommend the user do their homework and ask lots of questions.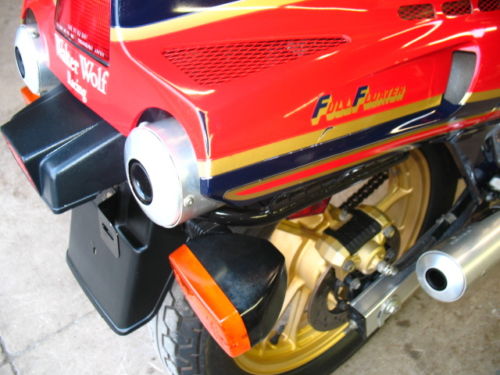 From the seller:
1987 Suzuki RG-500 Gamma, Walter Wolf Edition. Excellent condition, 13,000 kms.

This is a very rare, exclusive, hard to find, highly desirable, collectable motorcycle. It has been stored in my living-room beside my T.V for the last 14 years. Runs great and is in excellent condition. Take a look around. There aren't to many of these available, so if you want to own one act now otherwise you'll have to look in a museum, Jay Leno's garage, or on CRIBS

$39,500 or best offer.
The going rate for a Walter Wolf has been going up. Last year, we saw some low mileage examples changing hands in teh $15k range. This year, some of those same bikes have been available for a $20k payout. Still, the initial ask of $39,500 is a bit excessive. Note that the seller has lowered this to $28k Canadian (roughly $28,400), and is open to offers.
This bike does have low miles (only 13,000 KM) and does appear to be in good condition. It has been sitting for a long time, so some review of the condition might be in order (tires, carbs, tank, etc.). Still, if you are looking for a Gamma, and more importantly a rare Gamma, this might be your ticket. Click on the link to jump over to the auction. Good luck!
MI
9 Responses.