Update 2.4.2020: This bike has SOLD at Bonhams for $14,950. Congratulations to all parties! -dc
Update 11.20.2019: Joe's bikes are being sold at Bonhams 2020 Las Vegas Auction. The auction is scheduled to take place on Thursday, January 23rd 2020 at Caesar's Entertainment Studios, beginning at 12 noon. For information about the bikes and the auction itself, please visit – https://www.bonhams.com/auctions/25835/ You can also contact Michael Caimano directly at 929-666-2243 or Michael.Caimano@Bonhams.com
Check out all Joe's bikes that are being offered at Bonhams. Good luck to bidders and seller! -dc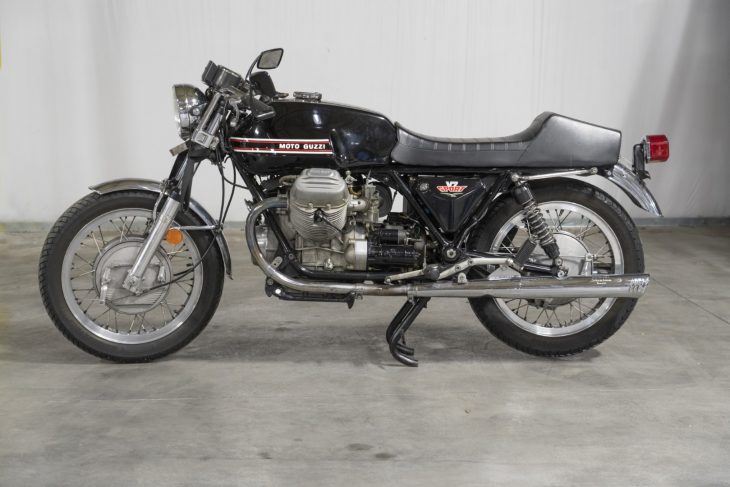 If ever there was a bike to show up to a cruise night on, surely the 1973 Moto Guzzi V7 Sport is at or near the top of the list. The pundits all say it is the defining cafe racer shape, leaving the factory in the era before two-foot long license plate holders and 10,000 candlepower turn signals crept in to defile more modern machines' lines. We tend to agree.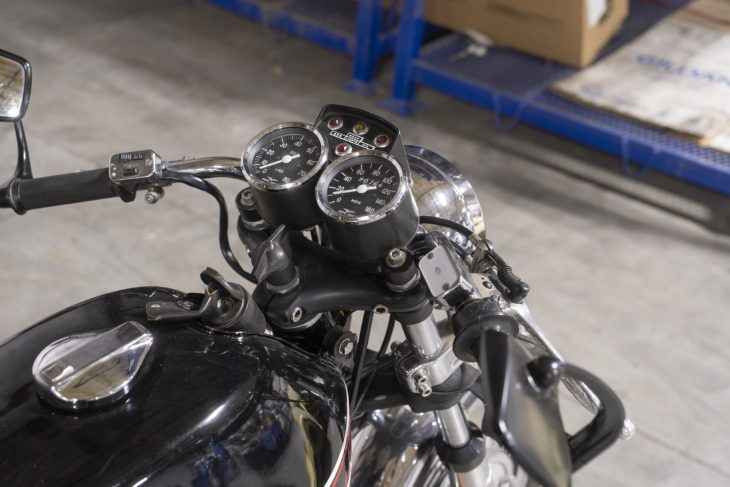 The V7 sport is adorned with absolutely nothing extraneous, its thin-tube frame, shapely tank and minimalist bodywork seem to embrace the prominent heads on the unmistakable Guzzi v-twin. Low bars, spoked wheels and twin chrome megaphone pipes complete the purposeful package.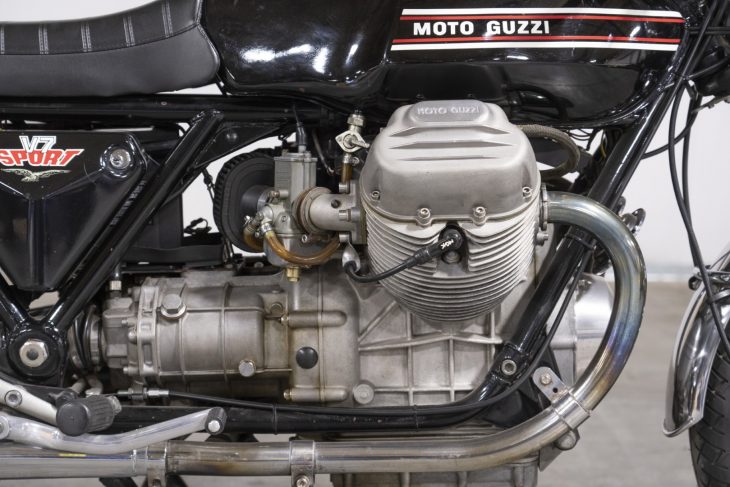 Though it was made to celebrate and recall Guzzi's mid-century racing successes, the V7 provides antiquated performance, with just 70 horsepower running through a very tall gearset. The mill revs quickly, but the eagerness is deceptive. Couple that with slightly scary drum brakes and a right-side-shift transmission and you've got a bike more suited to cruise nights than track days.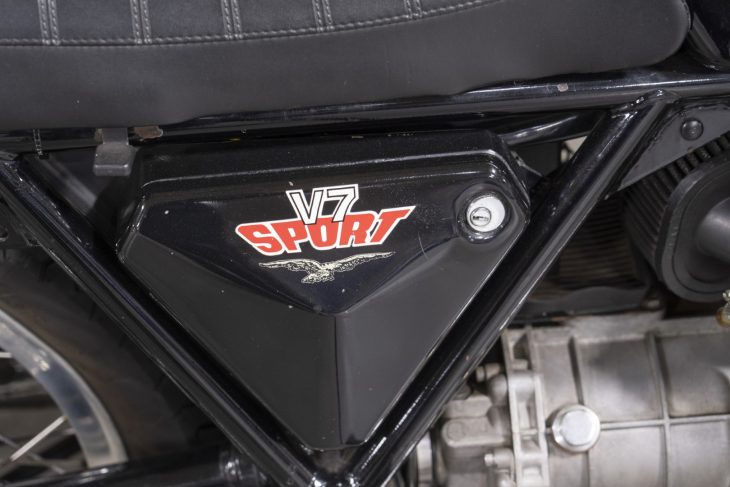 This 1973 Moto Guzzi V7 Sport is in immaculate condition. All the paint and brightwork have a brilliant shine and appear to be blemish free. The seller says he stores her bikes in a climate-controlled facility on trickle chargers, so there should be no worries about the mechanical condition of the bike.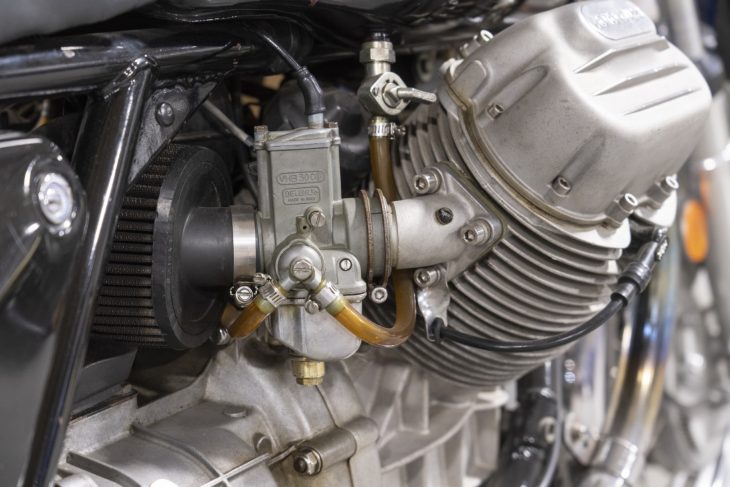 From the seller:
1973 Moto Guzzi V7

You should know that I am a serious collector, with a large motorcycle collection. I decided to sell some of the most valuable motorcycles in the collection. These motorcycles represent some of the most iconic motorcycles of the 1970s, 1980s, and 1990s. Those motorcycles are now being offered up for sale one by one. These motorcycles were targeted by me for my collection many years ago when the best of the best were available and that is what I purchased.

In general, I do believe super rare Italian motorcycle of the 1970s and 1980s are the future Ferrari of motorcycle collecting. We all know what has happened to Ferrari.

If Italian collector sports bikes could be rated for handling, the Motor Guzzi V7 Sport would certainly score a 98 out of 100 points. They can just read your mind in terms of negotiating the curvy roads. If motorcycles were rated for sex appeal the 1973 Motor Guzzi V7 would score 101 out of 100 points. I don't know of anything that is quite so simply designed yet pleases the visual senses so much. And, yes, this bike has the rare original exhaust pipes with the fins, and the sand cast brake drums (not the 'not so pretty' disc brakes) which is just a little frosting on the cake.

This bike is in top flight condition and runs like a Swiss clock, it is kept on a trickle charger at all times. There are no known issues. Just try and find a nicer one!

This is certainly a bike for serious collectors and for those that don't know all the details, the internet is just loaded with information. I can only suggest that you scrutinize the pictures and decide for yourself if this is another rare Italian collector bike that will eventually become as iconic as the Ferrari automobile. I spent a decade looking for the best one and this is the best one I have ever seen.

All my bikes are kept in climate controlled storage and on trickle chargers when not in use so they are always ready to take a day's ride at a moment's notice.

Check out the pictures and be a little amazed – you are seeing the best!

Thanks for looking at one of the best!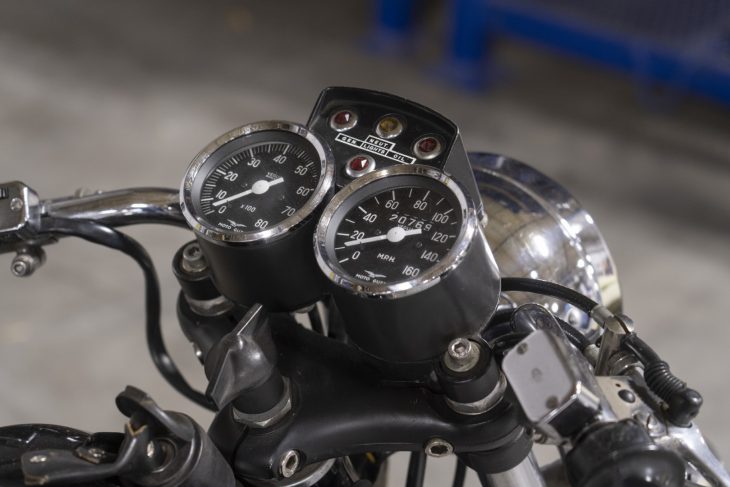 Even though it doesn't fit our traditional fare, we're in love with this classic Goose, thanks mostly to those magnificent lines. Though it may not be an adept canyon carver, there is a place in any collection for a classic, sexy cruise night machine like this one.