Warning!
This post is in our archives. Links in this post have been updated to point to similar bikes available to bid on eBay.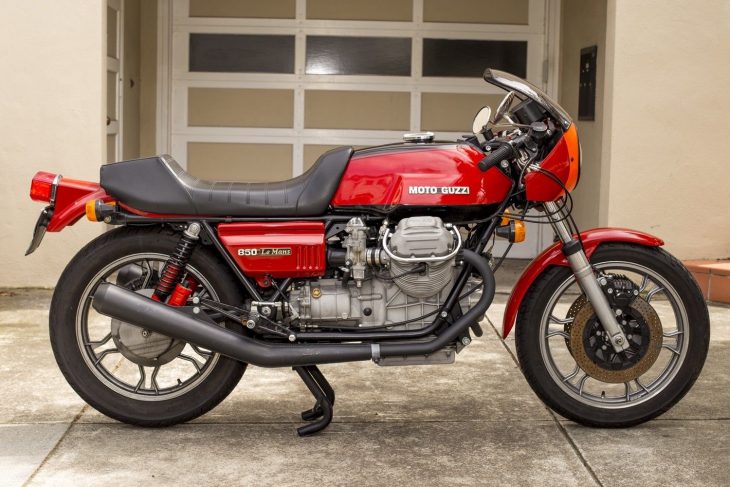 These days, Moto Guzzi "sportbikes" really need the quotation marks I've included here. Ducati managed to develop their signature 90° v-twin format and stay competitive among the current crop of tech-heavy rockets, but it's unlikely that, even given a pretty large budget to attempt something like that, Guzzi could have stayed true to their longitudinal twin and shaft drive and expected to remain relevant. And even if they'd been allowed to produce the much more radical 72°, liquid-cooled and overhead-cammed, chain final-drive package they'd been working on, a purchase by Piaggio permanently locked Guzzi into the retro-roadster limbo where they've languished ever since. I'm glad they've managed to survive into the modern era, but it's sad that that they only do so as a bit of a self-parody, since they were fully capable of building legitimate racebikes like their impressive, but unsuccessful V8 Grand Prix entry and versatile sportbikes like today's 850 Le Mans.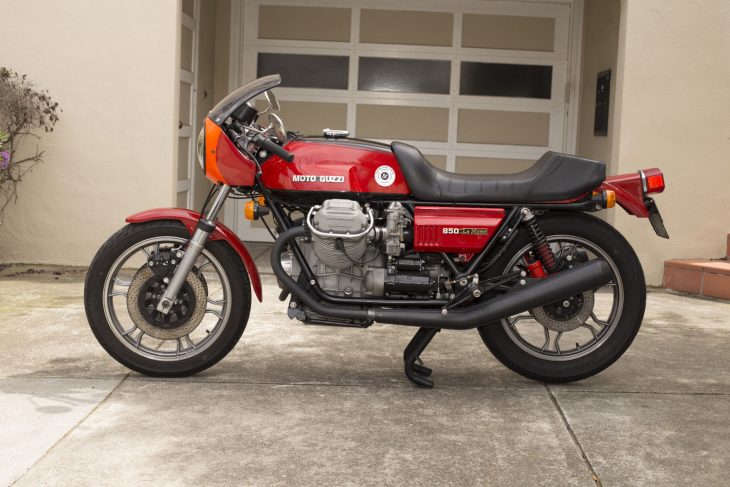 Often referred to as a "Mark I" Le Mans, that's obviously a name that was coined after the fact to differentiate it from the bikes that followed. An evolution of the earlier V7 Sport and 750S, the new 850 Le Mans sportbike even continued with Lino Tonti's excellent frame, wrapped around a bored-out engine with chrome-lined cylinders, high compression pistons, and a set of 36mm Dell'Orto carburetors. The result was 71 rear-wheel horsepower and a top speed of 130mph. To make sure the rider could safely slow the machine from those heady speeds, the bike used triple disc brakes and a rudimentary but very effective linked-brake system.
It's easy to dismiss the Guzzi for being a "tractor" and the chunky, slightly angular style, massive-looking engine, shaft drive, and simple, pushrod v-twin do lend themselves to agricultural comparisons. But although the spec sheet doesn't seem cutting edge now and really wasn't even when the bike was new, it's the overall package that impressed then, as well as the brute motive force supplied by the 850cc engine. The noticeable torque-reaction caused by the longitudinal crankshaft aside, handling was excellent, and the engine was revvier than you might expect. Much more rev-happy, in fact, than the contemporary Ducati bevel-drive v-twin. But it wasn't a high-strung machine and had a nice blend of exotic looks, torquey power, and practicality that saw Guzzi eventually shift from sportbike to sport-touring as they were unable to compete with the relentless pace of cutting-edge motorcycle development in the 80s and 90s.
From the original eBay listing: 1976 Moto Guzzi 850 Le Mans for Sale
Bike restored in 2016 and only 1600 miles added since… A true beauty with only natural flaws, this is a bike to be ridden.

Bike was completely gone through in 2016 by the team at world famous CYCLE GARDEN in Huntington Beach over $20k spent on restoration , tank was left with original paint . Bike looks exactly as an original 1976 should . There is not a better one to be found anywhere, this is a rare opportunity to own a true piece of motorcycle history.

"Now acknowledged as one of the great sporting motorcycles of the 1970's, the Le Mans was a Masterpiece " -Ian Fallon
A very nice video of the bike by Cycle Garden is included that shows the bike in motion and goes over some aspects of the restoration. An old Triumph or bevel-drive Ducati might have more vintage looks, if you're into chrome or polished metal, but the same qualities that have characterized Guzzis from the beginning are present here, and the first-generation Le Mans is about as good as it gets for a practical classic sportbike: it's got stable handling and the flexible motor can even keep up with more modern bikes without much trouble. The powertrain is reliable and the whole bike is pretty easy to get parts for, considering the mere 6,000 or so that were built between 1976 and 1978. Unfortunately, these are no longer the bargains they once were, and the seller's $24,979 Buy It Now price gives a pretty clear indication of where things are headed.
-tad