For Sale: 1984 Honda NS250R MC-11
Update 10.5.2012: Originally posted last November, this bike is back on eBay. Links updated. -dc
For such a rare bike, this is the second 80s vintage NS250R in this color scheme to be posted on RSBFS in a few months (see Doug's excellent post on a similar bike HERE). Designed in an era where rounder, more bulbous shapes were utilized, this NS250R was the hottest small-bore bike we couldn't get in the US of A. Nearly 30 years on, how does it stack up?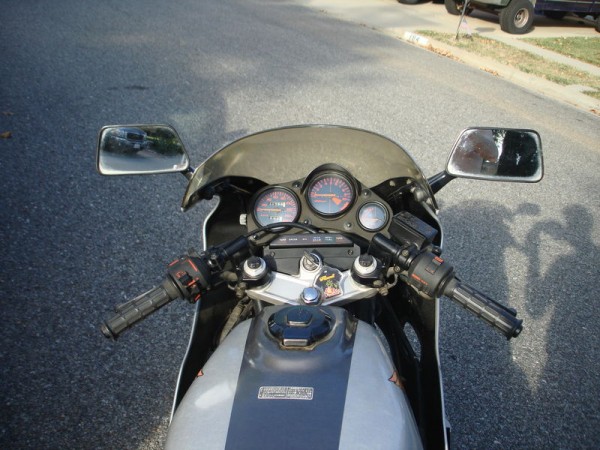 With full fairings and a windscreen to encourage tucking in (with only 45 bhp on tap, a tidy aerodynamic profile is encouraged), the NS250R pre-dates the more famous and collectable NSR250R series bikes by a few years. Still, the engineering might of Honda bleeds through and through: Aluminum perimeter frame, aluminum swing arm, Astralight wheels front and rear (17″ and 18″ respectively), TRAC front fork, triple disc brakes and the ATAC system (Honda Automatic Torque Amplification Chamber), which modified the volume of the exhaust chamber to boost low end torque. And of course there is the kickstand fairing; slightly more than a gimmick, and probably the best known feature of the bike.
From the seller:
Super rare, first year production MC-11 in great running condition and in surprisingly good shape. This bike has a unique history of previous owners which includes Hall of fame formula 1 racer Mike Baldwin, award winning stunt-woman Christine Ann Baur, and Superbike champ Thad Wolff before I acquired it for my collection. I assume the bike was used for street riding as it is street legal and not set up for racing, all gauges and lights work good as does the charging system, gauges and handlebar switches in excellent condition with no fading. It is missing one front turn signal which I have not replaced. I bought an after-market set but did not install them as they are not perfect matches to originals, they go with bike as does a new set of fork seals.

This bike appears to be in original condition with only 7,324 miles on it. The speedometer reads in kilometers (11,789 km) and there is extensive writing all over in Japanese, this bike was shipped here from Japan many years ago and was not sold in the U.S.

Bike fires right up and shifts great through all 6 gears with no clutch slippage at all. The gearbox is a close ratio 6 speed and the top speed is rated at 121 MPH which is unbelievable for a 250 cc street bike, it is so fast I believe it will really do it.

Over all this bike is in very good condition and appears to run fantastic, I have only put about 30 to 40 miles on it in the two years I have owned it, it always fires right up.

Bike has a California license plate and was last registered in 1997 and comes with a bill of sale as the Pink Slip was lost.

I am selling this bike because I am drastically reducing my collection and this bike is just too rare to put miles on it, it belongs in a collectors living room or museum.
While I don't enjoy staring any flame wars, I do bristle when sellers indicate that something should be in a museum rather than being ridden. This particular bike, patterned after the 250cc GP bike that brought Freddie Spencer 2 titles in the same year (both 250 and 500), really deserves to get out and ridden. Unfortunately, a close look at the pictures indicates somebody did just that – and poorly. The right side looks like it's been rashed, and the HRC sticker on the right side tail looks suspiciously different (larger) than stock. Is it covering something? Careful buyers will want to ask some questions.
On the plus side, this is a very rare motorcycle that will not likely fetch huge dollars – making it an affordable collector. The last one we posted sold for a mere $3,100, which is low bucks for a mini-GP smoker these days. For more information and your chance to bid on this silver rocket from the 80s, click the link and jump over to the auction. Good luck!
MI