This is a fantastic looking NF4 RS125 on eBay!
Bike:  1993 Honda RS125
Location:  Lexington, Kentucky
This RS125 looks to be in very good condition being finished in a "House Of Color" (Kolor) candy blue scheme with silver Honda wings.  This RS hasn't been run in at least three years but, was run at Daytona in 2005.  The spares included with this bike include an extra cylinder, plugs, sprockets, rings, fork seals, gaskets, clutch plates and some other items.
Because it's been sitting for so long, and these bikes are so simple, I would suggest going through it before running it just to be sure everything is as it should be.  I think I've said it before but, these NF4 RS's aren't competitive with the '95+ NX4 RS's.  However, these bikes are less temperamental than the later bikes and make fantastic track day bikes or vintage machines if you have a sanctioning body that has a separate class for them.  The '93 bikes wear the same front tire as the newer bikes but, have a smaller rear wheel (By a 1/2″).  Tires can still be easily sourced and I've actually been told that the larger size will fit on the narrower rim–however, I have no idea how that alters the handling.  These bikes are perfect if you want to play a Gran Prix legend on a budget.  Based on the condition and spares, I would expect to see this bike go for right around $2,500.  See other RS125s we've featured here.  See this RS on eBay .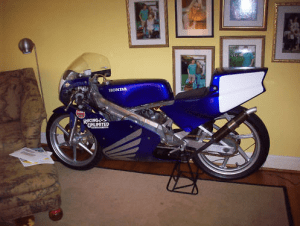 AG