Most attempts to resurrect a defunct or struggling brand start with high-performance, limited-edition hypersports machines that inevitably get compared to the GSX-R1000, and generally not in a good way. So it was interesting when a revitalized MZ chose not to compete directly with hypersports bikes from Ducati and Aprilia, instead creating a classy gentleman's express that they hoped would be judged on its own merits.
Produced between 2004 and 2007, the MZ 1000S represented a new era for formerly East German MZ. Known in classic circles as pioneers in the two-stroke revolution, their later range of bikes was powered almost exclusively by the 660cc Yamaha single. Great, practical everyman transportation, but MZ needed something to compete with more refined machinery.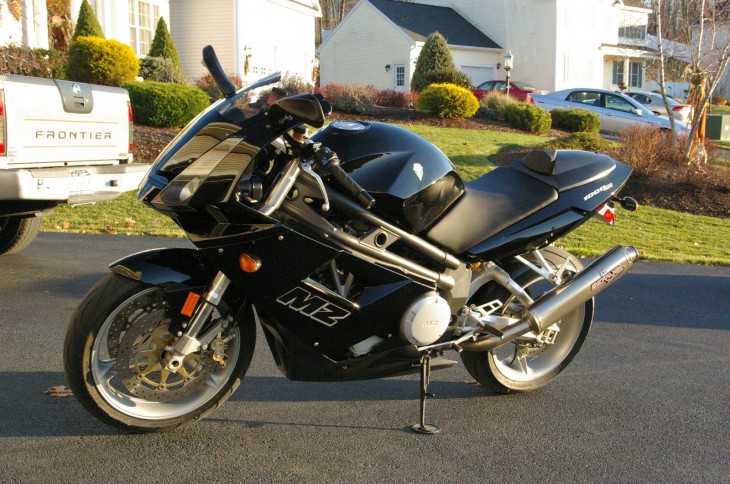 Unfortunately, one of the reasons people create hypersports bikes in the first place is that folks with more money than skill or sense buy them as dangerous fashion accessories, and the MZ1000S disappeared with barely a ripple… In fact, this is the first one I can ever remember seeing for sale.
But don't let that discourage you: reviews may not have been glowing in terms of track prowess, but then it wasn't that sort of bike. It worked as intended, as a rideable, practical exotic that stands out in a crowd. And stand out it surely does.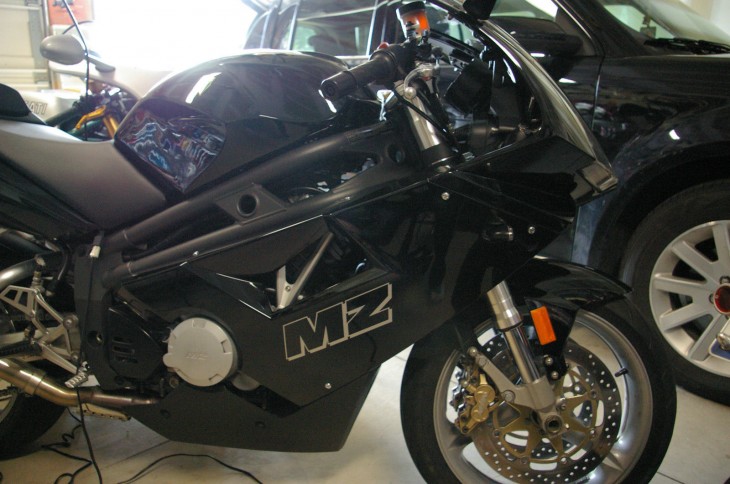 From the original eBay listing: 2005 MZ 1000S for Sale 
Gloss Black/Silver graphics Color scheme with Remus Slip on Exhausts made specifically for this bike – engine is bone stock – fuels beautifully – complete paper work from first owner and myself – factory tool kit – Digital service and owners manual in ENGLISH – parts readily available from Grahams In the UK – Pazzo Clutch and Brake levers (I do have OEM levers and they are in mint condition) Sprockets are Yamaha parts and oil filter is standard K&N item. Slight light scratches in clear coat on tail section, only noticeable up close and in full sun from first owner running soft luggage while sport touring. I do NOT have the stock exhausts.

Bike is an incredible sport bike, while she's big sitting at rest and tall in the saddle (If you have a short inseam – this might not be the bike for you – I'm 6'0″ and I'm solidly on the balls of my feet at a stop.) But get it going and the size melts away – it is capable of staying with modern 600's easily in really twisty tight mountain roads and the torque is simply addicting – come out of a corner and just roll it on – you are pulling away while everyone else is downshifting like crazy to match your drive out of the corner – and like a BMW K1200/1300 or Moto Guzzi sport bike – incredibly confidence inspiring and OMG easy to ride fast!
The MZ 1000S was powered by their in-house parallel-twin, bucking the v-twin sportbike trend that saw every niche market motorcycle powered by Ducati, Honda, or Suzuki v-twin engines. This choice certainly came with built-in limitations: parallel-twin engines are very compact and less expensive to produce, but vibrate like the dickens, especially in larger-displacement applications.
Just ask Norton and Triumph.
And they really aren't generally rev-happy engines, happier to punch out useable torque. Even with a balance shaft or two, you're never going to get screaming revs out of 1000cc parallel twin. Also, there's a certain bias against the configuration: the very advantages that speak to efficiency in manufacturing suggest a certain… pragmatism that is at odds with an exotic image.
But you will get character and packaging advantages galore, and a torquey powerplant ideal for the sports touring bike MZ had in mind.
Parts availability is a big question mark, although the seller mentions that servicing has never been a problem. This is the epitome of a "mature" sport bike and should be comfortable on both long rides and fast canyon runs on Sunday morning. This could be a really cool buy for someone looking for a bike that will really stand out from the crowd.
-tad