Laverda's big-bruiser RGS1000 comes from an era when the European brands were struggling in the face of the Japanese Big Four's onslaught. To keep pace required serious levels of financial and manufacturing muscle, and most of the European brands just could not compete.
Some, like BMW hung on to a niche market, with loyal sport-touring fans continuing to buy up their durable flat-twins, even as the company continued to innovate, building new triples and fours. But companies like Triumph struggled to update already obsolete machines and stave off their inevitable doom.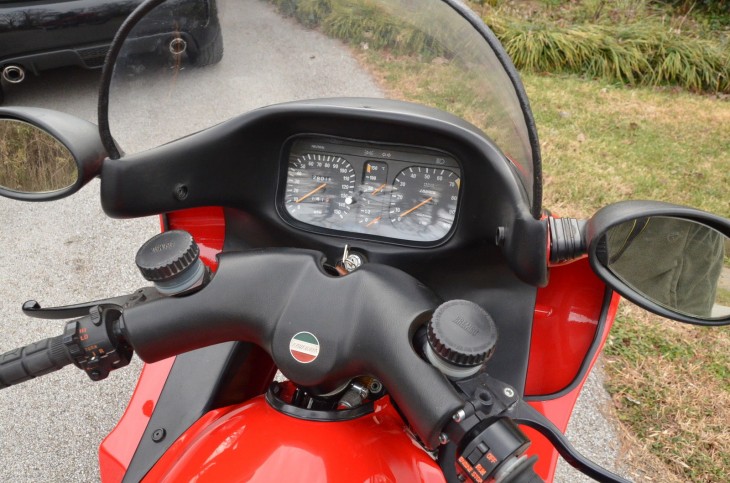 Laverda, a tiny company compared even to Triumph, took a different path. They started with their powerful and chest-thumpingly manly 981cc three-cylinder engine and five-speed combination, then wrapped the package in modern, fully-faired bodywork, creating something new out of something old, a bike that wasn't really trying to compete.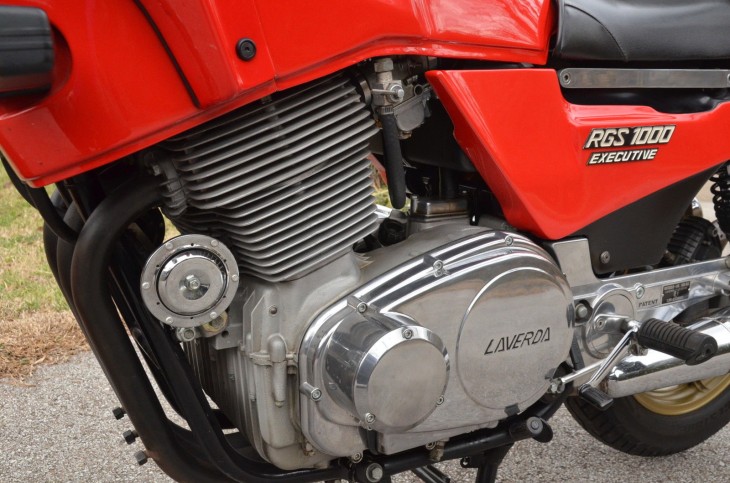 Although it was decidedly old-tech, the new sport-touring mission of the bike meant it wasn't even trying to compete in the rapidly-escalating sportbike wars against the Japanese, and the bike, while not very light at 550lbs, offered Laverda's famous stability, impressive midrange power, and reasonable comfort. Unfortunately, it wasn't enough.
From the original eBay listing: 1983 Laverda RGS1000 for Sale
I bought this beautiful Laverda RGS 1000 about five years ago from a Laverda collector in California. He was selling it and other bikes after suffering serious injuries in an accident. He had owned it for a number of years when he decided that he wanted more "oomph" so he wisely sent it to Scott Potter, Laverda engine builder and restorer par excellence for some high-compression pistons. The bike was in good condition and did not need restoration, but since the engine was coming out anyway, why not take advantage?

And well, here is Scott's work order:

RGS 2029 Disassemble the machine down to every last nut and bolt. Send out all chrome components to be replated . Strip frame, center stand and rear fork to bare metal. Fabricate gusset plates to strengthen headstock. Powdercoat frame and rear fork gloss black. Renew headstock bearings and rear fork bearings. Disassemble engine. Clean sand cast engine components. Bead blast as necessary. Follow with hot tank wash and clear out all passages with compressed air. Polish all alloy covers. Replace wearing components as necessary. Lighten clutch basket and pressure plate. Machine true and lighten clutch drum. Send out cyl head for 3 angle Serdi seat cut. Reassemble engine to factory tolerances. Check valve timing to published specs. Disassemble, clean and inspect starter clutch. Reassemble with new springs, plungers, and rollers. Refit to engine. Refit engine to chassis. Disassemble front forks and clean. Check fork tubes for straight and true. Polish fork tubes. Fabricate adapters for cartridge emulators. Modify damping rods for cartridge emulators Reassemble with new seals and oil. Refinish yokes and instrument mount. Refit forks to chassis. Renew rear damper assemblies with custom Works Performance units. Disassemble brake hydraulics. Clean and reassemble with new kits, pads and pistons. Remove rotor surface area of iron oxide. Mount rotors to hubs with new fasteners.Install new black sheathed stainless brake and clutch hoses. Bleed all hydraulics with fresh Castrol GT LMA DOT 4 fluid Fit new sprocket and renew sprocket locking tabs. Refit wheel assemblies to chassis. Fit new drive chain. Polish footrest plates. Clean adjustment discs and assemble with antiseize compound Install new bronze bushings in shift and brake levers and hone to fit. Install new type designation plate Fabricate new mounts to fit Mikuni RS36 carbs to utilize stock airbox connectors Fit carb assembly to engine. Install new push pull throttle quadrant. Clean and repair/modify wiring harness as necessary. Install Witt/DMC ignition unit and Mitsu coil assembly Refit wiring harness and switch gear to chassis.

As you can see it is a comprehensive rebuild, but not a complete restoration as the original durable Laverda paint was in great condition still. The owner was able to put only a few miles on the restored bike before his accident. Since I bought it from him, I have put about 1200 miles on it. I treated it as a new bike and carefully broke it in. I then changed the oil (Mobil 1), re-torqued the head and adjusted the steering bearings. I have changed to the shocks to Ikons from Wolfgang as the Works Performance shocks were a little soft. The only negatives that come to mind are the tire-changing marks on the rims and the older tires that have plenty of tread but should be replaced before any serious cornering takes place. It starts and runs well with plenty of power. The clutch action and shifting are great- better than any of the Lavs I have owned. It is an imposing bike in looks and sound and it makes a decent sport-tourer with the bags attached. I am including some pics of the rebuild and one of me riding it on the Dragon. I forgot to mention that this RGS has the dealer installed Executive package which consists of the hard bags, higher handlebar, and additional wind protection for the hands.
Bidding is up to $8,500 with the Reserve Not Met and a Buy It Now price of $14,500, which seems pretty on-the-money for a nice RGS. Although this uses the later, 120° crankshaft and was pitched towards a more "civilized" audience, these are still pretty raucous if you're used to something like a modern Speed Triple.
They're very rare, with just 250 imported to the US and if you want a classic Laverda to ride and enjoy, these are stylish, durable and, with the fitted luggage included with this bike, make great sport-touring mounts. And, in case you're wondering: yes, that little door in the front right fairing does in fact hide the fuel filler cap. Obviously you'd need to find a good mechanic, or be handy with a wrench, considering the age and rarity. But the Laverda community is close-knit, and many owners take great pride in wrenching on their own machines.
-tad