Mid-1980's BMW was already planning around the end of the air-cooled era, and developed the 1-liter straight four for the K100.  Marketing naturally wanted pizazz, and the response was the 16-valve K1, with bodywork achieving an unheard-of 0.34 drag coefficient.  Controversial as all ground-breaking designs are, the K1 was fast if not quick, and gave BMW an updated and sporty image.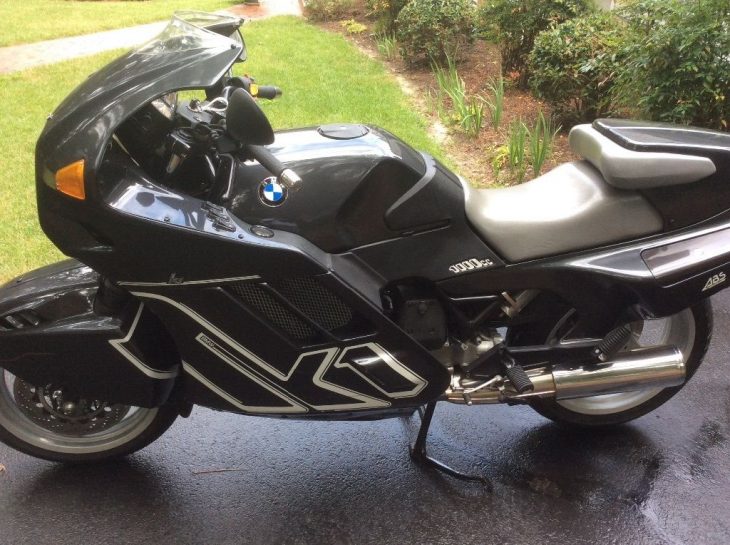 1990  and 1991 BMW K1 for sale on eBay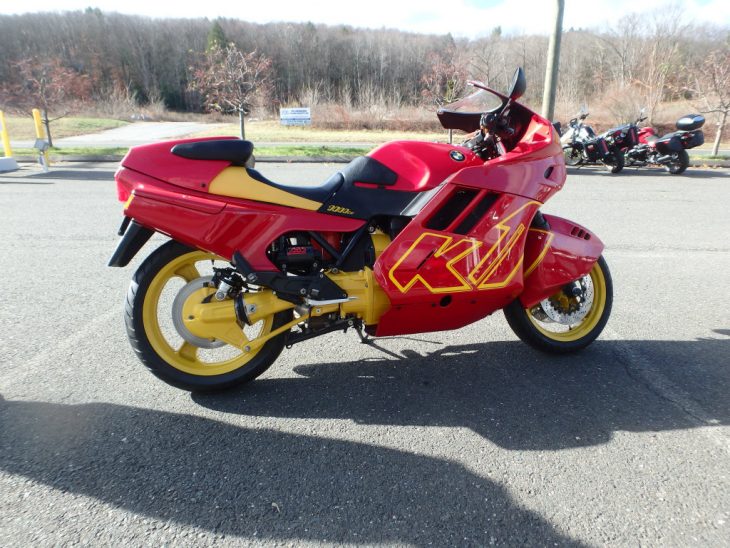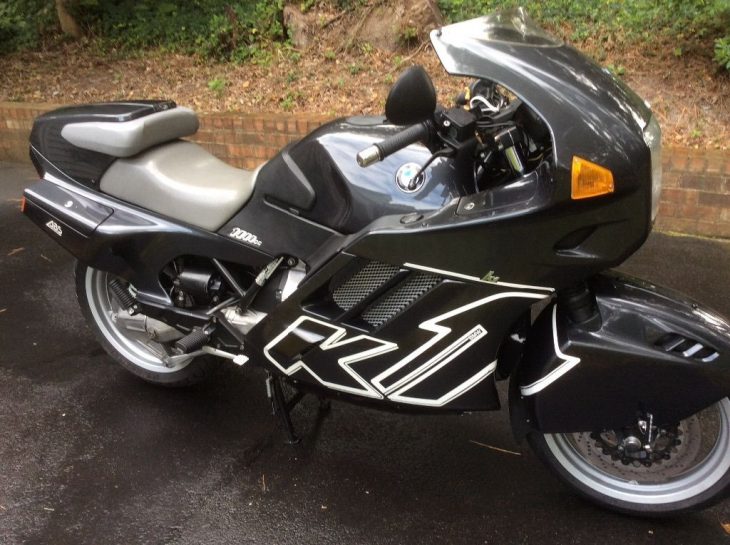 The rather car-like longitudinal four used in the K100 and K1 at least had the advantage of keeping the heavy parts low in the frame.  With lighter crankshaft and connecting rods, the 100 hp K1  suffered less from secondary vibrations which were a nuisance for the K100.  The bike used conventional front forks and an updated monoshock shaft drive rear.  Brakes were sized for the mission, with dual 305mm front disks and single 285mm rear.  Customary for the time, a 17-inch front tire helped turn-in with the 18-inch rear.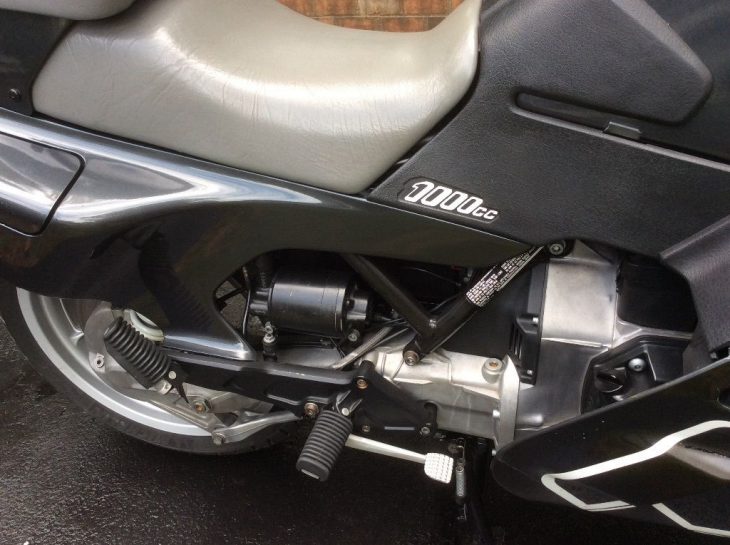 But of course the elephant in the showroom was the 7-piece fairing set, for once not black with white pinstripes, but RED with yellow suspension and accents, also a nice Sapphire or Prussian blue or black with yellow graphics, and you could get gray with white graphics.  For sure a love-hate affair, the fairings did have some integral storage and allowed the K1 to achieve nearly 150 mph.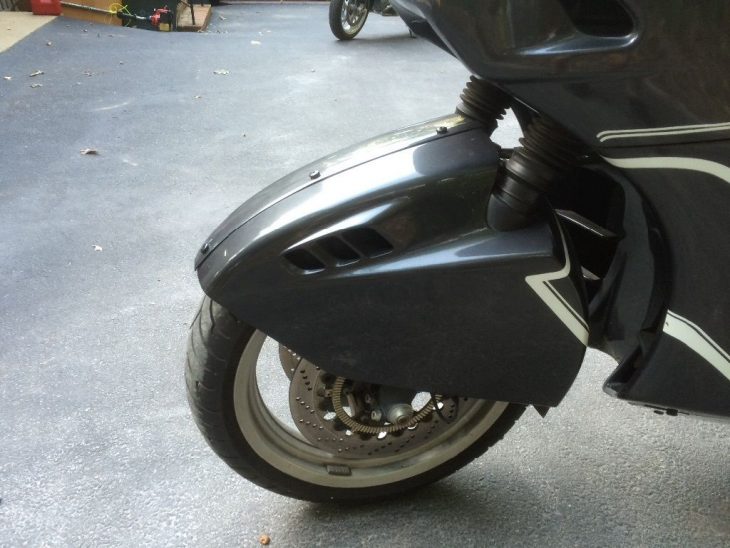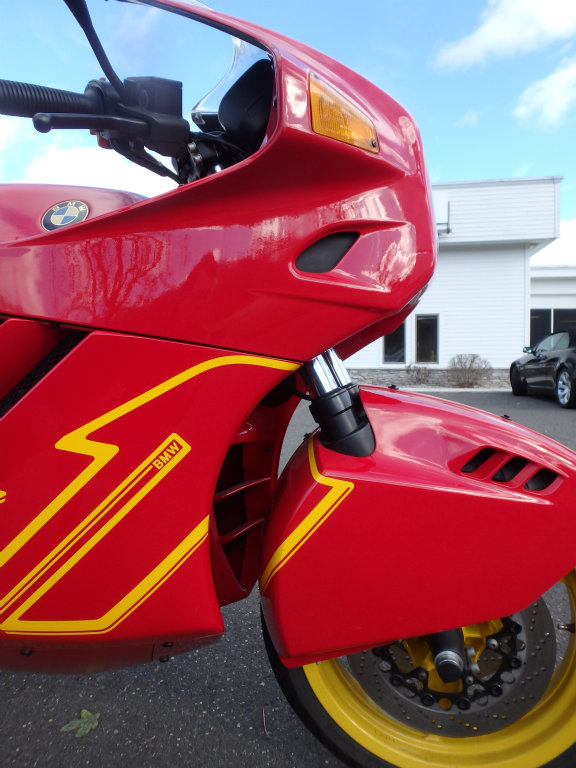 Evidently a trade-in and given a good going over by the northeast flagship dealer, the "McDonalds" K1 looks great and should be ready to double or triple its 10,545 miles.  From the eBay auction:
Exceptionally clean and rare 1990 BMW K1 in Marrakech Red! This bike has low miles and is ready to ride. We did an extensive amount of work to this bike upon taking it in on trade. Paint is in beautiful shape. There are 2 small cracks along the lower front fender, common area to see on this particular model bike. Aside from that, the bike is in excellent shape, both mechanically and cosmetically.

Below is a list of work performed, for additional details, please contact us:

(1) PERFORM SAFETY CHECK INSPECT FLUID

(2) MIKE PUT 300 MILES ON IT

(3) RENEW INPUT SHAFT SEAL

(4) RENEW PINION SHAFT SEAL

(5) INSPECTION OF FLASHERS NOT WORKING

(6) RENEW FRONT BRAKE RESV SEAL

(7) INSPECTION OF INTAKE BOOT

(8) RETORQUE PIVOT BEARINGS

(9) RENEW FRONT AND REAR BRAKE FLUID

(10) RENEW MASTER CYLINDER

(12) RENEW ABS PUMP WITH CUST SUPPLIED PUMP

(13) REBUILD BRAKE CALIPERS

(14) RENEW FORK SEALS

(15) RENEW MAIN BEARING

(16) RENEW TIRES, FRONT AND REAR W/ MICHELIN PILOT ROAD 3

(17) RESEAL FRONT COVER; LEAKING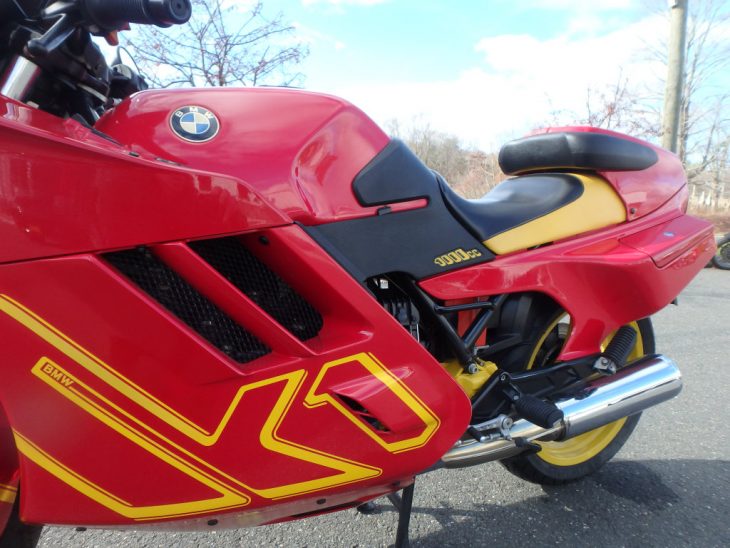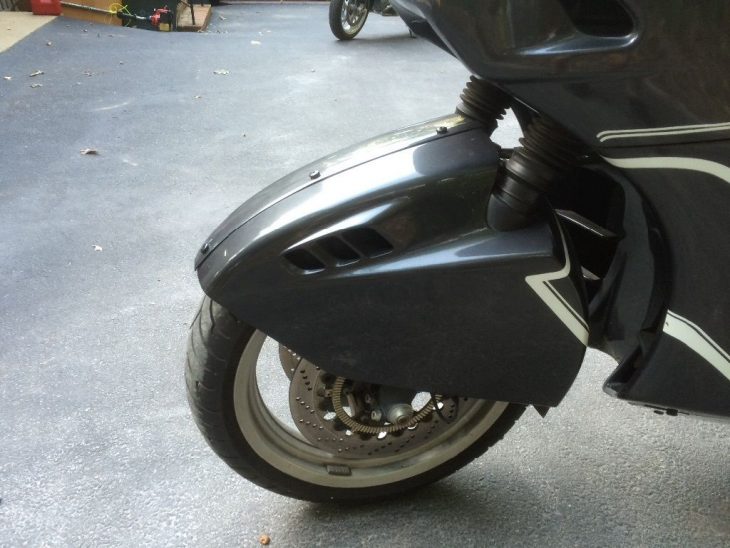 This grey edition was also recently refurbished by a long-time fan.  Rather a rider with 45,000 miles, it has some classic BMW mods, such as conspicuity lights and fork gaiters.  From the eBay auction:
1991 BMW K-1. I purchased this K-1 last year and planned to keep and ride after doing a considerable maintenance. However, at my age 72, I have found the aggressive riding position is not fun for me. This K1 was not ridden much by the previous owner in the past ten years and needed some maintenance when I bought the bike. 

Some of the work completed:

Front and rear brake master cylinders were rebuilt.

All brake lines were replaced with Spieglier Stainless lines.

Both tires were replaced.

All fluids and filters replaced including the engine coolant, and fuel tank filter.

Spark Plugs replaced.

All engine and drive splines cleaned and lubed.

Rubber engine breather tube replaced.

Equipped with Throttle Meister throttle lock. Also has modification that activates the rear turn signals with the brake lights. Photo blaster front lights and Hyper rear brake lights.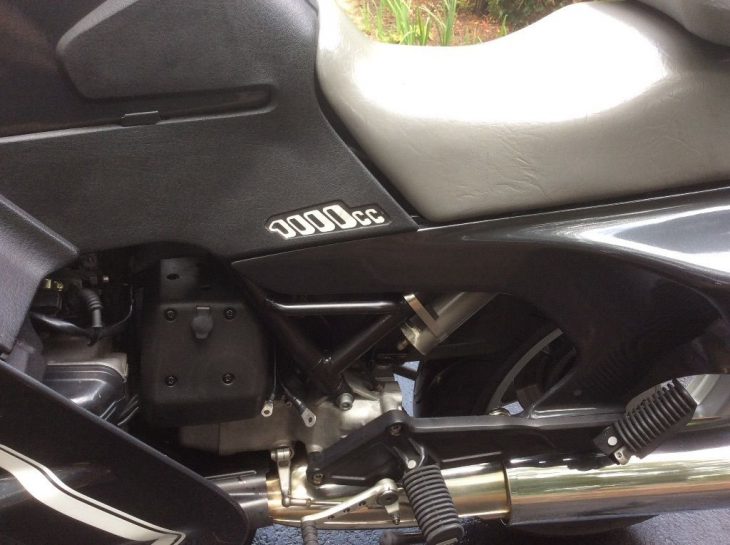 BMW was reigning in the power, fearing aggressive legislation, else the K1 could have had more than 100 ponies to play with.  The competition was unconcerned with staying under 100 hp, and produced machines that were lighter, more powerful, and way less expensive.  Still, the flagship K1 accomplished its goal, getting attention and drawing folks into the showroom, where the stealth colors, ABS, factory luggage, and tasteful graphics made more sense.  Sidling over toward sportier touring, plenty of K1's have seen lots of miles, and paved the way for racier machines with marque race series like the R1100S.  These K1's are again ready to carry the flag, at least in a classic-sport way…
-donn