1986 Honda NS400R
Butler, PA
17,793 KM
Here we have a 1986 Honda NS400R – what a cool bike! As my colleague Mike indicated in his recent CBX post, Honda certainly did things their own way in the 80's. This bike illustrates that point as well as any: 3 cylinders, V configuration, 2 stroke and 400cc? Not exactly conventional, but that's good news in my book. Sporting a 54.5" wheelbase and 70 HP, this bike has got to be a blast to ride.
The NS400R Page website contains great information, although this site has not been updated in a long time. This is recommended reading for any potential buyer as it contains common modifications, original schematics, photos and road test reports from the day.
The bike appears to be a really clean and largely an original model. This particular NS sports the Fast Freddie Spencer paint scheme – classic Honda all the way. More information straight from the seller:
ABSOLUTLEY OUTSTANDING ORGINAL CONDITION!!!!STILL HAS THE 1000K 1ST SERVICE REMINDER ON THE TACH,BOTH FACTORY STICKERS ON RIGHT UPPER INSIDE FARING STILL IN PLACE.PA TITLE IN HAND.NEEDS NOTHING!!!TIRES ARE OEM SIZE WITH NUBS STILL STICKING OUT,ALL FLUIDS ARE FRESH,INSIDE OF TANK IS EXCELLENT,BIKE IS SHOW ROOM OR COLLECTOR CONDITION WITHOUT A DOUBT.I HAVE OWNED THIS BIKE FOR MORE THAN TEN YEARS,RIDEN VERY LITTLE,JUST ENOUGH TO KEEP IT CORRECT,NO STARTING PROBLEMS,IN FACT NO PROBLEMS AT ALL.HAS ALWAYS BEEN IN HEATED GARAGE WITH WINDOWS SEALED SO NO LIGHT TO FADE PAINT.READING ON ODOMETER IS IN KILOMETERS SO MILAGE IS ABOUT10700.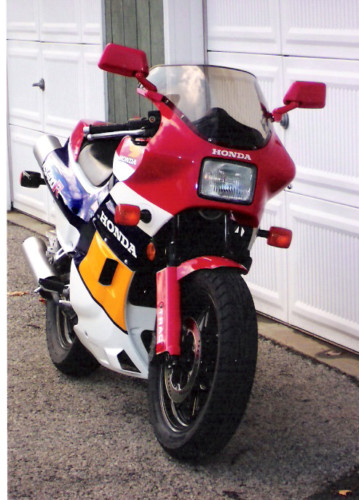 The best part about this bike – a clear title! Luckily, we have a fair amount of NS400R's in the RSBFS archives, so you can do some comparative digging here. The bid has been climbing steadily since the listing was posted, and I expect a steady ascent to the end. Jump over to the auction to view the full listing, which includes the seller's phone number should you have any questions.
BG