SOLD!
One of Seattle Used Bikes' service customers has a plan for a new ride, and SUB is repping the sale of this beautiful 748.  The upgrades to this single-seater are nice, but for the next rider, the comprehensive maintenance is even better.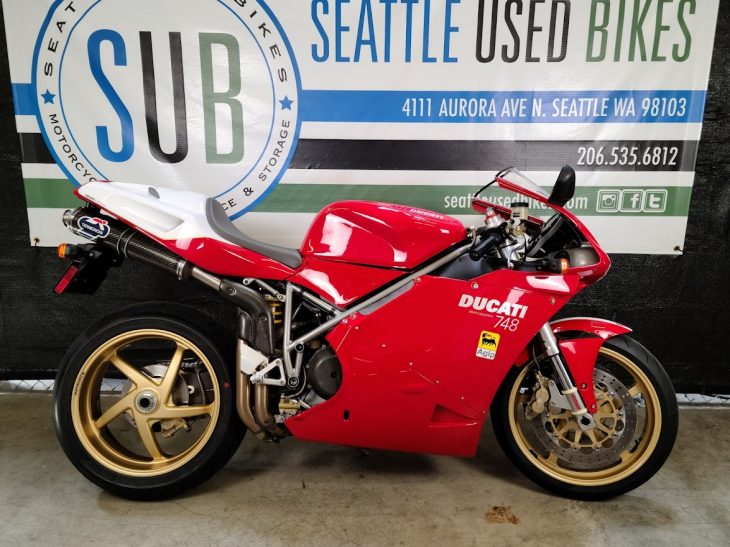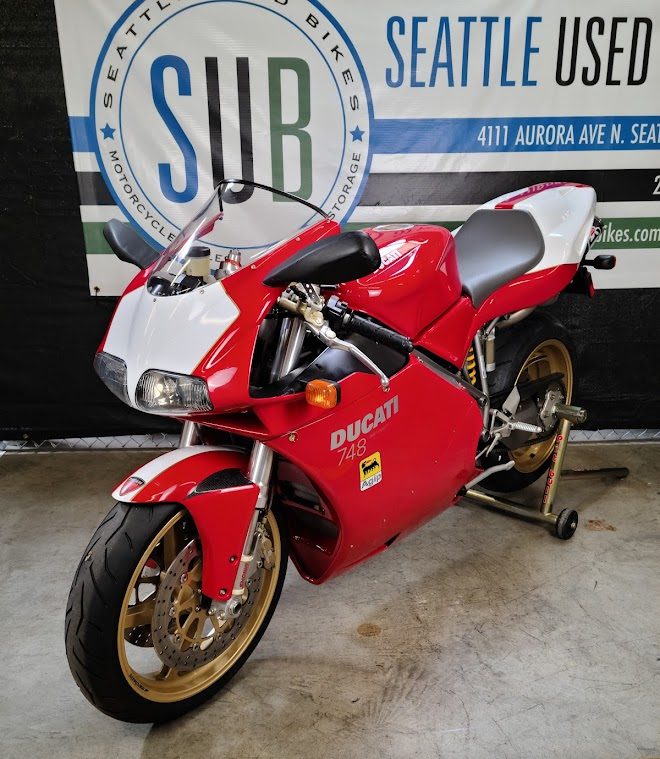 Ducati brought a companion to the showroom for its flagship 916, but in this case the desmoquattro had originally been designed for the supersport.  The smaller bore and stroke allow an 11,500 rpm redline, with 98 hp 500 revs before.  In most other ways the 748 borrows from its older brother, the chassis and geometry, ergonomics and bodywork.  Suspension is from Showa, fully adjustable, USD forks and remote reservoir shock.  Accompanied by 320mm Brembo brakes and a close ratio gearset, it reviewed as a better choice for the street.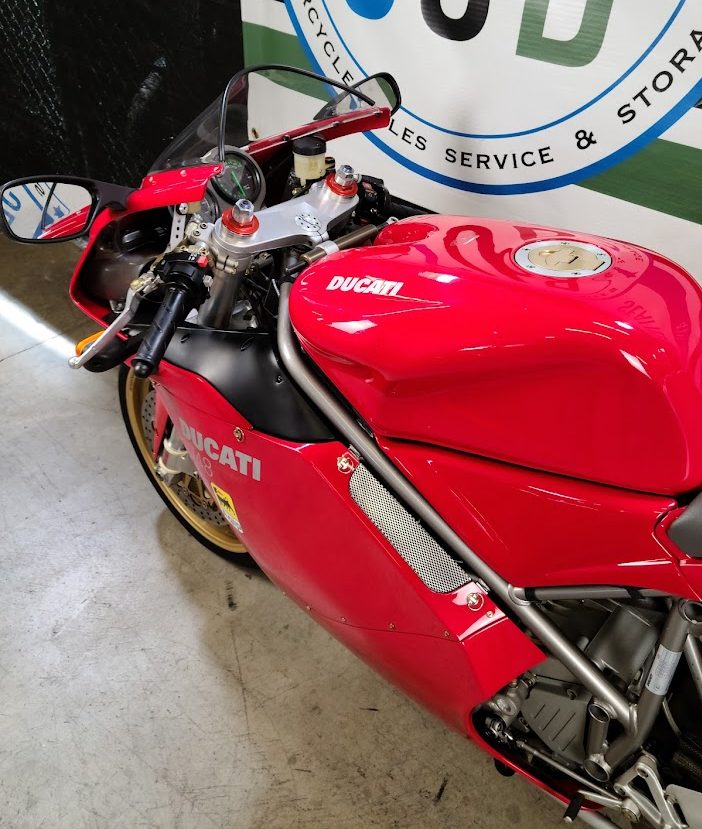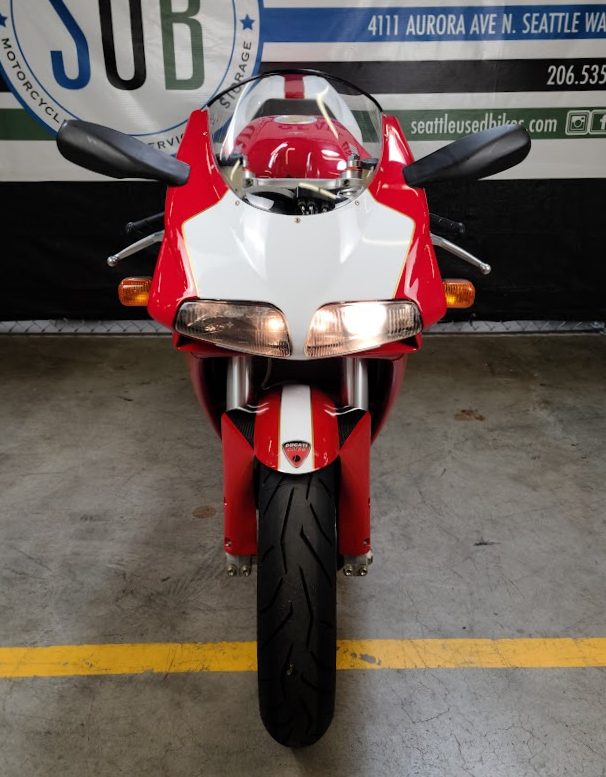 This 748 has been a SUB client longer than its individual owners, and a recent valve train service should relieve any worries.  The chronically over-stressed coolant tank has been replaced by a robust aluminum unit, the fuel pump serviced and steering head bearings replaced.  The upgraded Marchesini wheels and Termignoni exhaust take this 748 very close to how an S was delivered.  That nick on the tailcone could be handled with a touch-up, and a repair to the inside of the front fender would be just about invisible.  Dave at Seattle Used Bike's provided more detailed comments –
The current owner purchased the 748 April of 2018 from one or our former customers. Looking at our past records, we performed basic maintenance and tuning on this 748 starting in 2016. It started life as a base "E" model, not an "S" model, but has a few of the "S" upgrades like quick disconnect Dzus fasteners on the fairing, 5 spoke wheels and a Termignoni 3/4 exhaust system with a proper FBF eprom and a nice carbon SP style heel guard on the exhaust. The biggest upgrade is the early 5 spoke Marchesini magnesium wheels front and rear. These were some of the lightest wheels back in the day, with the rear weighing in at 8.7lbs vs stock 5 spoke wheels at 12.4lbs. Their condition looked perfect, no visible damage, no paint issues, rear was indexed properly and there is no wheel damage in mount points.
A few other items like the carbon open clutch cover and gold EVR pressure plate and springs. Chain and sprockets look in great condition, a nice carbon chain guard is in place, up front there is a carbon fender that has been matched to the red paint but leaving a peek of carbon. This 748 was originally sold from Ducati as a Mono seat model, that can be verified from the matching VIN under the seat. These did come with the steel biposto sub frame so it could be converted to a 2-seater if needed.
We got the go ahead to perform the recommended 6k desmo valve service, including timing belts, all fluids, fuel filter and coolant. To our delight we found our favorite reusable air filters in place from BMC. We also decided to pull the cams during the service to answer the question we often hear on this desmoquattro series, "how are the rockers"? All were in great shape, normal wear but no signs of the dreaded flaking. New OEM O-rings and gaskets were used to replace all items disturbed during the service. We included pictures of internals while disassembled. This 748 has healthy compression reading with 140psi Horz & 155psi on Vert, checking leak down, 5% H and 4% V, good numbers.
We replaced coolant reservoir tank in 2017 with a Corsa Dynamics aluminum unit. This time around we gave the entire chassis a thorough inspection, replaced the steering head bearings as they felt a little notchy, pulled the rear spindle, inspected, cleaned, greased and reassembled. The inside of the tank is also in great shape, the factory lining is still intact. We replaced fuel filter and hoses inside the tank. We then installed a fresh set of Pirelli Diablo Rosso's as we buttoned things up. We did find some damage on the front fender where the brake lines cross over at the rear, it is fairly well hidden, most likely caused by oversized front tire it came in with. That is about the only damage worth noting on a 20 year old Italian beauty. We have our service records, 2 factory keys, tool kit, Pitbull rear stand and a clean WA title.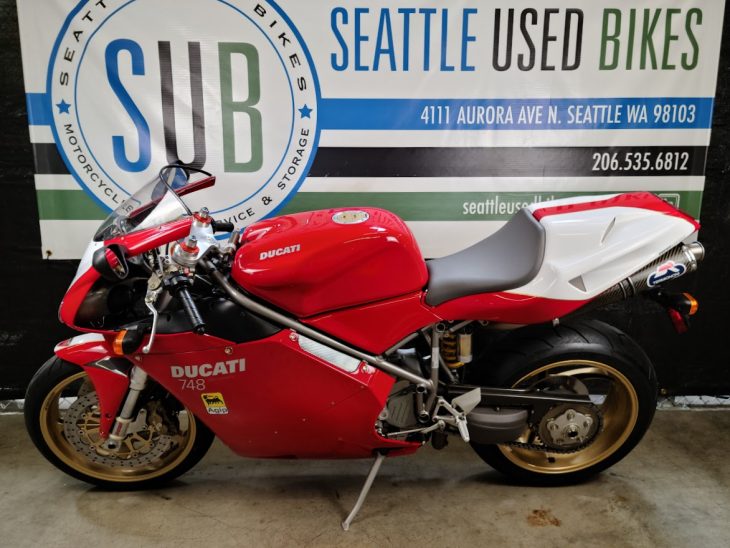 Seattle Used Bikes asks $13,500 for this 748, contact Dave on (206) 535-6812 or dave@seattleusedbikes.com
And here's SUB's video walkaround –
Dave also included this sharp analysis of the 748 –
The hot-blooded Italian middleweight was a mirror image of the bigger 916 but with a smaller, higher-revving motor. Handling was legendary and performance numbers registered mid 11's in the quarter-mile and 150 MPH on the big end. If you can ignore the idiosyncrasies it's a small slice of heaven. Ducati's 916 deserves all its iconic status and then some. But for many people who were lucky enough to ride both, the smaller 748 was the better bike to ride. It's a long-running Ducati trait – the 750SS was more enjoyable than the 900SS and the later 749 was almost the perfect early-noughties sports bike where the 999 was grumpy, difficult to ride and needed to be going a lot faster than we actually went for it to work properly. The 748 came out a year after the original 916. It's easy to think of it as a sleeved-down 916, but the changes are much more than that. Bore and stroke are both different, the smaller capacity loses a bit of bottom-end power, but the lighter flywheels allow the 748 engine to rev much faster meaning the lack of bottom end doesn't really matter. It feels like a very different bike and, bizarrely, while the 916 feels like a massive, powerful engine has been stuffed into the chassis of a 250, the 748 feels like it has exactly the right engine for the chassis.
Contact Dave for more info at dave@seattleusedbikes.com or on (206) 535-6812
-donn