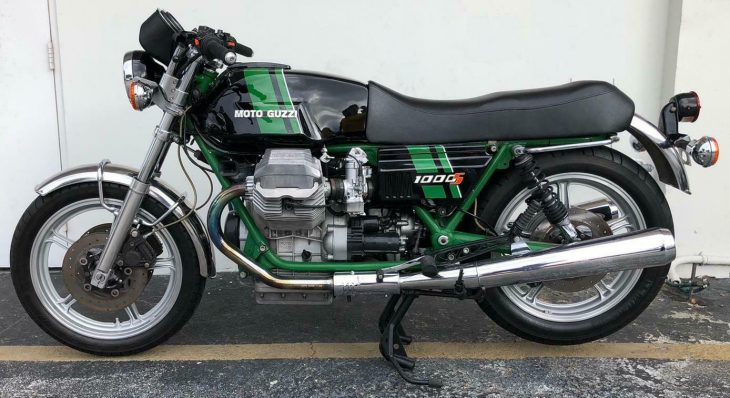 In 1991, "retros" weren't really a thing yet. Kawasaki was dipping a toe in with their Zephyr, and Honda's GB500 had been around for a bit. Both bombed here in the USA, where chromed, raked-out cruisers or hard-core sportbikes represented both the impractical, polar extremes and the majority of the market. But it was pretty easy for Moto Guzzi to whip up a retro of their own in the 1000S with very minimal investment or risk, since they'd basically been making variations of the same bike since the 1970s…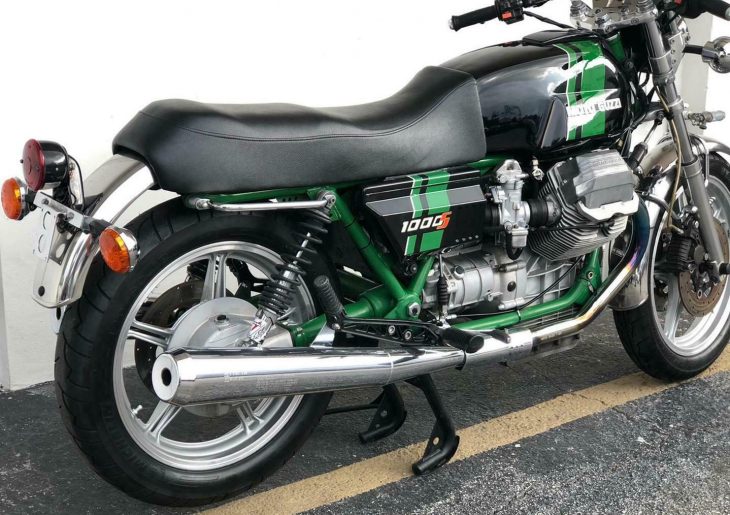 The bike already had handling sewn up: Lino Tonti's brilliant V7 Sport frame still worked just fine for anything other than a full-on sportbike, pretty high praise since the bike was introduced in the early 1970s. Decent suspension helped riders take full advantage of the new Guzzi's capabilities, and a pair of 18″ wheels helped it look every inch the classic cafe racer. The triple disc brakes were strong, and had the benefit of the company's simple and proven linked braking system. Some purists hate it, but the system works well.
Into that twin-shock frame, Guzzi fitted the latest 949cc iteration of their two-valve, pushrod v-twin and five-speed gearbox, and their typical shaft drive transferred power to the rear wheel. It's not going to win races, but the twin's 82hp at 8,000 and 76 ft-lbs of torque are enough to push the 475lb 1000S to just under 130mph. Bikes made in 1993 switched to smaller valves to improve midrange torque and provide better emissions, but reduced power to 71hp at 6,800rpm.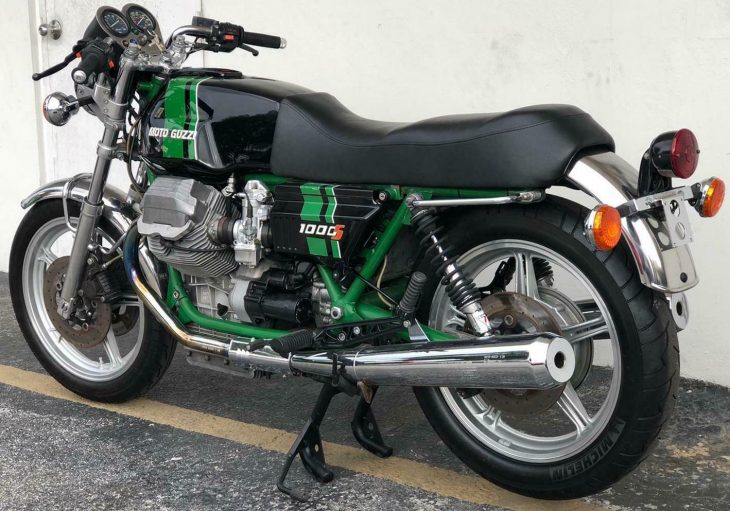 From the original eBay listing: 1991 Moto Guzzi 1000S for Sale
This one is the Big Valve model
It has a little over 35k miles,
It runs excellent, just needs a new home.
Tires are like brand new, looks amazing.
The bike still has its original paint.
There are some scratches in the paint on the side covers.

Only 1,360 were built and fewer than 200 made it to the U.S. between 1991 and 1993.
35,000 miles?! That's barely broken in, when you're talking about a Guzzi! The seller's $17,800 asking price is a bit higher than examples we've seen in the past, but Guzzis have continued to creep up in value, and just a few hundred were imported to the US.
-tad