With its forkless front suspension, Yamaha's GTS 1000 was a tech demonstrator and leading-edge sport tourer. This example is in excellent shape with under 6,000 miles.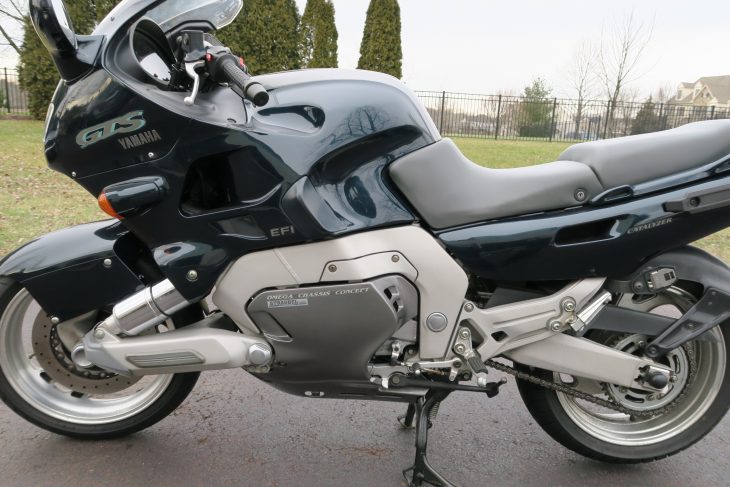 1995 Yamaha GTS 1000 with only 5,880 miles !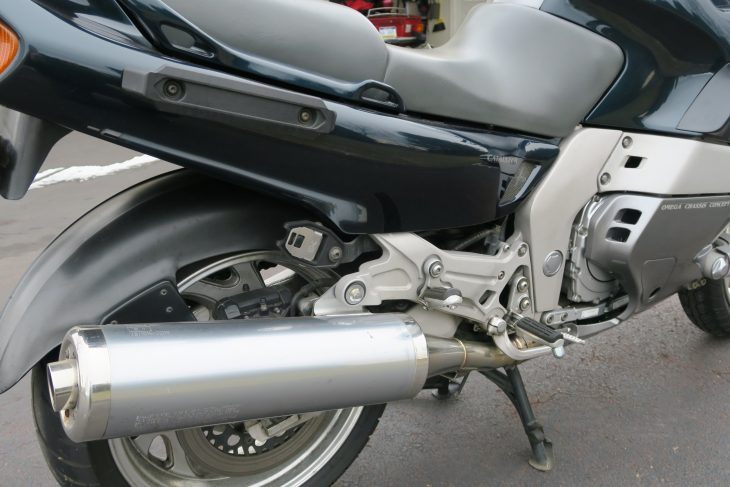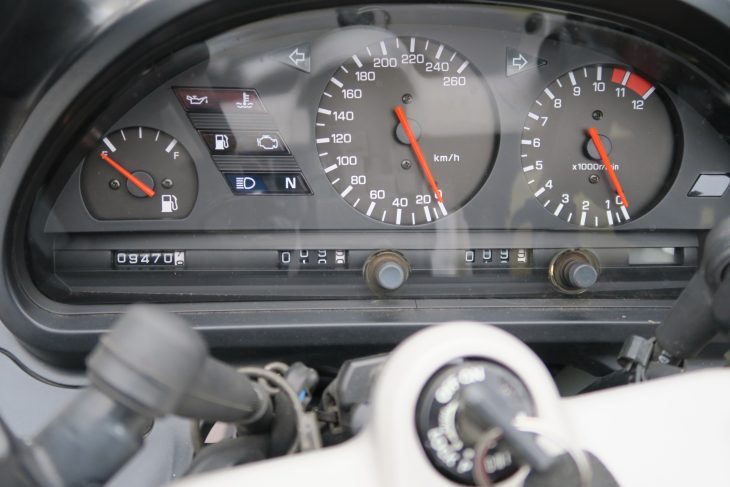 Besides hub-steering, which separates front suspension and steering, the GTS 1000 showed the way in other departments - electronic fuel injection and a 3-way catalyst reduced emissions for the engine from the FZR1000, tuned for 102 hp and a generous torque curve.  Big single disk brakes are found front and rear and backed up by optional ABS.  The full-featured fairing design surrounds the Omega-shaped main frame which encloses the engine.  Not without its faults, the GTS weighed like a sport-tourer but carried just 5-1/4 gallons of fuel.  Steering feel is different than a regular fork, but the first time you have to hit the brakes mid-corner can be a mind-changer.
Accustomed to premium pricing and forward looking, GTS 1000 owners were often real fans.  That's the case here, as Mike located a 1995 imported from Germany ( Yamaha stopped imports to U.S. after 1994 ), and has looked after it nicely.  Understated blue/gray livery goes well with the rarely seen panniers.  No apparent rubs or scrapes, and all expendables recently refreshed.  Mike's comments:
1995 Yamaha GTS 1000 Euro version.  This bike has Yamaha's FZR 1000 engine.  Fuel injected.  ABS RADD front fork technology.  This is a rare bike in that it is a 1995.  It was not imported into the US after 1994.  Its also has the rare "Panniers" which were optional and are the original Yamaha OEM equipment.

Very low miles, (speed is in kilometers).  New in 2018 tires, battery all fluids, oil & filter.  Spark plugs.  Runs perfect.  Everything works.  Windscreen is showing discoloration and there are a few chips.  Replacement aftermarket screens are available on eBay.  Title in my name. Located in Skippack, PA.
Developing a platform like this is important for a leading manufacturer, and pays dividends outside of the showroom.  While they could be considered commercial failures, bikes from BMW's K1 to Ducati's Desmosedici to Bimota's Tesi continue to push the boundaries in design and construction.  The GTS 1000 was sold worldwide until 1999, though it only lasted two years here.  Rare to begin with, this is a great low-mile example with up-to-date maintenance.  Mike asks $7,500 for the GTS 1000 and can be reached - here -.
-donn