In development and production since 1991 but still looking like the future, Bimota's Tesi 3/D might be the ultimate attention-getter.  The 3/D improved Tesi handling and production techniques, and uses the Ducati 1100DS engine, light and good for 95 hp.  Number 23 of just 29 2008's, this Tesi is light ridden with 2,250 miles and is in fine shape.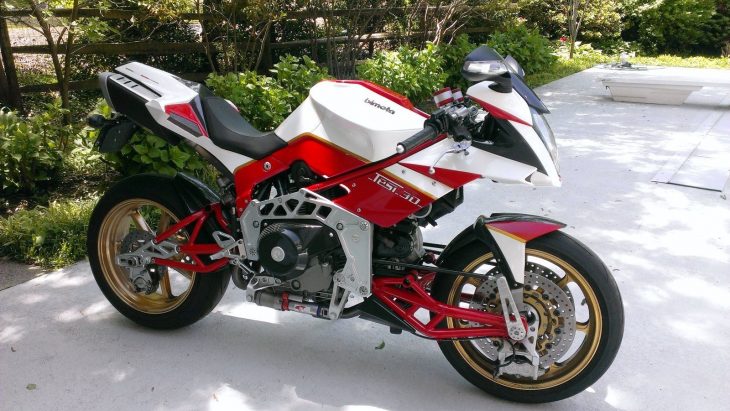 Bimota's hallmark chassis research led them to attempt to separate suspension and steering in the late 1980's, and reduce the negative effects of braking on handling.  Rather more car-like, the Tesi front end uses a parallelogram layout and pull-damper mounted next to the engine.  Braking causes less compression of the suspension, and rake angle doesn't change with suspension movement.  Hard to call it simpler than a conventional fork, but the compromises made between rake, trail, braking, spring rates, damping, and anti-dive aren't easy either.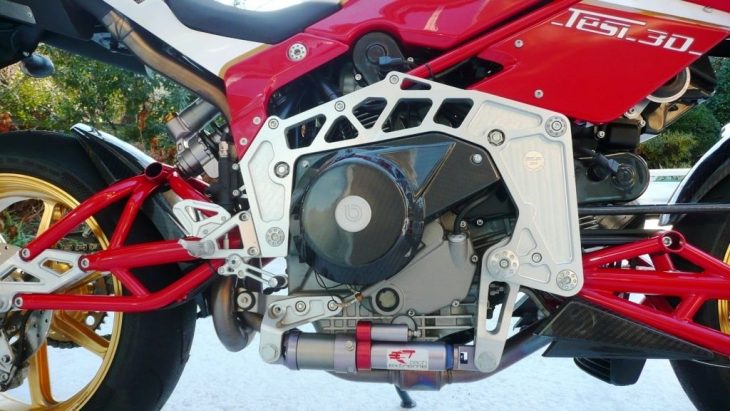 The 3D uses the Ducati 1100DS engine, air/oil cooled with two spark plugs and valves per cylinder.  Fuel injection and ignition are Marelli electronic tuned by Bimota.  Brakes are 320mm Brembos, perfectly and weirdly mounted under the wheel hubs, front and rear, the rear using a 220mm disk.  The styling is dominated by the billet-machined frame elements, which are echoed by the seat sub-frame, angularity being the major theme.  The front and rear swingarms are steel trellis, painted red.  Livery is an exciting flight of highlights in white, red, black, carbon, and gold.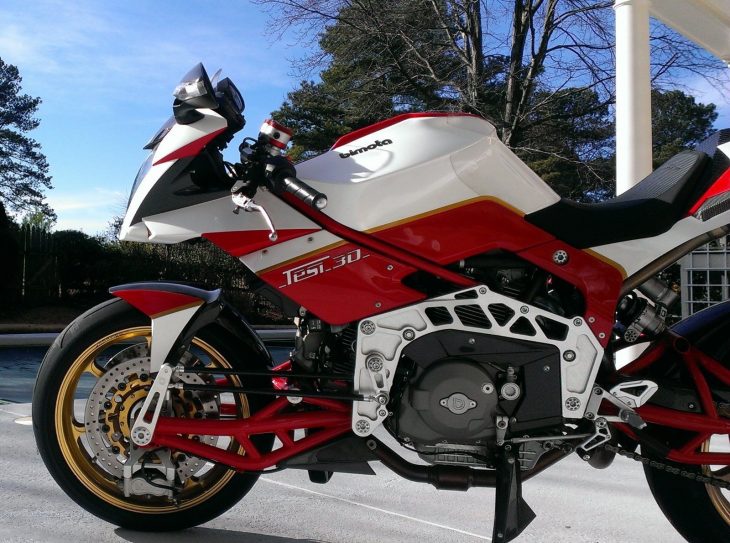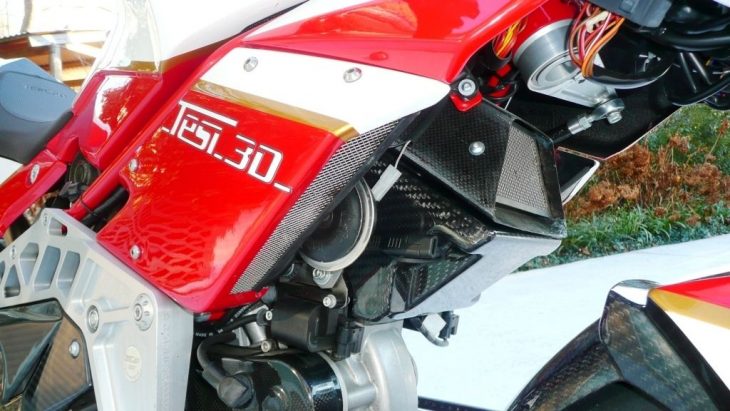 Just occasional miles, as you'd expect from an exotic like this, and the bike does look undamaged and nicely detailed.  From the eBay auction:
You are bidding on a 2008 Bimota Tesi 3D with hub-center steering and Ducati engine in excellent original condition. Purchased in 2010 with 876 miles from 2nd owner. Current mileage is less than 2250 miles. Clear GA title and registration in my name. Bike runs very strong, nothing needs attention, and its ready to go. New belts just fitted in March 2016. Tires are originals, need replacing sooner or later depending on intended use.

Included with bike are:

– 2 keys

– owners manual

– spare parts manual copy on CD
The owner has taken care of major maintenance, so the 1100DS can be run without worry.  A premium-priced technological exercise, it was never really reviewed as a road bike, though it is certainly built to ride.  More likely to be resident of the dining room than series of long rides, the new owner could mount some new tires and take advantage of the spring weather…
-donn