We don't normally like to post up bikes that stray too far from stock, but this very useable, purpose-built replica of Suzuki's XR69 seemed too well put together to pass up. And certainly, this isn't just some GS1000 with an aftermarket fairing slapped into place with some stickers holding it together. It's gorgeous, painstakingly crafted, and fully-prepped to compete in vintage racing classes. In some ways, it's even better than a real XR69. Crash one of those, and you've destroyed a valuable investment, a living historical racing document. Crash this one, and it's just money, and significantly less money than an actual XR69.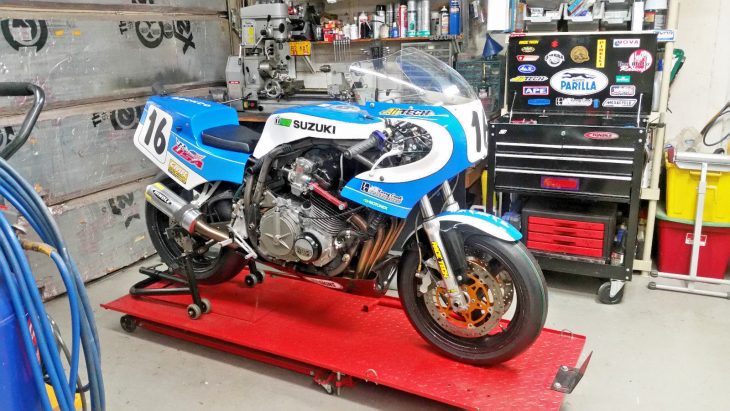 The original XR69 was a late 70s/ early 80s four-stroke superbike, a bit like a WSBK and MotoGP hybrid. The engine was obviously based on Suzuki's production GS1000, but power for the race engine quickly outstripped the ability of the stock platform to handle it, so Suzuki provided frames and suspension parts from their two-stroke GP bikes, and the bikes suddenly handled as well as they went. 1981 saw a switch from a dual shock setup to a Full Floater rear suspension and even better handling. Surprisingly, engines were developed by Pops Yoshimura instead of Suzuki's in-house racing department, and the 997cc DOHC, 16-valve inline four put 134hp through the GS1000's five speed gearbox. The package was updated with a dry clutch in 1983 and top speed was 170mph, depending on gearing.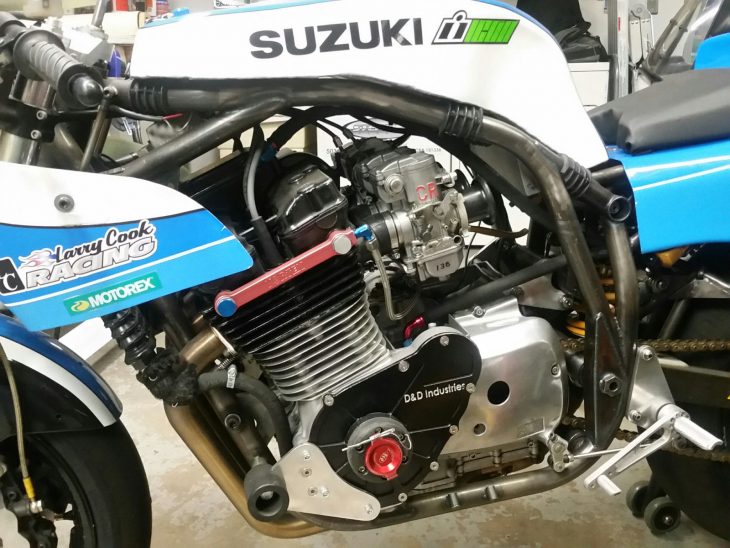 This one obviously has some minor differences. It uses a monoshock rear that would more likely have been found on the 1981 model and appears to use 17″ wheels at both ends. But the frame looks pretty authentic to my inexpert eye and the overall effect is very impressive.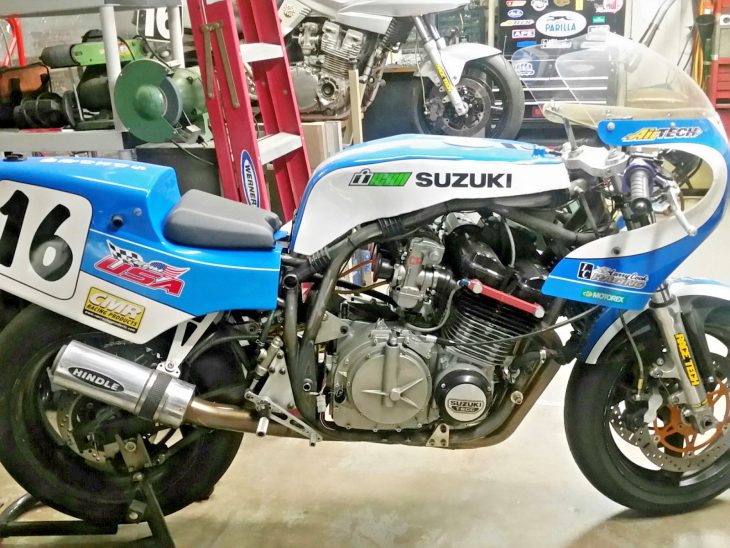 From the original eBay listing: 1980 Suzuki XR69 Replica for Sale
For Sale: Suzuki XR69 – A replica of the factory Yoshimura 1980 Suzuki XR69 raced for endurance racing in Europe ridden by Wes Cooley. This bike was built for the sole purpose of racing the International Challenge at Phillip Island in Australia. I have raced this bike last year and is extremely fast and performs like a modern bike. The suspension has been transformed by Dave Moss out of California and is flawless for me.

Pro mod built crank with 493 Katana rods. displacement: 1280cc. 39mm CR Keihin carbs. 31mm titanium intake valves. Stainless steel 27mm exhaust valves… extensive porting, new springs, ti retainers, hard faced cams and rocker arms. $6k in the head. No expense spared in building this engine as well as bike! All work performed by Larry Cook Racing in Portland OR.  Undercut transmission. Billet clutch hub with brand new Barnett clutch plates. Sigma Slipper clutch. Dynatek 2000 ignition with grey coils. Wego A/F gauge. Chromoly outstanding CMR custom built frame out of Canada. Custom 4:2:1 exhaust by Hindle. Brand new Ohlins rear shock with different springs. EBC front rotors and pads with unbelievable stopping power. Able to be started on the end of crank with hand starter. All making 171.5 hp. at the rear wheel with 110 fuel. There is more power to be found with different fuels!!Has tremendous power down low as well.

An extremely comfortable ride as well! Recently completely rebuilt because of top end oiling issue with new sleeves and custom pistons and tested at Utah. Perfect and Ready to go for Phillip Island with Dunlop newer slicks (1 practice session and 1 break-in session on Dyno) For all you professionals wanting to race a bike for Team USA at Phillip Island 2019 this is the one that will get you in the pointy end of the race.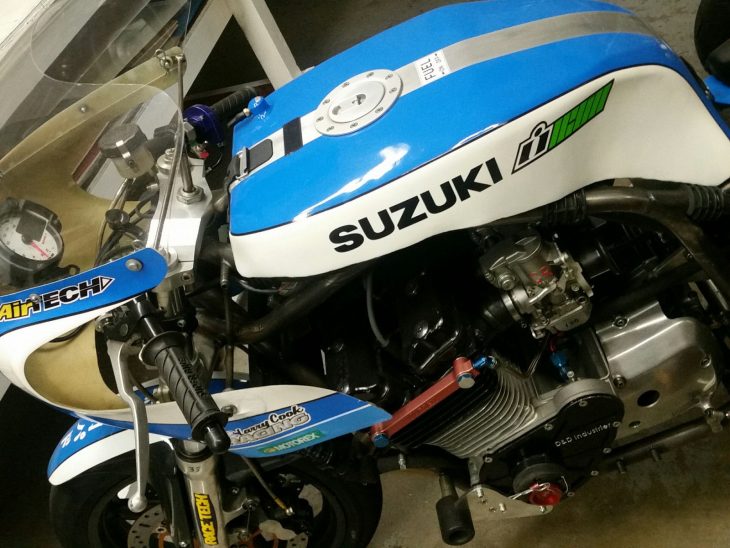 What's this really worth? Well, it obviously has very minimal historic value, not being an actual historic racing motorcycle. But it is a fully-built racing machine built to compete on the vintage circuit and that $26,000 asking price seems pretty fair, considering the parts and labor that have gone into this one. The market for a replica historic racing motorcycle may be small, but this one will hopefully find the right buyer.
-tad