Update 6.3.2020: This bike has SOLD! Congratulations to buyer and seller! -dc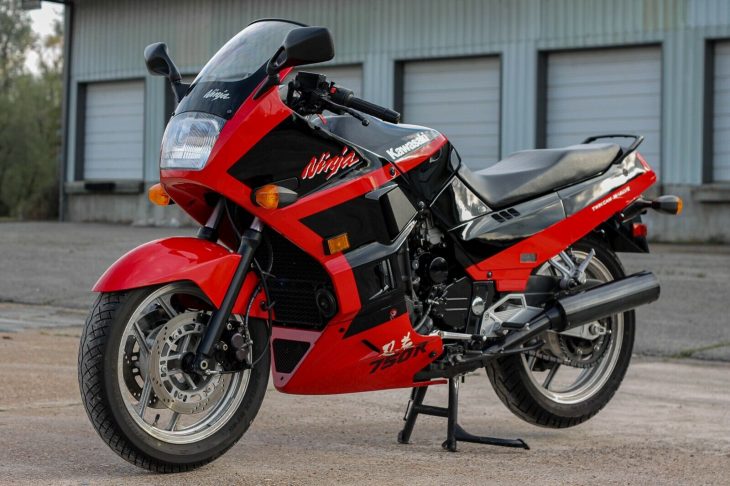 Kawasaki's ZX-7R is finally getting its due and clean, low-mile examples are getting pretty hard to find anywhere near the rock-bottom prices they fetched not too long ago. Older, 1970s and early 1980s Kawis like the KZ1000R have found their collectible niche as well. But the mid-1980s bikes like this Ninja GPX750R have been a bit too new for the classic fans, and too old for anyone into superbikes with more modern looks. So maybe now is the time to start looking for one to add to your collection?
The Ninja name always seemed a little… silly to me, but I'm obviously wrong because Kawasaki still has a bunch of them in their lineup. GPz900R Ninja introduced in 1984 packed a big engine into a lightweight, round tube steel chassis and was very popular, with a great mix of handling and straight line performance. In 1984, Kawasaki took the GPz900's chassis and dropped a 750cc into it to create the GPz750, a bike with well-rounded and competent but unexciting performance, compared to bikes like the GSX-R750.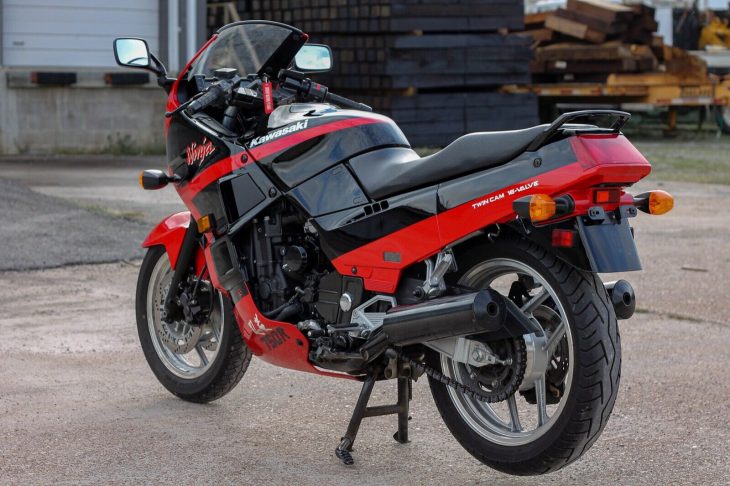 An improved engine in 1987 led to the bike seen here, the GPX750R that was available until 1991, depending on the market. That means it would have been available alongside the ZX-7R in some places, long after the GPX would have been considered cutting-edge. Power came from a 748cc sixteen-valve inline four with liquid-cooling and a six-speed gearbox, and the package was good for 141mph. Mechanical anti-dive forks worked well enough, although they and the air-shock out back are obviously not as sophisticated as modern examples. The 16″ front and 18″ rear wheel combo date the bike somewhat, but you still should be able to find decent rubber to fit.
Ultimately, the GPz and GPX750R represent a bit of an in-between stage for Kawasaki, which may be why they're a bit forgotten today. Performance was perfectly adequate for the class, but they didn't have exciting new technology or class-leading power. Style isn't quite Top Gun classic like the GPz900R or World Superbike classic like the ZX-7R, but the GPX750R is supposedly a great bike to ride. If you're a collector, or just feeling nostalgic, this could be a great candidate. Miles are very low, with a mere 6,065 on the odometer, and overall condition is excellent. There are a few minor blemishes clearly shown in the seller's photos as you can see from the gallery included.
From the Seller's eBay listing: 1989 Kawasaki Ninja GPX750R for Sale
At One-Up Moto Garage (https://www.oneupmoto.com) I have high standards for condition and I would rate this Ninja cosmetically 9.5/10 and mechanically 10/10. I am the second owner, the original owner put 95% of the miles on it (totaling just over 6,000). Since day one it has been stored indoors with a bike cover, so it has no sun fading, rust or corrosion. I took pictures of every little chip and blemish I could find on the bike. The tires are nearly new, and carbs were addressed with new float bowl gaskets a few months ago. Not because they were leaking, I just wanted to see how the insides looked- and it was like new (I can send pics upon request). Gas tank also looks new inside. The bike starts easy, runs and rides flawlessly. It has never had ethanol gas in it. Everything feels like new on it, throttle cable is smooth, hydraulics are firm, all switches are tight and snappy.

It spends most of its time in my showroom with the battery tended, I ride it once every few weeks to keep things moving. You won't be disappointed with this bike! I can send a start, run, and ride video upon request. I can also give you the whole life story of the bike going back to its original sale in Arkansas in 1990. 
Bikes we've traditionally considered "classics" are wonderful, but require that you temper your expectations: 1950s motorcycles require more attention and maintenance, have much less power, sketchier handling, and brakes that won't hold a candle to what even a Ninja 300 can provide these days. The best thing about a bike like this Ninja GPX750R is that it straddles the classic and modern eras. It may not have ABS and an autoblipper, or make 200hp at the rear wheel, and you won't be able to fit the very best rubber but bikes like this offer good comfort, reliability, and plenty of performance to handle the cut-and-thrust of modern traffic, all while helping you relive your lost youth.
-tad