Warning!
This post is in our archives. Links in this post have been updated to point to similar bikes available to bid on eBay.
Every post will be sent right to your inbox every morning when new posts are made. We will never sell our list or spam you. Plus you can click links to bid or buy right from the email and skip the site entirely. Subscribe to Rare SportBikes For Sale today!
I seem to be on a 900cc theme lately; earlier this week it was the Suzuki RF900, now its a lovely 2002 Kawasaki ZX9R.
Back in the early 1990's, the 750cc class was the configuration that was closest to the bikes being raced in WSB/Motogp.  Bikes like the ZX-750R and GSX-750R came equipped with technology similar to the bikes being raced in World Superbike/MotoGP.  Meanwhile the big-bore 1,000cc-plus class offered bikes which were ultra-powerful but were big and heavy.
During this time period Kawasaki was fortunate to be selling a lot of bikes in both classes.  Kawasaki's ZX-750R was a sales champ, flying out the door to riders who wanted the experience of a street legal racing- homologation bike.  Sales were further helped by the fact that Scott Russell was winning championships on a ZX-7 based machine. Also the street legal ZX-7R seriously outclassed the similarly priced GSX-750R which still featured a perimeter frame and an oil-cooled engine.   Meanwhile Kawasaki was also selling lots of its ZX11/ZZR-1100, a hyper-speed king that held the title of the fastest production motorcycle on Earth.
While Kawasaki sales were booming, Honda was designing a game changer; the CBR900/Fireblade.  Upon its introduction in 1992, the CBR900/Fireblade blew away the separation between the 750cc and 1100cc classes.  Suddenly there was a bike that gave big-bore class power with 750cc weight and handling.
Faced with the CBR900/Fireblade onslaught, Kawasaki responded in 1994 with its own 900cc superbike effort, the ZX-9R.   The ZX-9R was originally intended to compete with the CBR900/Fireblade but smaller manufacturer Kawasaki didn't/couldn't commit to a entirely new design for the ZX-9R.  The result was that the ZX-9R was almost 30 kg (66 lb) heavier than the FireBlade.  This meant that even though it made about 15 bhp more than the FireBlade, this advantage was nullified by its size, weight and resulting reduced agility.  Faced with the weight issue, Kawasaki positioned the ZX-9R as a more stable and comfortable alternative to the Honda with more straight-line speed.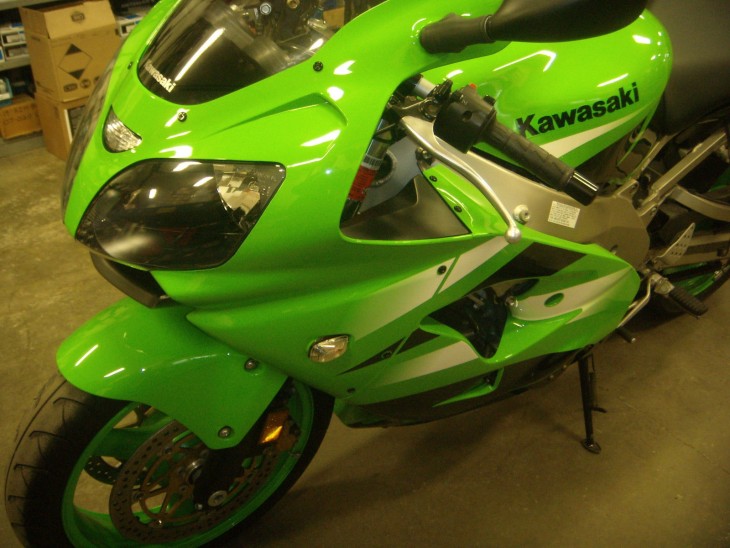 Even though it couldn't directly complete with the Honda, reviewers found the new Kawasaki to be excellent, with top notch handling, ground clearance, braking and wind protection.  Incremental changes were made from the introduction of the ZX-9R in 1994 to the last generation/F Series editions in 2002/2003 (which is what this seller indicates this bike is).
A very detailed review of the 2002 ZX9R can be found here.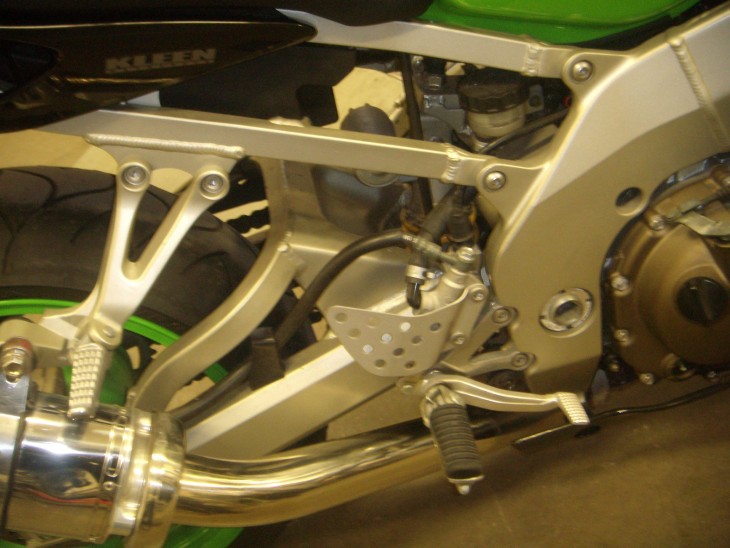 This  ZX-9R looks to be pristine, with the only items that look questionable being the turn signal indicators and possibly a missing rear mudguard. Note:  Inquiries to the seller are that what appears to be a dent in the exhaust canister are merely a reflection.
Mileage is stated at 4733 and this appears to match the shown odometer.
Here is what the seller has to say
VERY CLEAN 2002 KAWASAKI NINJA ZX-900R.

MILEAGE IS 4,733.

STAINLESS STEEL EXHAUST BY A.R.T. ITS A PRO-SERIES AND MADE IN ENGLAND.

TIRES AND BRAKES ARE ORIGINAL AND ARE IN GOOD CONDITION.

AS A BRAND NEW MAINTENANCE FREE BATTERY.

THIS BIKE IS ADULT OWNED AND HAS NEVER BEEN DROPPED, WRECKED OR ABUSED IN ANY WAY
Is this last generation ZX-9R worth the $4,995 USD Buy-It-Now price?  Well the opening bid matches the KBB retail price and given the low mileage of this bike, the price seems pretty fair.  New owners would likely want to invest in new tires and a general fluid update but would then have a very clean last generation ZX-9R.  Since first and last generation bikes are typically the ones with the most value to collectors, this one could be a smart buy before prices start to pop up.
-Marty/Dallaslavowner
Note:  For anyone who might prefer the 1st generation ZX-9, there happens to be one of these also for sale on ebay right now.  Click here to see the bike (but note the lack of title availability).