Quite possibly the ultimate bevel-drive Ducati, the Mike Hailwood Replica started out as a lightweight homolagation special, but finished as a 973cc superbike.  This fine example has some shelf wear but has logged only a few hundred miles.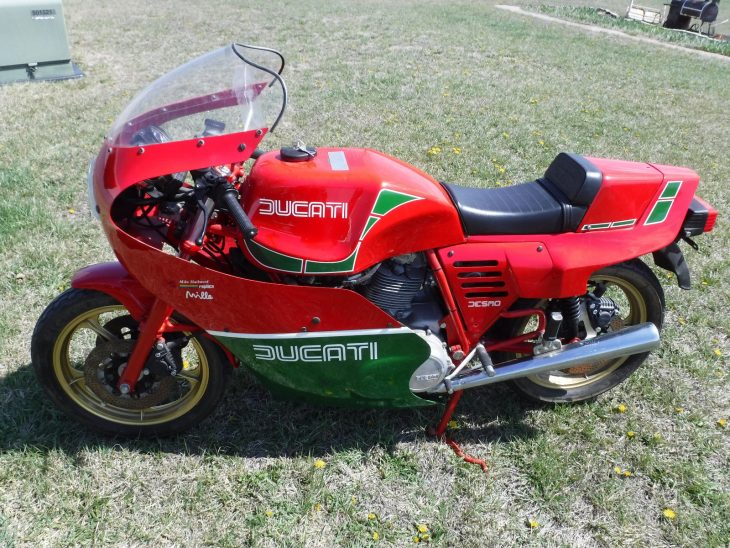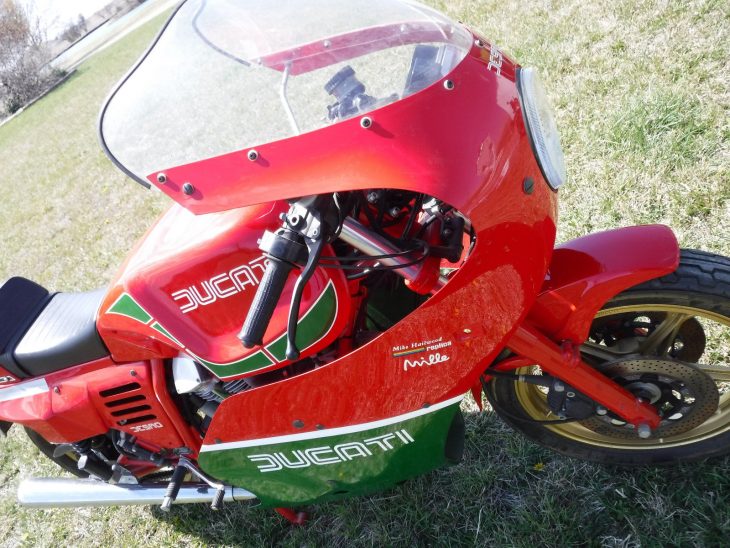 The late MHR had 76 torquey hp, and the big fairing in commemorative red and green livery with monoposto seat.  Trellis frame peeks out behind beefy air-cooled cylinders.  The 40 mm Dell'Orto carbs, five-speed and smallish Brembo brakes made for a dynamic package.
Hidden away in Dixie, this MHR appears complete and original with just a single faux pas at the windshield and the deteriorated turn signal stalks.  A comprehensive going over will be required to return it to riding status or the show circuit.  From the eBay auction:
nice original paint bike, with only 397 miles on it. the clear windshield is cracked on the left (see pics) and the turn signal stems are made of some plastic that just crumbled from age, turn signals are included.

I put a battery and gas in it, and it started and ran fine. I didn't try to ride it, as the brakes will need servicing, and the petcock leaks.

beautiful bike
as far as I can tell, its completely original.

feel free to ask any questions
all of these Ducati's listed are being sold from an estate, and all have been sitting a few years.
Budget concerns ruled the day and Ducati wasn't able to follow Hailwood's 1978 TT victory with a win, but wins in IOM Formula II generated showroom interest that kept shoppers coming in until the new belt-drive desmodues were ready.  The model was continued as a tribute after Hailwood's death in a road accident, and became the most popular bevel.  A short restoration and a long career behind the velvet ropes await this MHR…
-donn