Ducati's stateside managers saw an opportunity for celebration in 2007, and commissioned NCR to re-imagine the Ducati 750SS which won the Daytona Superbike round in 1977.  Number 4 in an edition of 50, this New Blue race bike is hand-built in a 21st century way, and shows just 45 miles.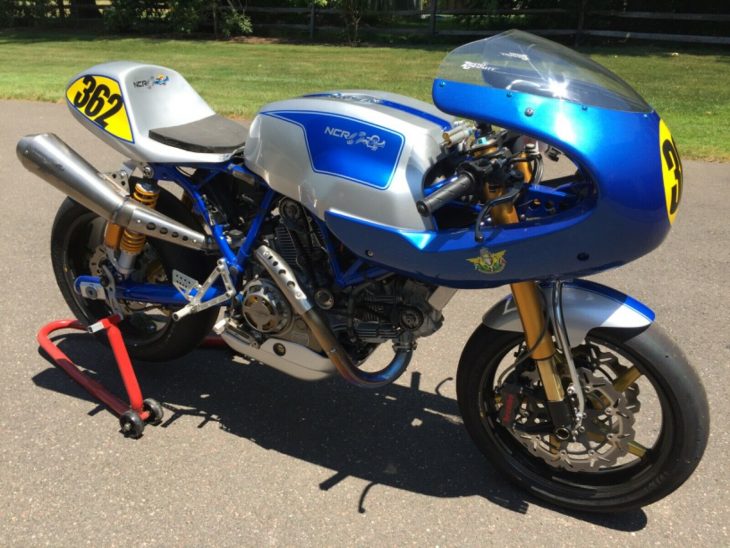 Named for – Old Blue –, a 750SS racer campaigned by Cook Neilsen ( at the time editor of Cycle magazine ), the New Blue is also air-cooled, but that and the paint color might be all they share.  Based on Ducati's Sport 1000S, the engine is massaged heavily by NCR to 1100cc displacement and 116 hp.  Typically excellent components are supplied by Öhlins and Brembo, with an Apt slipper clutch, full titanium Zard exhaust, and BST carbon wheels.  Since Poggipolini and NCR joined forces in 2002, the company has used projects like this to showcase their Ti and Al alloy fabrication skills, with rearsets, clutch cover, triple clamps and clip-ons shown here.  The goal of weight reduction has been met with the scales showing only 319 lbs., a feather for a liter-plus thunderbike.
Shown with replaceable race fairings, later pictures show the factory nose and seat fairings with fawn suede seat, either way it's a magnificent kit.  Destined for show, but built for go.  From the eBay auction:
Exclusive handmade bike , number 4 of only 50 built.

Developed jointly between NCR and Ducati North America, the "ready to race" New Blue is made in limited number and exclusively for the track

116HP driving 319lbs (116hp/145kg) the New Blue has 40% more power than its street base Ducati Sport 1000S

The NCR One Shot 1100cc powerplant and gearbox, Brembo monoblock brakes, full NCR electronics, full racing titanium 2-1-2 exhaust weighing only 8.8lbs made by Zard, Ohlins front and back tuned by NCR

Frame: tubular trellis in steel Ducati

Clutch System: NCR Corse by Apt custom slipper clutch system

Gearbox: 6 speed

Front Brake: 2 x 300mm Breaking WAVE disc – 4 -piston 2 pad Brembo Racing caliper from billet

Front Suspension: Ohlins 43 mm upside-down fork with Tin surface treatment, adjustable off-set

Rear Suspension: progressive linkage with fully adjustable Ohlins monoshock with length adjustment

Exhaust System: new custom all NCR titanium exhaust system 2-1-2 produced by Zara

Wheel Set: BST carbon fiber wheels set for NCR

Dashboard: AIM MXL

Electronic: NCR Corse wiring system with automatic Remapping System (ARS) by on-board CPU

Front Tyre: Metzeler Racetec Slick 120/70 R 17

Rear Tyre: Metzeler Racetec Slick 190/55 R 17

Bolt & Fasteners: completely produced in Titanium by Poggipolini Titanium

Seat: Leather seat by Schedoni

Special parts: NCR al7075/Titanium footrest kit; NCR Al7075/Titanium fuel cap; NCR Titanium clutch cover; NCR Titanium Al7075 clip on set; NCR triple clamps kit in aluminum from billet; NCR Corse bottom bracket in aluminum from billet; NCR camshaft and Magnesium NCR clutch and alternator case Poggipolini Group production
Cycle World and Neilsen debuted the New Blue at AHMRA's Daytona meet in early 2007, with shoe Larry Pegram and CW editor Nick Ienatch aboard, article still available from CW archives – here –.  The New Blue still appears on NCR's website in road or racetrack form, which also states that whatever your wishes for your own Sport 1000S, NCR could help out.  If more current racing is your interest, NCR's Millona racebike ( also based on the air cooled Ducati twin ) has racked up Supertwins podiums around the world.  But that would make this now-vintage New Blue look positively budget-conscious.
-donn