Honda's biggest CBR from the late '80s through the mid-'90s, the CBR1000F rather quickly got a reputation as a solid, if a bit boring, sport touring rig. Where its smaller stable mates made prodigious power in sprightly packages, the 600-pound 1000F was praised mostly for its long-distance ability and comfy riding position.
Though it gave up grunt to its competitors, it still pushed out more than 130 horses at the crank, and would shed a quarter mile in a hair over 11 seconds. Despite its weight and soft suspension, the big Honda did a surprisingly admirable job on twisty roads, as well. Those factors, and Honda's renowned bank-vault reliability, combined to give the Honda CBR1000F an insane decade-long shelf life with just minor changes along the way.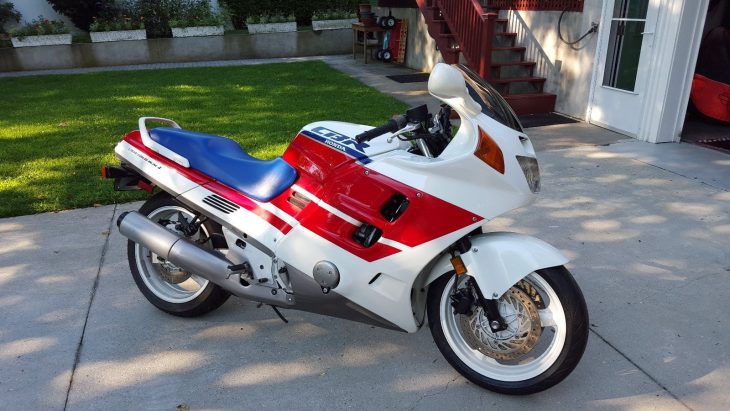 The 1990 CBR1000F you see here was built after the model's first refresh, which gave the bike slightly more power, slightly more weight and bigger tires to handle the increases. It is in excellent shape for its years, with just a few small scratches showing on the handsome red, white and blue fairings that cover almost the entire machine. This bike appears to come from the same Long Island, NY seller whose 1990 CBR600F we showcased last month.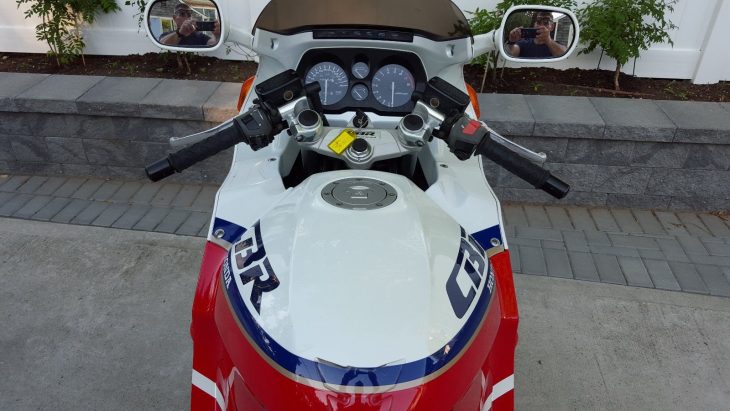 From the eBay listing:
I've had this motorcycle about 7 years. I bought her with about 18,000 miles. Dealer maintained with new tires last year. The 998cc motor pulls strong at the low end with 110 HP and a top speed of 146 MPH. Pretty easy to get a speeding ticket as she's very comfortable at 95 MPH. Reliable, fast, nimble, comfortable, and draws a crowd. Fun in the twisties for a big bike.

I'd love to keep her but it's time to make room in the garage. I have 18 motorcycles.

The bike has some nicks and chips from driveway tipover and one at the local gas station…but overall in very good shape. Check out the photos and my EBAY rating. Low reserve and below book value. If you win it, you own it, and you won't be sorry.
Make sure you are aware of shipping costs before you bid. Nobody likes to come to LONG ISLAND
The seller clearly subscribes to the N+1 formula for bike ownership, as this one shares garage space with, ahem, 18 others. The auction has not yet met reserve with an already-active corps of bidders.