Spring cleaning in a San Antonio garage – what have we here – a first year 992cc dual-spark Supersport !  It shows just a couple of season's worth of miles, thoughtful and sparing updates, and what must be a force field to have kept the scratch and dent gnomes at bay.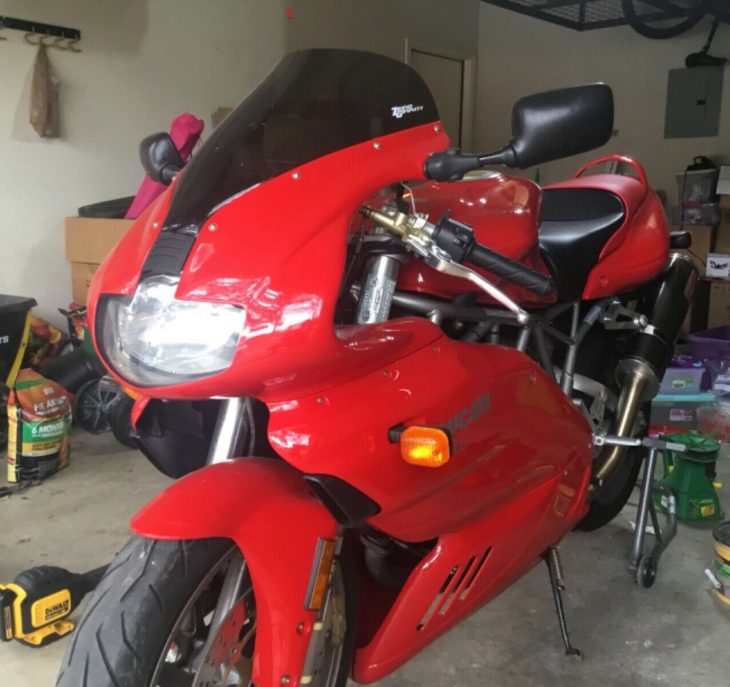 Bologna HQ was looking for a way to revive Supersport sales, and plugged in the latest in air-cooled power – an all new liter with 10-to-1 compression, 85 hp, and a torque curve that is legend even today.  Most of the silver trellis is visible, and speaks about the strengths of triangulation.  Suspension bits come from a high shelf with adjustable Showa forks, and a nicer Öhlins shock with direct linkage to the aluminum swingarm.  Marchesini's U-shaped spokes keep the alloy wheels light, and the Brembo brakes float on ten stainless buttons.  An integral tank pad helps that stretch to the top-mounted clip-ons, and the rather full fairing is sculpted in places where 90's Supersports hardly even have places.
Limited pictures and info, but what is shown looks great, and the few mods are good ones.  No maintenance info, so a message to the seller about the recency of belt and tires would be advisable.  Unusual to see a one-owner bike and a no reserve auction.  Just a one-liner from the eBay auction:
Full fairing. 1 owner. 4,478 miles. Sil Moto Italia exhaust, Sargent seat, Zero Gravity windscreen. I also have original exhaust.
Cycle World's review joked that Pierre Terblanche was in hiding after the release of the 999, and unavailable for comment on the new Supersport design.  Reviewers heaped praise on everything but the visual complexity of the fairing, and sales waned until the model wasn't renewed for 2006.  As parts contracts wound down some "value engineering" took place, making the earlier years a better choice.  Unusual how the 1000DS turned out to be a rarity, and how many fans have warmed to the looks of the last air-cooled Supersport.
-donn