Most often Rothmans livery is seen on two-stroke race replicas, but this middleweight is a 399cc inline four.  It's a grey market import from Japan, registered in Florida and looking excellent with just under 7,000 miles.
Sometimes referred to as the "baby 'Blade", the CBR400RR was developed several years earlier, but restyled in 1992 to accompany the Fireblade to the showroom.  It was also built like a larger bike, alloy twin spars of the chassis and swingarm ready for much more than the factory 59 hp.  Faired scoops deliver fresh air to the engine, by way of four 26mm flat slide carbs.  Showa suspension all around, preload-only adjustable, leaving room for enhancements.  Grown-up dual discs are 276mm, and dry weight is just 360 lbs.
This CBR has low miles and is nicely presented.  Some corrosion is almost to be expected but is not readily apparent.  Expert readers will have to comment on the correctness of the fairings and livery, but it's at least complete.  No word on the reason for the sale, but from an island on Florida's west coast, this owner has an hour's slog through Fort Myers to get to some open riding.  Just a couple of comments from the eBay auction:
Beautiful NC29 1992 CBR400RR in Rothmans paint.  Low miles, runs great, very clean, new battery and chain. Florida title ready to go.  Direct Japanese grey market import.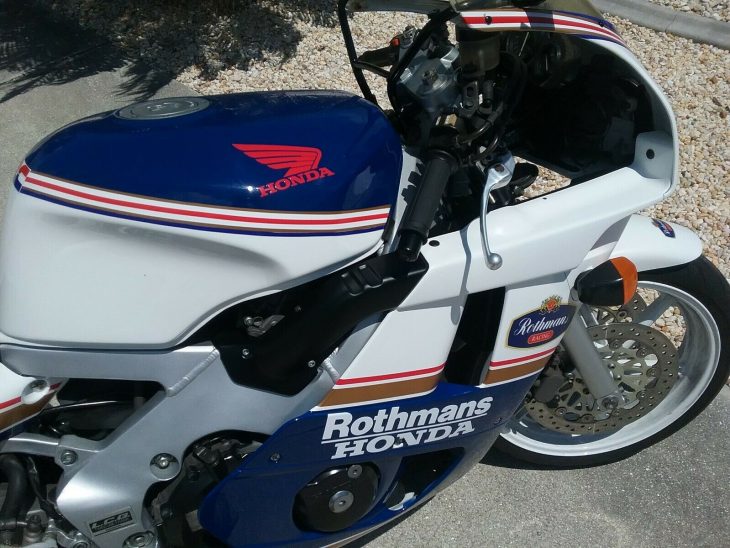 Designer Masanori Aoki was a youngish pro when he led the CBR400RR effort, staying with Honda through the 1800cc Gold Wing, and more recently the Rune factory-custom.  Designed as junior machine for learning riders, the CBR gained a great following in the sporty grey market.  Though committee-designed and conforming to Honda's value-engineering principles, it's still a high-revving, lightweight, and beautiful package.
-donn