Update 4.16.2018: This bike is SOLD! Congratulations to buyer and seller! -dc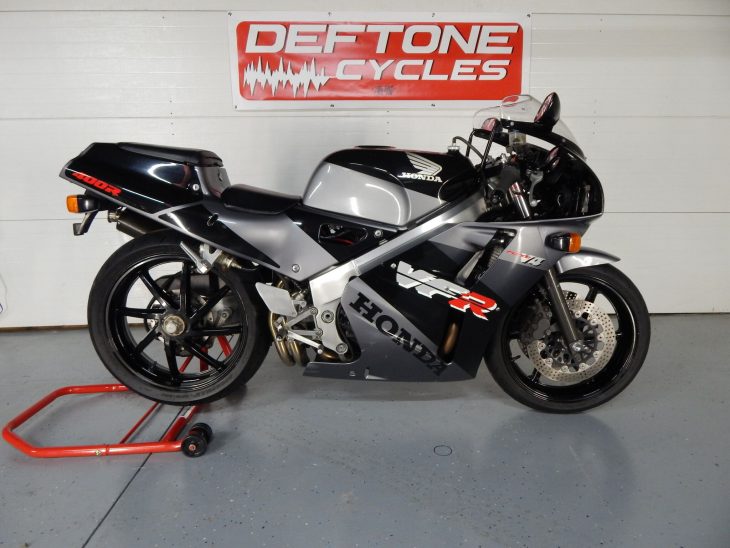 Long-time friend and regular around RSBFS, Greg at Deftone Cycles had some kind of luck with his last shipment of gray-market machines. This 1990 VFR400R has just about 14,000 km ( 8,500 miles ) but the condition is exceptional.  The third generation was certainly the charm for the petite Honda, as the NC30 variant had the widest torque band, least twitchy handling, and outstanding build quality.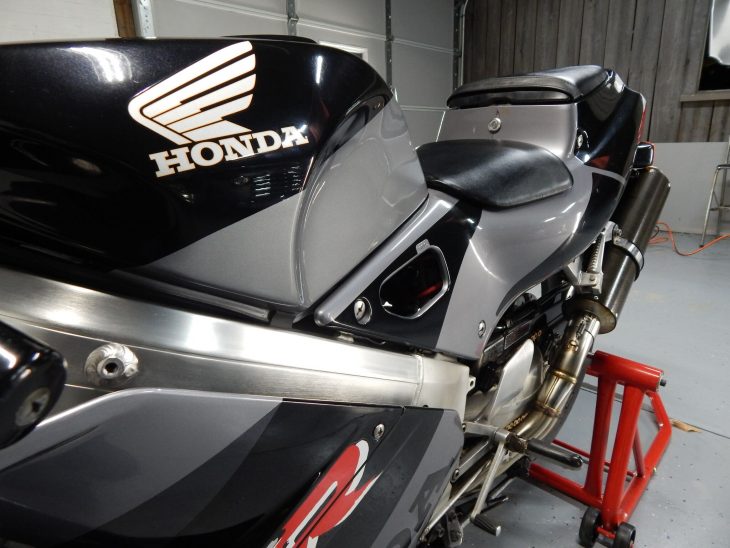 The NC30 was built for 4 years, an eternity in the fast-moving sportbike world.  Honda's well-tested 399cc V-4 generates the nice whir of gear-driven cams, as well as 59 hp.  The NC30 re-introduced the 360-degree crankshaft, where pairs of cylinders fire together for a torquier delivery.  The chassis was revised for the 1990 model year and reviewed as the strongest and most stable of the 400-four stroke group.  House suspension is adjustable for preload and rebound, and triple discs are appropriately sized at 269mm.  Styled like its 750cc sibling, the VFR400 shows off the single-sided swingarm with a 4-2-1 left side exhaust.
Requiring very little refurbishment, this monochromatic VFR is stock except for the exhaust and without most of the usual corrosion.  Greg has this to say about the bike :
100 percent stock. Except aftermarket Header and Silencer.
Condition: Excellent.
Right side lower fairing stress cracks.
Small hairline fracture upper left.
Mileage: 8,647 / 13,917 Km
Though shoot-outs from the day accused Honda of resting on their laurels, the easier-to-ride VFR400 may have been the best solution for its intended fledgling riders, if not aspiring racers.  The drivetrain is more tractable than the usual pint-size, and the package is surprisingly capable for a junior – skilled riders will find their rewards.  Deftone Cycles asks $7,500 for the pleasure and Greg can be reached – here –
-donn