This Honda RS250 is not a road bike. It was never a road bike. It's not a streetbike stripped of lights or a "race replica": it was never meant to be used anywhere but the track. An over-the-counter GP250 machine from Honda, it is powered by a slightly undersquare 249cc two stroke v-twin and weights about as much as the average professional football player.
You probably already knew that already.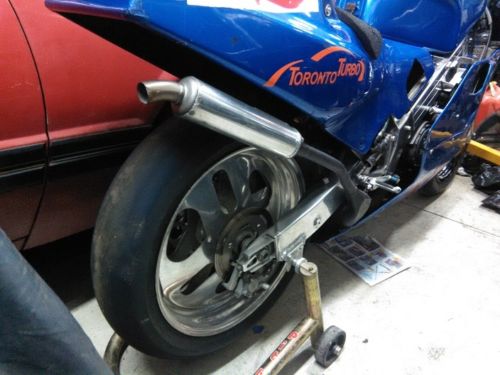 But this particular RS250 was ridden by Randy Renfrow, and maybe you're not as familiar with him. Randy is an inductee of the AMA's Hall of Fame and was a real grassroots racer, someone who could be fast on just about anything, a tough guy whose career was cut short by a crash in 2002 while riding a Honda RS250 at Daytona. Previously, he'd made a name racing against Ferracci 851's on a cobbled-together Honda that used a v-twin from flat-track bike, VFR750 forks, and a replica RS500 frame. Basically it was a shoestring effort, but the team's grit and Randy's sheer determination saw them through.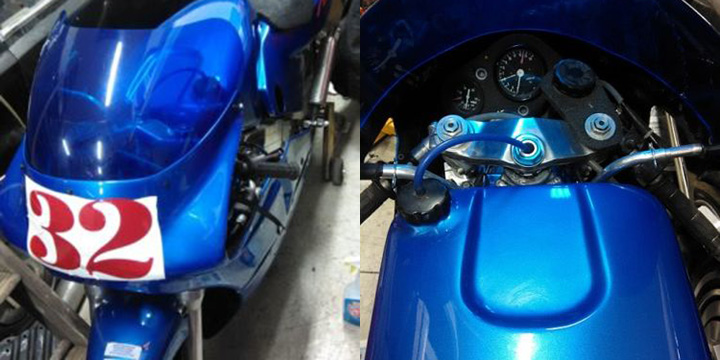 From the original eBay listing: 1989 Honda RS250 for Sale
Ex-Randy Renfrow GP bike. Have some documentation from previous owner. Comes with spares: gearing, cylinder, gaskets, pistons, jets, needles… etc. Has programmable power valves to set RPM activation. Windscreen has a crack that was stitched up. Rear tire only has one race on it. Reason for selling is I am getting too old to be racing. I will deliver this in US or Canada.
Obviously, this is not some pristine example of the breed, but the scars are earned, not the result of being poorly treated. So is this bike worth more because of its provenance? Maybe to the right person: Randy was the kind of rider remembered and admired by racers. But hopefully the right buyer will emerge to buy this little smoker and thrash the living hell out of it on track. I'd imagine that's what Randy would want.
-tad