Ducati is a company with one foot in the past and another in the future, and that philosophy is clearly embodied by the MH900e. That may seem like the norm these days, with seemingly every manufacturer on the "modern classic" bandwagon, but Ducati's been playing the game a lot longer than most of the other manufacturers. If you want to get people to shell out premium dollars for a product that performs no better than one from a competitor, you need to tug on those emotional heartstrings, and callbacks to past glories are certainly one way to do that.
Styled by the controversial, but undeniably talented Pierre Terblanche, the MH900e used a modern incarnation of their air and oil-cooled, two-valve 904cc L-twin engine, a beautiful trellis frame, and a tubular single-sided swingarm, with quality forks and shock. The look is intended to evoke race-winning NCR Ducatis and the name is a reference to Mike Hailwood, the unlikely winner of the 1978 Isle of Mann TT riding a Ducati. That win spawned the original Mike Hailwood Replica bikes and this represents the spiritual Evolutzione of those machines.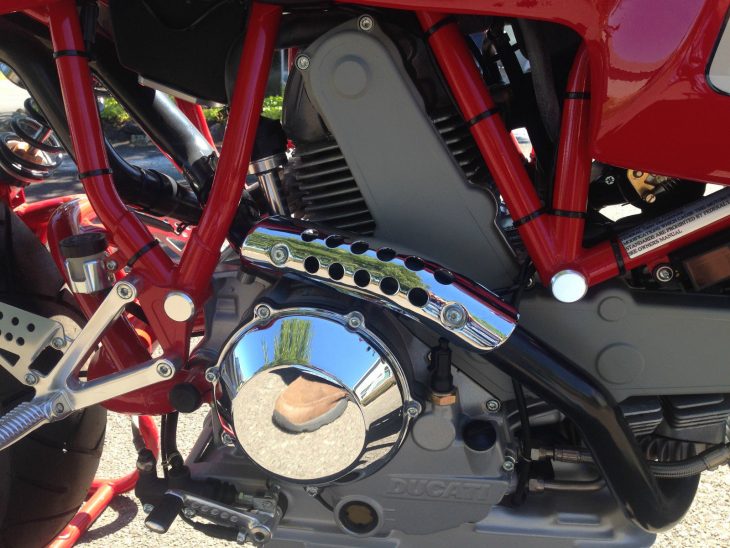 With just 75 rear-wheel horses pushing around 400lbs, straight-line performance is fairly tame, although cornering is excellent. Unfortunately, even though the bike is certainly entertaining to ride, it seems like it was always meant more as a functional collectible than a real-world motorcycle: the seat is very tall and unless you're over six feet tall, you won't be putting your feet flat at lights, performance is modest overall, and most of what looks like a fuel tank is really an airbox: the actual fuel cell is just 2.2 gallons, so it's good the engine is pretty frugal.
In addition to the looks, collectability is increased by the fact that just 1,000 were built in 2001 and another 1,000 in 2002. Production was originally outsourced to Bimota, but they were unable to build the bikes as they filed for bankruptcy, so Ducati built them in-house.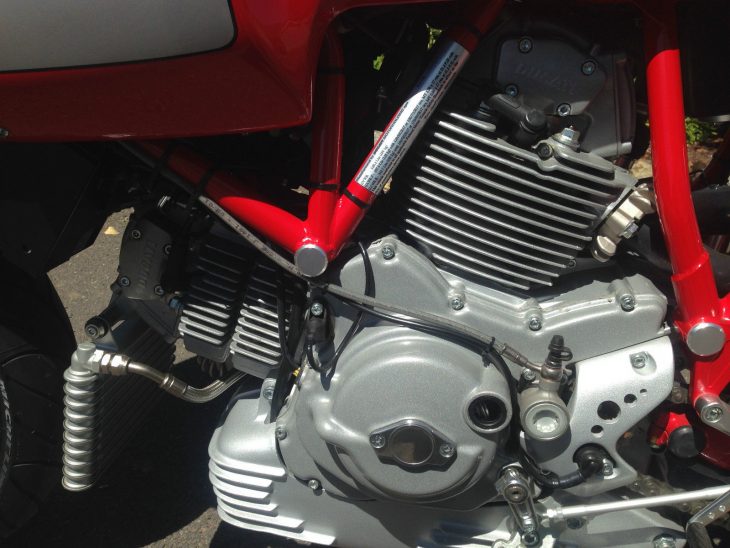 In this case, all the superlatives you can level at the engine and chassis are irrelevant since any buyer is likely to keep that odometer reading "0": there are plenty of riders out there, and this one is meant for the collectors.
From the original eBay listing: Zero Mileage 2002 Ducati MH900e for Sale
2002 Ducati MHe (Mike Hailwood Evoluzione) Museum quality with zero miles, never started, never had fuel in tank, never had battery installed. Here is the rare of the rare. One of 2000 sold directly from the factory to commemorate the 25th anniversary of Mike Hailwood winning the Isle of Man TT for Ducati. There might be another zero mile example but you would be hard pressed to find it this clean and at an opening bid, with NO RESERVE and well below market value.
As far as living room objet d'art items go, you'd be hard-pressed to find a more striking modern motorcycle. Sure, a classic Vincent or Brough has more polished brass, steampunk detailing, and a retired racebike might have more historic value, but the bodywork on the MH900e really does look both forwards and backwards in the best way possible.
There are no takers yet at the $15,000 starting bid, but it's early and there is still plenty of time left on the auction. It's a shame that this example may never run considering that, aside from the ridiculously small standard fuel tank and committed riding position, the Evoluzione is a very good motorcycle, with a fun, flexible engine and sharp handling.
-tad