Late July we should be focused on tall drinks with a lot of ice and a splash of seltzer, when a bargain-priced lightweight pops up.  This restorable rider sponsors thoughts of a ( well air conditioned ) van trip to Georgia.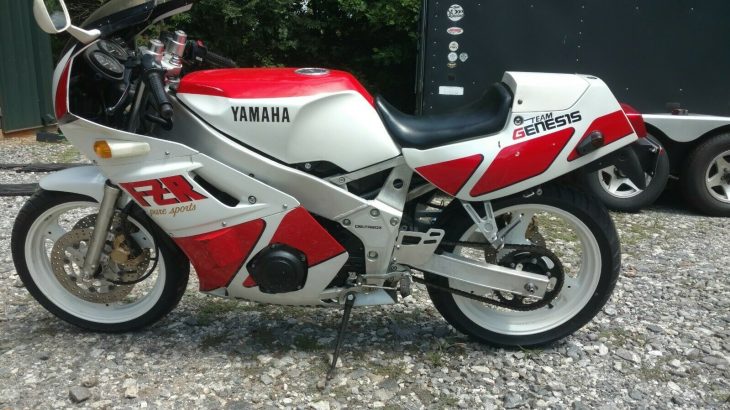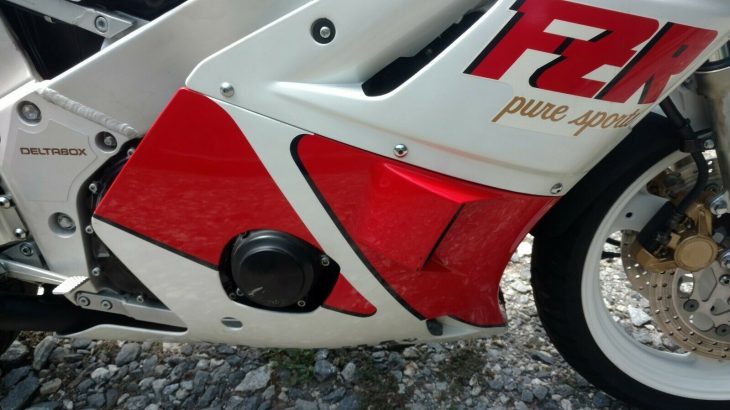 Yamaha had been pursuing separate F3 and 400cc road bike goals, but joined other manufacturers in the racey replica business in 1986.  The .85 pint-sized inclined four fit snugly in the Deltabox alloy frame, and 60 hp arrived at a lofty 12,500 rpm.  Relaxed geometry made the handling less aggressive than some of the competition, with just preload adjustable on the right side up forks and monoshock.  Brakes are single piston but 298mm dual rotors, muy bueno for the expected use.  16,000 miles and 30 years down the road, the original build quality testifies for the defense.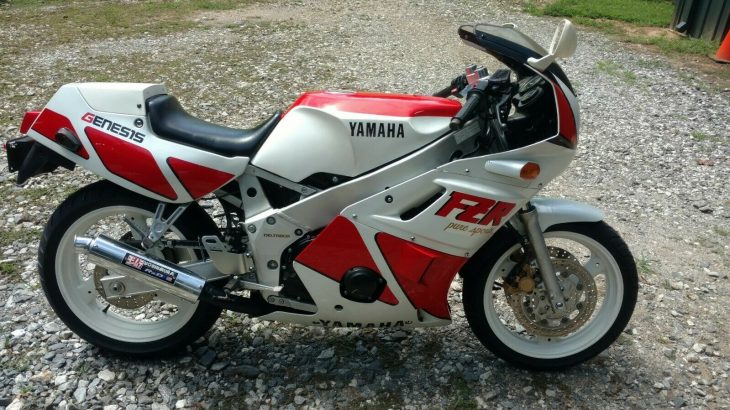 No word on the chain of custody or originality of some parts, but the FZR appears substantially stock and quite tidy.  The owner has this to say in the eBay auction:
extremely good condition and runs perfect and is surprisingly fast for a 400 – everything works and it has a manual fan switch for hot days – it has brand new shinko podium 006s , a yoshimira exhaust system that sounds great, new regulator rectifier,recent chain and sprockets, and comes with the service and owners manual – also it has the seat strap if you want to remove the solo seat cowl and the rear seat pad is there as well-there is a small crack and scuff on the left mid fairing as seen in the picture but doesn't affect the rigidity of the fairing – would make a very competitive ahrma vintage race bike in the next gen lightweight superbike class or a fun bike to tear up the curves in the mountains –
Since RSBFS is usually attracted to nicer examples, it bears emphasizing that a real rider has its place in the garage.  It can go to the track, or out in the rain, or be lent to a friend.  Or become the basis for a riding restoration.  This FZR appears to have had attention when needed, but hasn't been refinished or glossed over.  Some might find the ask a bit much for a generation-old midsize, but if you're still interested the Make Offer button is lit.
-donn