Subtle It Is Not: 1996 Kawasaki ZX-7RR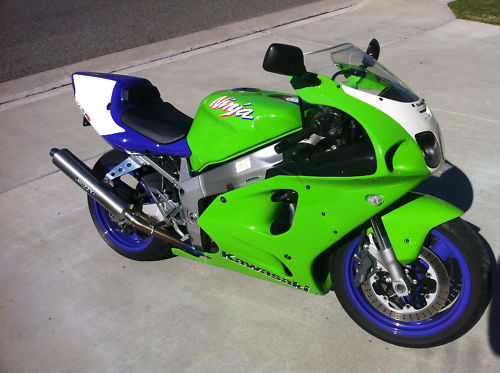 Bright lime green paint and purple wheels are not the recipe for subtlety.  Who wants to be subtle though if you have a ZX-7RR?  We've had plenty of these grace RSBFS over the past year and this is another fine example.  She is still a looker from the front with those two big ram air ducts.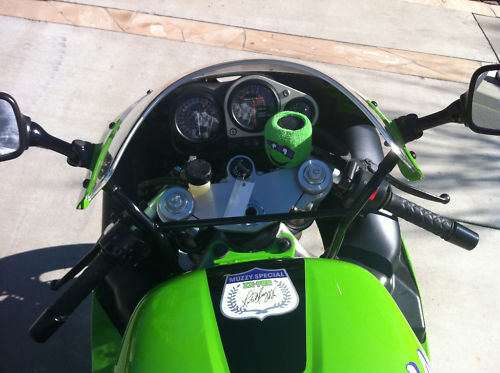 It is another low mile RR.  It has just over 5,800 miles on the clocks.  What happened to Muzzy by the way?  How about some more Muzzy Specials Kawasaki!  I really miss homologation specials.  The NASCAR inspired DMG rules have made them go the way of  the pay phone booth.  When was the last time you saw one of those?  I just find it more interesting if the professional racing doesn't have the exact same bike I can purchase.  The more exotic the better in my book.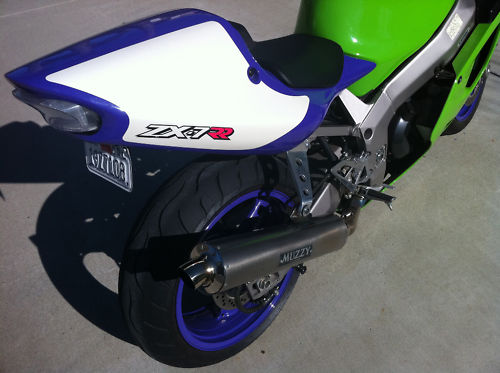 The owner couldn't resist the Muzzy pipe but the bike  is pretty darn close to stock.  The seller explains:
 Here it is don't see these up for sale very often!!  A super rare mint cond Kawi 1996 Zx-7RR muzzy special only 500 were made and most went to rare teams there are very very few of these on the roads. 

Only 5835 miles on this bike so its got plenty left on it for some sweet riding.  No engine mods of any sort have been done to this bike. 

The Only mods are as follows

Turn signals taken off and put new sleek ones on.  Rear ones taken off and now work with the brand new LED tail light that is on the bike.

Rear fendor has been cut for the more aggressive look. 

Now if you are a collector this is just the bike cause if you want it 100% stock you are in luck I have a brand new OEM fendor that you can put on as well as the stock tail light and the stock turn signals. So this bike would then be 100% stock.

Again this bike runs perfect and is in GREAT shape it has never been down or raced.

The pictures speak for themself you will not find a better looking N1 out there. 

The seat cowl pad is also brand new I have the old one still as well. 

Shipping for this bike is no problem I have a guy who I can move the bike if you need it or you can arrange your person if you like.  All shipping costs would be on you.

Bike is in Anaheim CA with a clean CA reg and title.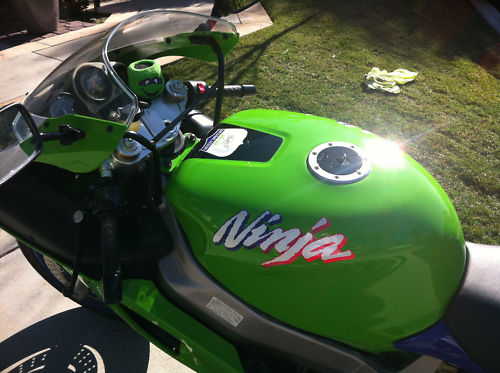 Remember if you want the aluminum tank you need a pre-96 RR, this one is steel.  Don't frown though, you get larger flatside carbs.  Have any RSBFS readers tried tracking down old Kawasaki race kit parts for the RR?  I bet there might be some interesting stuff laying around in some dusty boxes. 
If you are shy this just isn't the color scheme for you.  The bidding is starting at $6,700 on this green meanie.  .
Ian