The 1990's were a good time for alt-color schemes and splashy sticker packages, and it seems like more Fireblades were made in purple and  yellow than Honda's racing red.  This first-gen CBR900RR has high miles but you'd never know it.  Evidently detailed for display, it is has been refreshed for the road and is on a no-reserve auction.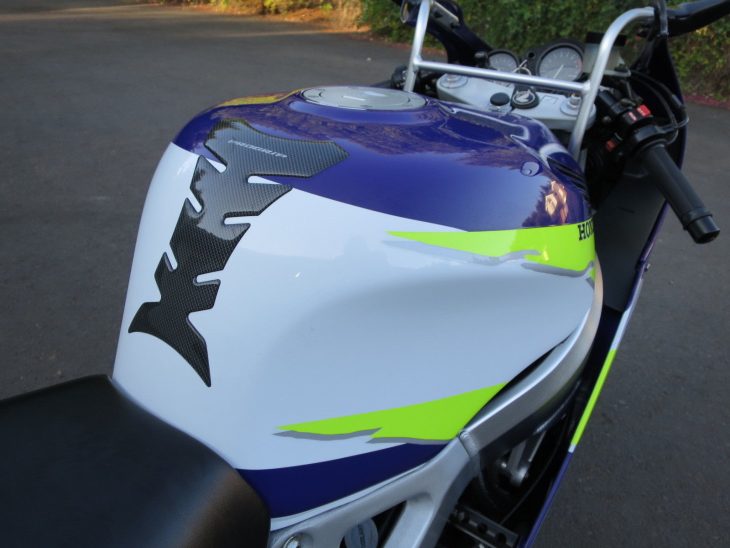 Starting life as a 750cc development project, Honda stroked the engine out to 893cc, changing the overall dimensions very little but approaching shy-liter displacement and 122 hp.  Mass reduction and centralization likely came up at every design review, and the delivered machine weighed just 454 lbs. wet, around what most 600's were weighing back then.  Forks and Pro-Link monoshock are by Showa and adjustable, and Nissin brakes have four-puck calipers on the 296mm rotors.  The torn paper graphics are pretty 90's, as are the staggered 16-17 inch wheels, and "speed hole" arrays in the fairings.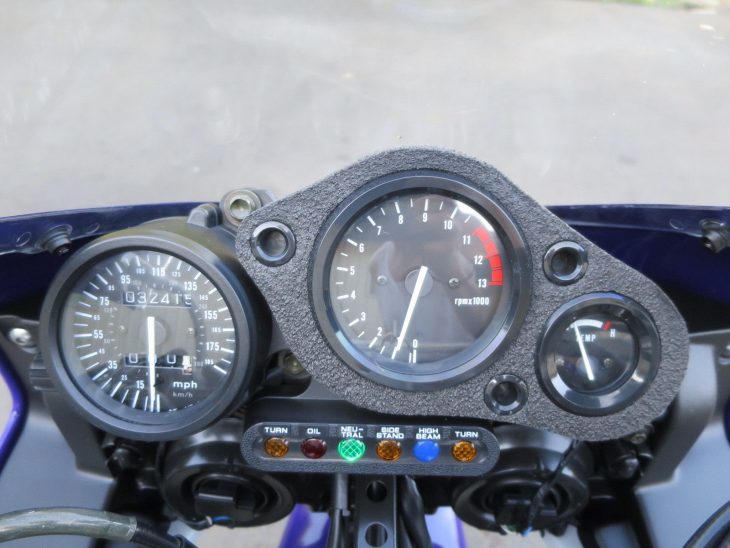 The sparkling condition of this CBR fibs about its 32,000 miles, none of the usual wear seems to be on the fairings, cases, or Two Brothers slip-on.  Maybe the careful miles and fastidious cleaning were evenly spread over many years.  A puzzle is how the previous owner added the Euro parking light without changing the fairing.  The owner posts a pretty good - video - and says the bike was shown in his museum, unclear how long, but it starts and idles perfectly.  From the eBay auction:
The bike has the original Owner's Manual AND Tool Kit that's never been used !

- Two Brother's Slip On - Dyno Tuned for proper jetting

- Color matched Stainless Steel brake lines

- Flush Mounted LED Turn Signals - Brighter than the OEMs (OEM units are still available from Honda if desired)

- Factory Paint Job Is in Perfect Condition Everywhere

RECENTLY - Tuning re-verified - It started right up - idles correctly - Drives correctly - No leaks etc.

Below are the items my Master Mechanic has done to prep this motorcycle for sale -

Engine oil & filter replaced

New Battery

New Tires

New Front & Rear Brake Pads installed (Done before putting on display in the Museum)

New Spark Plugs -(Done before putting on display in the Museum)

Valve Clearances Checked - all were in spec. (Done before putting on display in the Museum)

New coolant installed

New OEM Air filter installed (Done before putting on display in the Museum)
The book on the CBR900RR is to dial the dampers back, get small and enjoy the tight handling and light weight.  The third year of the gen-1 had better shifting and fox eyes.  Buying a 20-plus year old sportbike is gutsy baseball, and despite the mileage this Fireblade looks to have had the care for the long road...
-donn