1994 Honda NSR250SE (MC28) For Sale
Location: Anaheim, CA
Mileage: 21,000
Price: $8,500.00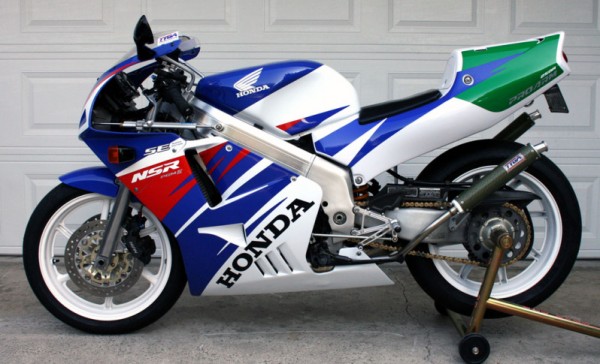 I believe this bike is making its' second appearance here on RSBFS but it looks like some things have  changed (here she is from the first go around).  Namely the price is lower and it has gained some cc's courtesy of a Tyga big bore kit.  It still has the good stuff too, a California title and registration.
I'd love to see some comments about this 300cc Tyga kit.  Have any of our adventurous RSBFS readers installed this kit on their NSR?  I've always thought my RGV250 felt pretty healthy so I'd love to know what you guys think about the extra cc's.  Here is a link to Tyga's website  if you aren't familiar with their work.  I hadn't visited in a while and it looks like they've really expanded the number of products available.
From the ad:
Here it is a SUPER Rare Honda NSR 250 1994 SE that has a CA title and registration so you are good to go on hitting the streets with this thing.

The bike has 21k miles on it and runs perfect as it has always been well taken care of.

This bike looks amazing I am the 3rd owner of the bike.

If you are looking for a rare bike that can hit the canyons than this is it.

This bike has the TYGA pipes and big bore kit which make it the fastest NSR possible pretty much there is nothing left to do to this thing.
It's all there boys and girls.  I don't think you could ask for a whole lot more.  Even this Honda hater thinks this is a damn sweet bike.  The asking price is $8,500.  Hmmm, not bad at all considering what you get and the condition of the bike.  Check it out here.
IK