Warning!
This post is in our archives. Links in this post have been updated to point to similar bikes available to bid on eBay.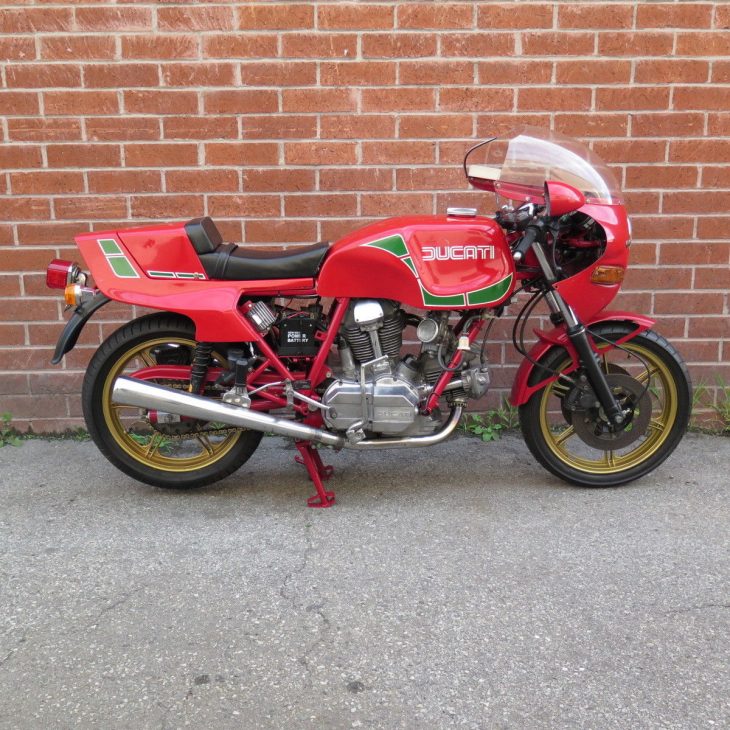 The history of Ducati racing is long and storied. And while many riders have tasted success on the booming twins from Bologna, perhaps none have matched the exploits of Mike "The Bike" Hailwood. In honor of their legendary rider and his comeback success in the 1978 TT (Tourist Trophy), Ducati created the 900 MHR (Mike Hailwood replica) in 1979 – and continued the model through the mid 1980s. Meant to replicate the racer, the 900 MHR edition had everything it needed to go fast, and nothing else. As a prime example of weight savings, Ducati omitted the electric starter and went with the lighter, old-school method of kick starting. Given the TT background, the occasional bump start would likely also be OK.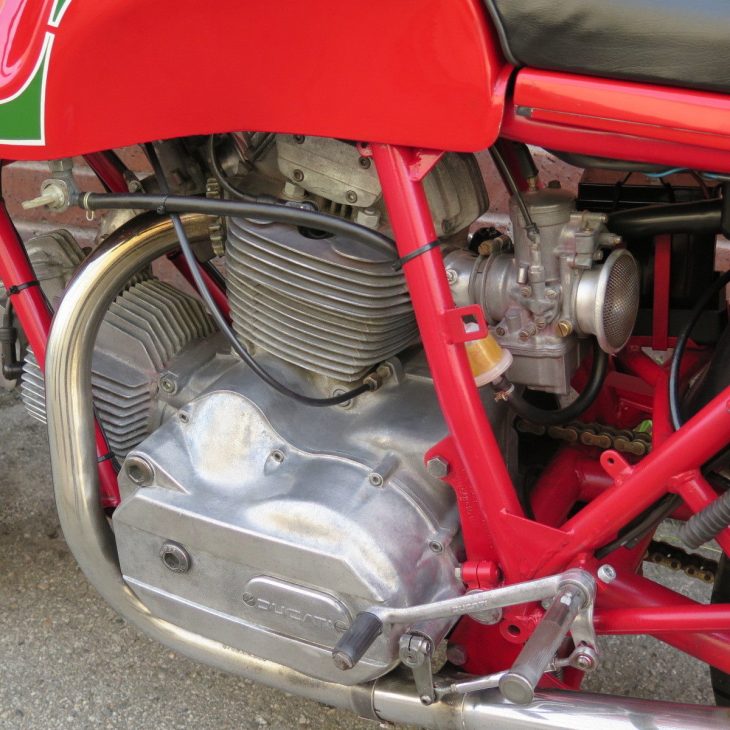 The MHR series of bikes was the last major evolution of the bevel drive desmo twin before the introduction of the "rubber band" Pantah. It exudes all of the wonderful charismatic noises and idiosyncrasies of these early Ducatis, while offering up a rare and unique ownership experience. These bikes are not exactly plentiful as far as this era of Ducati goes, as Ducati were simply not moving many bikes period. Nor are they particularly powerful; Ducati rated the L-twin desmo at a mere 72 horsepower back in 1980. That is not a lot by today's standards, nor was it a lot by the Japanese four-cylinder standards of the early 1980s. What the Ducati did have to offer was torque – significant amounts of lower RPM grunt, fed through a dry clutch and 5-speed gearbox. Easier to ride fast through changing conditions than the hyper-strung Japanese multis, it's no wonder that Ducati dominated the TT (Mike Hailwood might have had something to do with that as well).
From the seller:
Ducati 900 SS MHR original 13700 KM (8600mile).
Motorcycle not Mint condition, Very good Running !.
Has crack original screen.
chips and scratch on original paint.
some surface rust.
Brake good working.
Electric works,
Please see more picture for detail.
Kick only Model.
Very rare to find Vintage Bevel Desmo Twin.
The seller has offered some good pictures on this bike, but not too much by way of information. One little bit of info that is definitely missing is the whereabouts of the factory lowers and side panels. The MHR model came with a full envelope of fiberglass, yet this bike is only listed with the upper fairing and windscreen. I do not believe the original lowers are still available from the factory, meaning that 3rd party lowers would need to be sourced to truly complete the bike. Otherwise, this Southern California-based machine looks to be in pretty good condition for a 37 year old import.
We have seen Ducati prices fluctuate wildly over the years on RSBFS. This bike has been bid to up over $13,000 USD and it looks like it will sell. It would be well-bought at the current figure, but I would expect it to go up as we get closer to the close of auction. We have seen these models listed for double this amount in years past – albeit in more complete condition. Fun Fact: These Mike Hailwood Replica machines are not exactly the Holy Grail of rarity when it comes to Ducatis; and estimated 7,000 MHRs were built between 1979 and 1986, making the MHR model the the most numerous of all the bevel-drive twin models made. Still, owning a Ducati from this period does place you in an exclusive group. It is a fantastic looking machine, and likely to fare well in the future. And it is eminently enjoyable today as something you can ride. What more can you ask for? Check it out here, and let us know what you think!
MI