Ran into an old friend recently who doesn't seem to have aged in the several years since we saw each other.  Still a looker in red and white, without the wear and tear affecting most of us.  No longer a youngster, but still a nice package, well equipped from birth and spending time in the gym.  Sorry to disappoint as I'm talking about a bike, a 2007 that lived most of its life in a storage room, a choice model with recent maintenance, ready to go.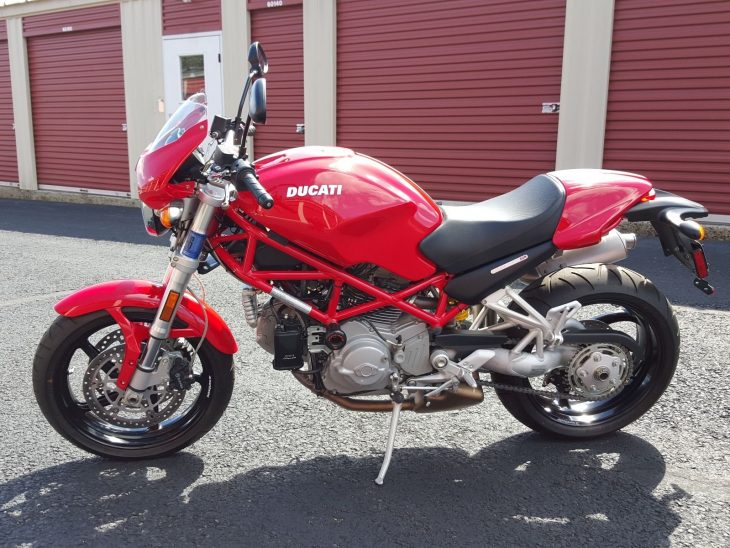 Though there were Superbike-engined Monsters available, Ducati continued to develop the air-cooled desmodues through the 2000's with better electrical systems, fuel injection, and an innovative wet slipper clutch.  The nicely oversquare 803cc engine on the S2R brings in 77 hp at 8,250 rpm.  The Adler Power Torque Plate ( APTP ) clutch reduces lever effort and has a slipper function built in, increasing safety on the big twin.  Steel trellis frame is painted body color, with 42mm Showa forks and single-sided swingarm with Sachs damper.  Brembo brakes with 4-piston calipers up front riding 320mm discs, 245mm rear.  Classic Monster looks, but this time with dual exhaust and full-length racing stripe.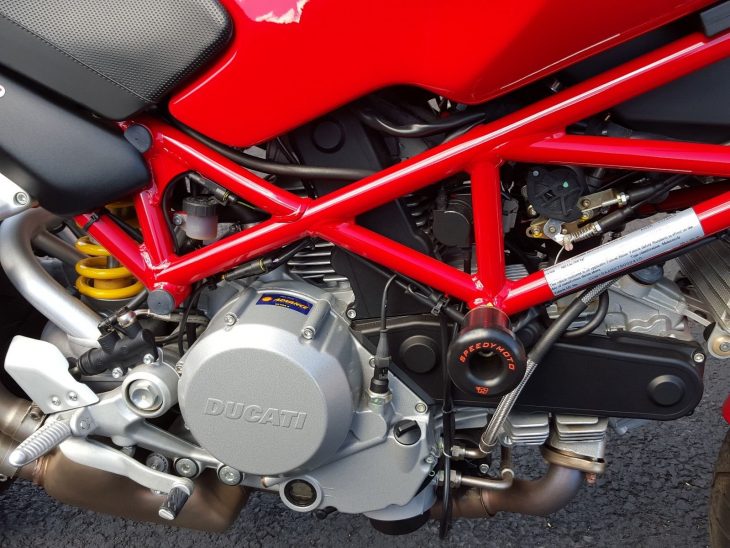 This Monster looks super, undamaged and substantially stock, having spent life indoors.  Just handlebar risers, updated levers and frame sliders have been added.  Recent maintenance makes all that storage less worrisome, though new tires might be a thought.  The owner explains in the eBay auction:
This awesome bike has less than 20 miles on it.  It is the last year of the old style Monster with the side stacked exhaust and single swing arm.  A lot of people think this is the best looking of the Monsters.  It is the SR2 800.  I bought it new from the dealer at the end of 2007 at the time I was going through a divorce.  It has only be ridden up and down the driveway to exercise it.  It has been kept under a soft cover indoors of course.  You will not be disappointed with this bike.  I just had the bike at the dealer to replace the fluids and timing belt.  It is now ready for summer and its new owner just like the day it rolled off the showroom floor.

It is red with a white stripe.  I have kept it stock except for a small riser for the handle bars and upgraded brake and clutch levers.  I also added sliders to protect the sides.  The bike can be easily converted back to original.  You will not find a better condition version of this iconic bike anywhere.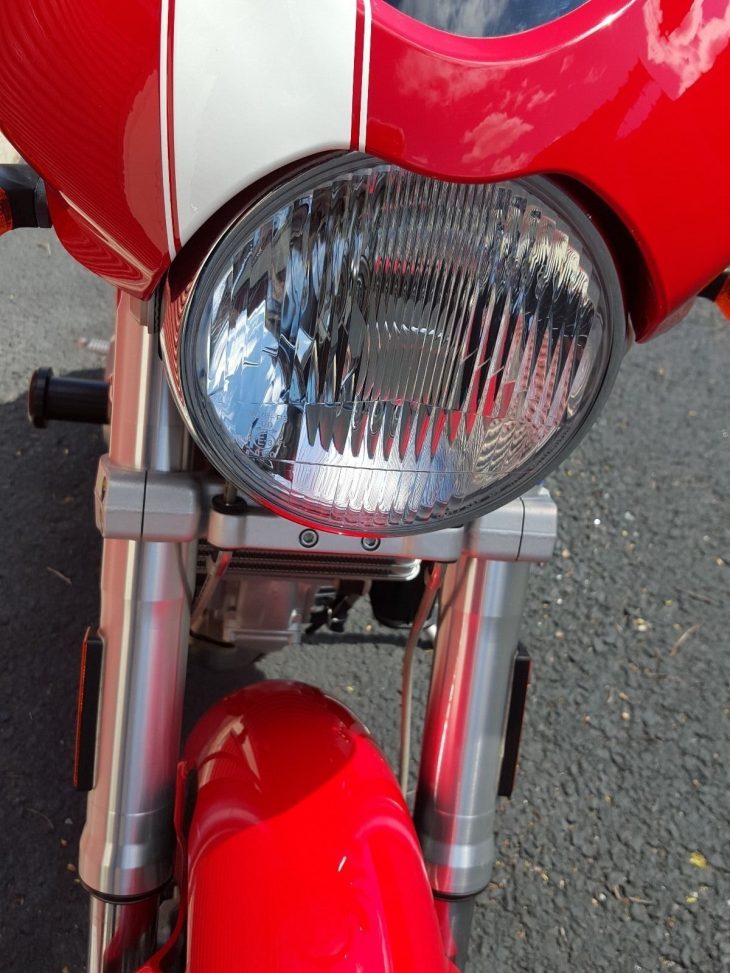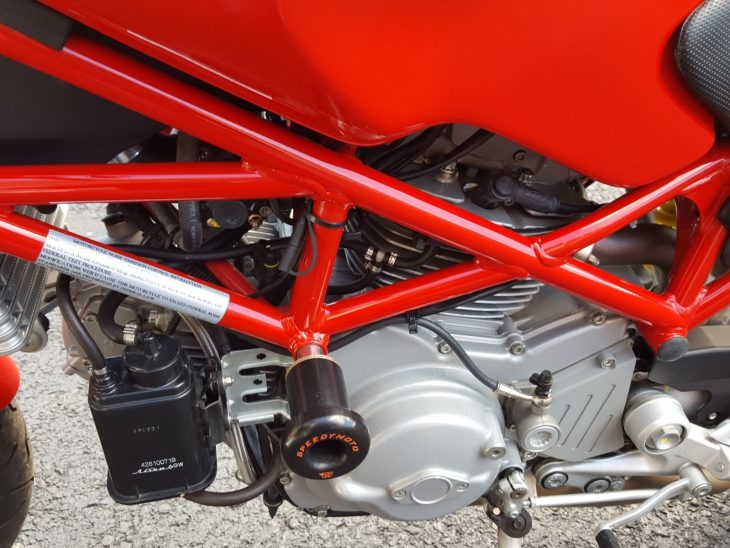 An excellent choice for a Monster fan, the S2R has all the factory upgrades for the air-cooled family, light weight, great design, and plenty of power for its un-faired mission.  Basically a new bike with 20 miles and new belts, it's a great classic Ducati.  Though it seems pricey for a ten year-old machine, an apples to apples comparison to a brand new bike makes a lot more sense…
-donn