Warning!
This post is in our archives. Links in this post have been updated to point to similar bikes available to bid on eBay.

When it comes to rare motorbikes, there are a couple of manufacturers that have their full catalogue belonging in this category. Bi. Mo. Ta. is one of them. I reckon that in the future there will be more space for exotic, almost custom made sport bikes' brands. I mean, look at the success of Vyrus. In the 80s and 90s, what Bimota did  was driven by pure passion. Nowadays, we see a process of "conformation" among the top brands. The global market and competition makes every OEM look at each other, sometimes take deliberate inspiration from one another. Look at Ducati, Triumph and Yamaha being in a frenetic race to "copy" the brilliant BMW R 1200 GS that is so successful sales wise. Look at Honda, Yamaha and Kawasaki, all coming up with similar 250cc 4 strokes often manufactured in South East Asia. Obviously these are to some extent the rules imposed by commercial competition. With the exception of  Ducati's Panigale with its frameless approach and Apirlia's bold and loud V4 there is little creativity out there. Suzuki is even the only manufacturer left, to offer a 750 cc 4 cylinder sportster (thank you Hamamatsu !). For the individual and wealthy rider, even a Panigale R isn't that "special" besides coming with a hefty price tag.
In addition, OEMs should understand that the buyers of their top offerings are usually between 35 and 40 and ultimate performance, that you can't use on the road, might not be the only aspect they look for, when investing their hard owned money.
So, here we have what was a bold attempt, driven by passion and that resulted into the  financial collapse of Bimota. The 2 stroke V2 500cc: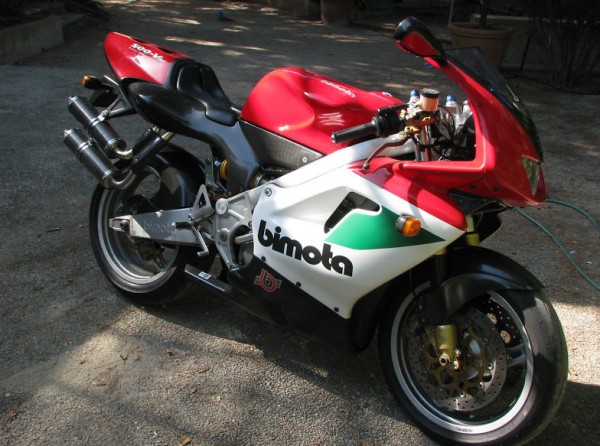 The development of this bike took so long (and therefore so many resources) because it was a totally new bike from the 2 stroke engine to the new chassis. The V2 is among the most hard to find Bimota and one that didn't get trashed on track days is always a good find. here are its technical specs: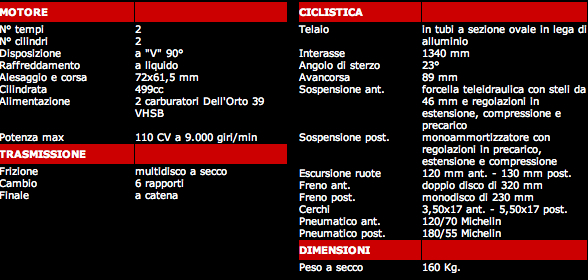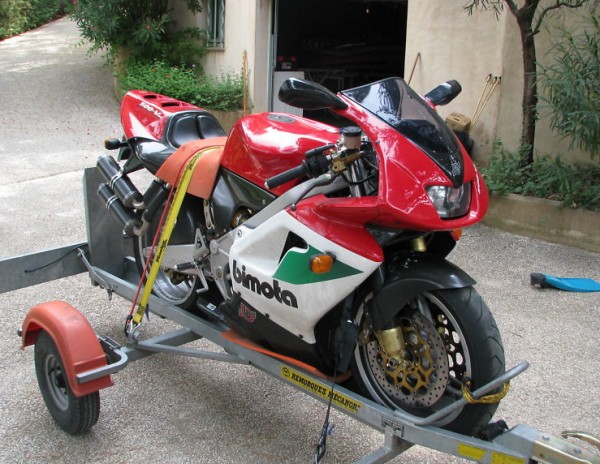 This will not be cheap, nor it will be useful as a commuter. This will be the jewel in the crown of your garage. Starting price is set at 12000 EUR. If you are curious about how a V2 would sound check this out (video is not from the same sample as on the offer):
Let's hear it also from the seller:
The motorcycle is in collection status. Piston segments, clutch and chain and soft compound tires are new (for safety)
changed to 9500 km (invoice available)
the bike sleeps in a heated garage. never rolled in the rain.
it was developed by a pro who knows these machines. replacement of defective electronic
at the start and recovery engine for reliability.
bench it is 10 torque 9900tr / m and 110 hp at the wheel.
I do is for fun. This is a dangerous motorcycle for those who want to be smart with.
she is very beautiful, very light.
This is a first hand obviously.
I separated because I have 5 disks damaged in the column and it's not my age.
I do not want her in my garage, that if anyone is interested
it is a 2-stroke engine, bimota the last 2-stroke engine production
this bike is very rare for registered … a motorcycle gp rolling on the road.
The bike has 10000 km and looks to be in the right conditions even though pictures are not enough. Who knows where the reserve is ? To find out, you can start bidding on the eBay link below.
Bimota V2 500 2 strokes in France
Claudio