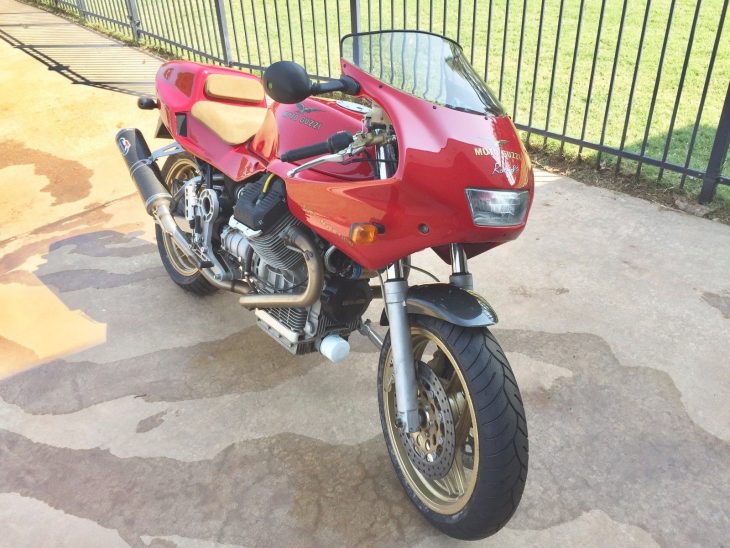 Guzzi is generally thought of these days as a purveyor of weirdo touring rigs, butch nakeds, and alterna-Harley cruisers, all with their big v-twins turned 90° from the expected orientation and the cylinder heads sticking out by the rider's knees. But in the 1950s and 1970s, Moto Guzzi made genuine sportbikes and competed successfully in various racing series. They attempted a comeback in the early 1990s with this Daytona, the first Guzzi in decades to use something other than the Lino Tonti designed frame that was introduced on the original V7 Sport way back in 1971… Which tells you just how excellent that frame was to begin with, but also speaks to Guzzis very limited development budget.
When the time came to develop a new sports motorcycle, Guzzi actually turned to privateer Dr John Wittner for input, an American dentist who successfully campaigned a Guzzi in AMA Pro Twins racing during the 1980s. The new machine that resulted was built around a "spine" frame with distinctive side plates that featured holes where it was apparently joked that you could stash a sandwich… The powertrain featured Guzzi's familiar five-speed gearbox, automotive-style clutch, and shaft drive, but the engine featured a significant update in order to produce competitive power: four valve cylinder heads.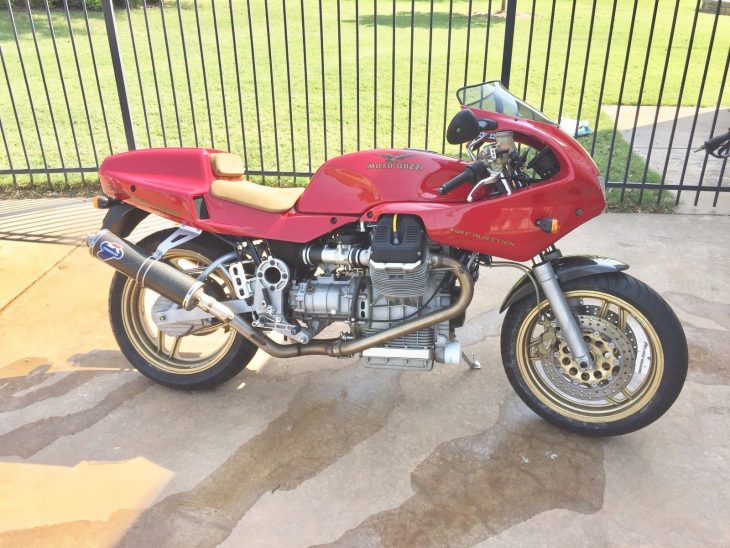 The updated 992cc engine was designed to squeak in under the 1000cc limit for various racing classes and is claimed to be overhead cam as well, but it's really more "high-cam" as the heads do each have a cam, but the valves are actuated via pushrods and rockers, and the bike lacks liquid-cooling. Power was a respectable 92hp and with high-quality WP suspension the bike did handle well, although significant weight compared to other sportbikes meant fast riding was hard work. That longitudinal engine layout means you do still get some torque reaction accelerating out of a corner, but it's relatively minor and something that you adapt to quickly.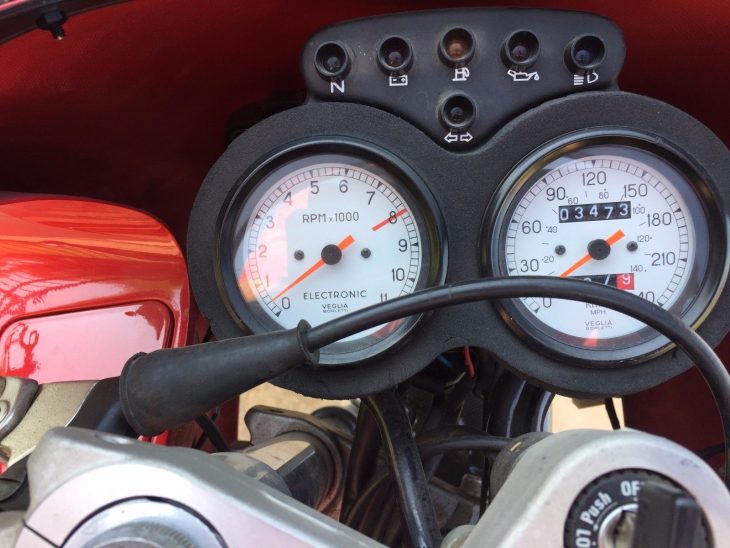 From the original eBay listing: 1993 Moto Guzzi Daytona for Sale
My understanding is Moto Guzzi Built 150 Daytona's in 1993. They imported 50 into the US.  Bike has been serviced & ready to ride. New tires, All fluids changed, valves adjusted, fuel tank was cleaned & sealed.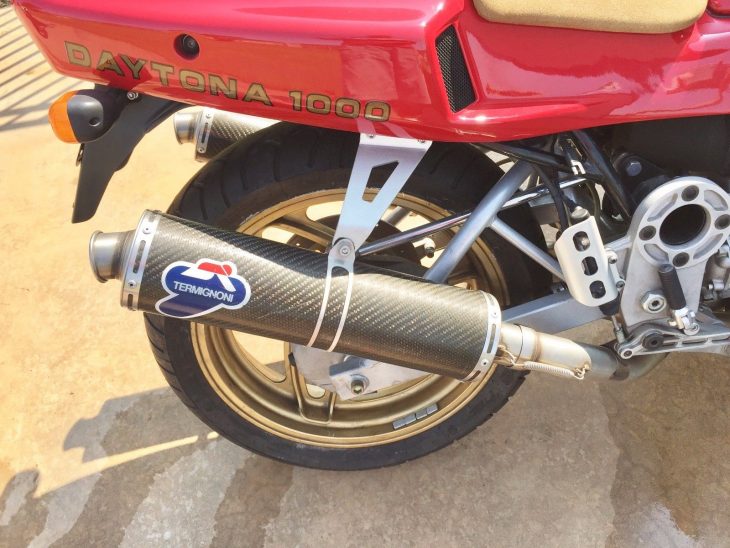 Significantly, this Daytona features the European-market trapezoidal headlight instead of the more common rectangular unit like the one seen on last week's Sport 1100. I'm a huge fan of these Guzzis in general, and the headlight makes a huge difference to me in terms of looks: a later 1100cc Daytona with the headlight seen here has a place in my dream garage. This bike also features a desirable pair of Termignoni exhausts that should liberate a glorious boom from the Italian twin. It's a bad sign when it's easier to do valve adjustments than oil changes on your motorcycle, but that's probably the case with Guzzi's longitudinally-mounted engine. Even as late as the V11 Sport, you had to drop the pan to change the filter, It appears that the bike has an aftermarket, external oil filter adapter fitted: you can see it at the front of the engine. It's not mentioned by the seller, so maybe it was added by a previous owner? In any event this is a practical addition, and suggests that maintenance has been a priority for this bike. Overall, the bike's condition is very good, and mileage is just 3,473 from new. There's been no interest so far at the $10,000 starting bid but, with just 1000 or so built and Italian good looks, these are definitely collectible.
-tad