The term "sportbike" isn't really one that has an absolute definition. It's more of a loose set of parameters intended to capture an idea, and while most of us generally understand what we all mean when we use the word, there's still plenty of room for interpretation. Ducati thinks a sportbike should be something ruthlessly dedicated to speed, a track and race machine with only the barest concessions to road use: if your Sunday morning canyon road is more than thirty miles from home, better invest in a gel seat and a good masseuse. Bikes like BMW's R1200S take the idea of a sporting motorcycle in an entirely different direction.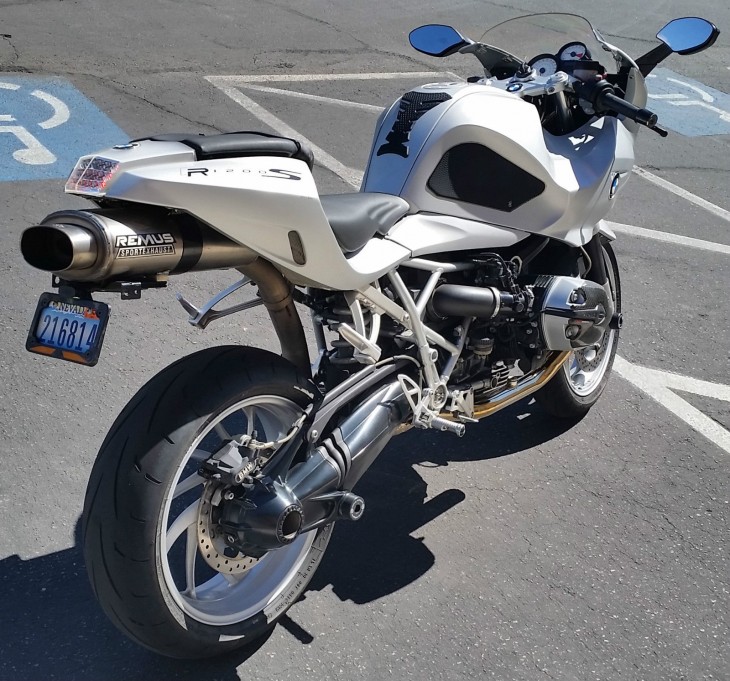 Until the S1000RR came along, BMW had a bit of a different philosophy for their sportbikes. Like Ducati, they wanted to keep their trademark powerplant, in this case a big, horizontally-opposed, air-cooled twin. Unlike Ducati, they felt that comfort should be a part of the equation. What they came up with was what seems at first like an oxymoron: a "practical sportbike". While you can argue that a GSX-R750 is also extremely practical and reasonably comfortable, it wasn't available with ABS, doesn't quite have the character of a twin or the more mature, low-profile image. Let's face it: "crotch-rockets" definitely attract more heat than less squidly rides. And when you're out on the road, trying to avoid being hassled by The Man, keeping a bit of a low-profile can be a good thing.
And you really can't get a whole lot more low-profile than a silver BMW.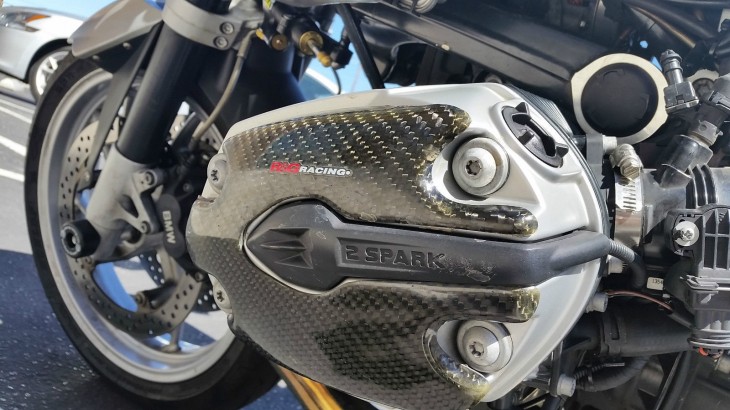 I actually prefer the dash on the earlier model, but this restyle gives the bike a more butch, angular look. I remember when the first-generation R1200S was introduced, some artist or other whipped up a bunch of alternative paint schemes I saw posted in a bike magazine that incorporated some great WWII warplane motifs and iconography, which would have looked even more appropriate on this second-generation bodywork.
From the original eBay listing: 2007 BMW R1200S for Sale
For Sale is a rare, Fun BMW R1200S. Only brought into the US for one year! It's comfortable, Sporty and can keep up with most sportbikes. It has the Full Remus Exhaust, an MWR Racing High Efficiency Airfilter and a Bazzaz Z-fi Fueling controller (She dyno's at a nice 115 hp!!) Also installed a C2 Slipper clutch to keep the rearend under control along with R&G Racing Axle and Swingarm sliders along with Carbon/Kevlar Engine sliders and a nice tidy tail to slim up the rearend. Also has a Hyperpro RSC Steeering damper.  Has fresh brake pads and Dunlop Q2's on it with only about a sixth of thier life used. Odometer is sitting at about 17,000 miles. last service was at 12,000 miles (Due again at 18,000). Also included are all the Specific tools you need for general up keep and a GS-911 Diagnostic tool (Bluetooth!!! Works with your iPhone or Android phone!!). I also have a set of Drop in High Compression pistons I never installed that I will include for an additional Amount. This model has the Showa Suspension. It does not have ABS. (ALL THE BETTER TO DRIVE MY DEAR!!)  There are a couple small scratches in the Paint on the body work on the tail. The windscreen has spots on it from Brake fluid. The only other thing worth mentioning is the small chips in the finish of the rear wheel (pictured in the last photo).
This particular example does not have ABS which, to my mind is probably a mark against it: most riders can benefit from that additional safety margin everywhere except the track [where it can be switched off], an environment for which this bike isn't particularly suited anyway. It's a bit too heavy, and BMW's Telelever front suspension has been lauded for its stability under braking but often criticized for a lack of front-end feel. I've only ever ridden one BMW with this suspension, a big K1300S, and the movement of the bars was weirdly light, like a sports car with overboosted power steering.
This R1200S does have a steering-damper, an aftermarket slipper-clutch, and a single-outlet Remus exhaust that looks very cool and should give the bike some much-needed aggression. BMW's twins have more of a flat drone than other sporty twins, but it's distinctive and should sound very authoritative as it goes past. 115hp is nothing to sneeze at, since it should be backed up by plenty of midrange as well.
$10,000 does sound pretty steep for one of these, but I haven't been pricing them lately. There are still a few days left on this listing, so make an offer! All-in-all, a pretty cool, unusual sportbike with all-day comfort for people who plan to do most of their riding on the road.
-tad