Warning!
This post is in our archives. Links in this post have been updated to point to similar bikes available to bid on eBay.

Paul Smart Replicas: 2006 Ducati Smart LE W/40 Miles & 1980 NCR Smart Replica

Well, are you a modern sort of guy or retro minded?  The thickness of your wallet might sway the direction you lean.     

 _______________________________________________________________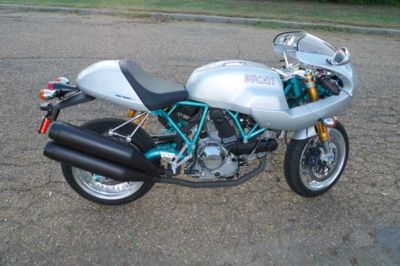 Let's start with the modern.  Another Ducati, another bike hardly ridden.  I don't know,  maybe 40 miles counts as never ridden.  Either way you have a shot at basically a brand new bike.  I wasn't too impressed with these bikes when they first came out but they have definitely grown on me.  There is one part that hasn't grown on me though.  Can you guess?  Who the hell designed that exhaust pipe?  How can a company that designed the Desmosedici design that?  Did someone call in sick the day the exhaust was supposed to hit the CAD?  I know, I know, almost everyone replaces them anyways.     
The details on this bike:    
 Bone stock, 2006 Paul Smart 1000 LE, one of a limited edition of 2000. Never dropped, dinged, or really even driven. Currently the bike has 36 miles on it, Always stored indoors, showroom condition. All the little stickers, factory registration marks, etc are intact and present. Original manuals, papers, keys. Clear title in hand, sold by original owner. Vin # ZDM1WABP36B000935
      
 If you are looking at this, then I probably don't need to tell you about this bike, Paul Smart, the racing, the limited edition. A very rare, quintessential Ducati. The sound of this bike alone is intoxicating. Throaty, low and resonant, with a sharp bite. coupled with the classic dry clutch.       
Please inquire if you are serious. No low ball offers please, I'll hold on to it if it doesn't sell for a fair price. What is a fair price? This bike listed new for 14,995 and as a limited edition, was not discounted.       
Local inspections welcome. All payments must clear before bike can be released. Cash or PayPal preferred. All other arrangements must be made in advance and vetted with me, the seller and owner of the bike. I can assist in shipping, but shipping arrangements are the responsibility of the buyer. A deposit of $500 is required within 24 hours of auction end. Fly in, drive out welcome.       
Right out of the showroom or living  room:     
 Considering the original MSRP, the lack of sales tax and the incredibly low miles on the bike I would think there would be a little interest in this bike.  Be sure to as there are more pictures of the bike available to view. 
————————————————————————————————————-   
I'll admit right now I don't know a whole lot about older Ducati's but this darn thing just oozes cool.  I bet it has the sound to match.   From the look of the photos this is a recent replica build done to a 1980 Ducati.  I'm sure most Ducati lovers have heard of NCR as they do a lot of high end Ducati builds.  I must admit defeat though, I really couldn't find any info on this particular bike so I defer to any RSBFS readers who would like to comment with more info on this bike.  I wish I had more info because this  baby isn't cheap.  $25,000 big ones if you choose the buy it now option.  I have a feeling you'd be the only one with one of these at the next Ducati gathering you attend.   
From the auction:   
 RARE 1980 DUCATI  900 SUPER SPORT ,PAUL SMART REPLICA ,BUILT BY NCR ,BEAUTIFUL TIME WARP RACE BIKE ,WITH 40MM DELLORTO CARBS ,JET COATED RISERVATO EXHAUST SYSTEM ,GEAR GAZER ,IMOLA TANK WITH SEE THRU STRIP .ALL STOCK PARTS  INCLUDING MINT COMPLETE CONTI EXHAUST SYSTEM ,STOCK TANK ,STOCK FAIRING ,STOCK DUAL SEAT ,STOCK GAUGES  WITH ALL WIRING ,BIKE RUNS INCREDIBLE ,MAY HAVE IMOLA CAMS ,I DO NOT KNOW THE RACE HISTORY OF THIS BIKE ,IT HANDELS FANTASTIC ,DRAWS CROWDS, ALL BOLTS SAFTY WIRED ,RACING VEGLIA TACH ,IMOLA LIGHTS ,GREAT BIKE TO VINTAGE RACE OR SHOW ,EASILY CONVERTED TO STOCK BUT WHO WOULD WANT TO ? WE AT BUYERS EXPENSE CAN SHIP WORLDWIDE ,THESE 900 SS DUCATIS ARE NOT GETTING CHEAPER ! THIS BIKE IS IN INCREDIBLE CONDITION AND ALL NCR PARTS ARE GENUINE ,BIKE HAS CLEAN CALIFORNIA TITLE ,BID TO WIN ,REASONABLE RESERVE ,,DONT LET THIS ONE GET AWAY !!   
And the good stuff:  
This is another one you need to check out on Ebay if for nothing more than the photo's.   .  
IK