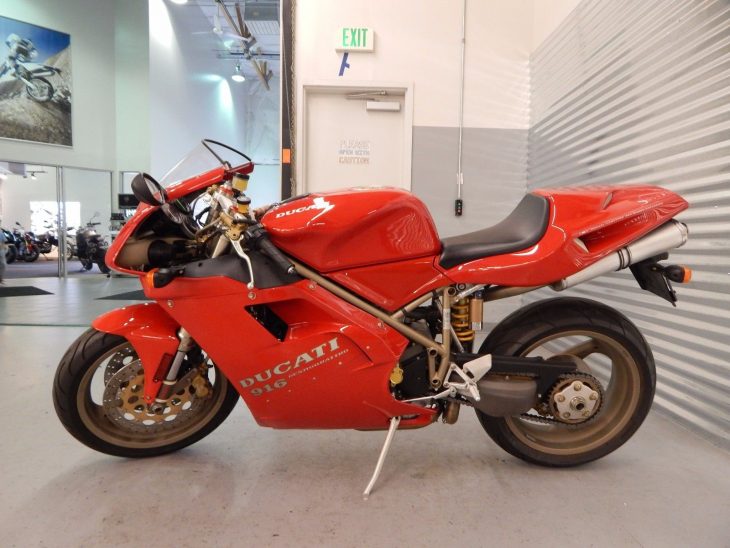 Considering it's one of the most iconic motorcycles of the modern era, prices of Ducati's 916/996/998 are almost shockingly reasonable, although there are plenty of dogs and ex-race bikes out there that should be avoided unless you're handy with a wrench or have lots of room on your credit card. There's something for everybody, from higher-mileage riders to low-mileage garage queens and everything in between. The later bikes obviously offer more performance and even better handling, but it all started here, with Ducati's 916.
Under the skin, the 916 was an evolution of Ducati's successful 851/888 machines. The skin, however, was pretty much sex on wheels, with a slim waist, underseat exhaust pipes, and a distinctive single-sided swingarm that added weight but looked trick and made for easy wheel changes for anyone endurance-racing their bike… The 114 claimed horses seem pretty modest today considering a new Yamaha R6 is supposedly packing 122, but the Bolognese Bullet produces much more torque and makes all the expected Italian exotic noises.
Today's example is one of the nicest, most original bikes you're likely to find and is claimed to have been hand-built in Varese as a result of a fire at the Bologna facility that caused production to be temporarily shifted. I've no idea if that really makes it worth all that much over a Bologna-built bike, but the fact that it's a low-mile, original machine certainly makes it one for collectors, although the asking price is steep. I happen to like the older graphics as seen here, compared to the very plain font used on the 996 and 998 that followed.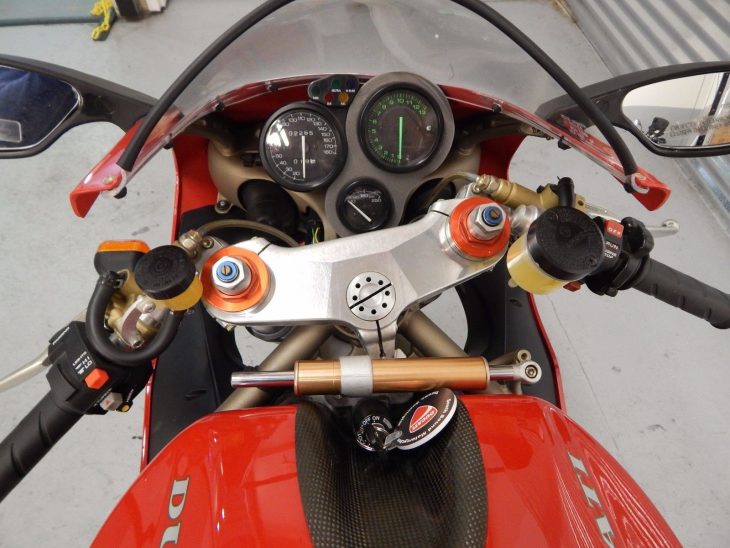 From the original eBay listing: 1995 Ducati 916 for Sale
A beautiful Ducati 916 in fantastic condition and extremely low miles. One of the closest to OE you can find. Comes with lots of extras, including carbon fiber bodywork and exhaust system. Minor imperfections include a vertical scratch on the right side of the tail (pictured) and very small scratches on the front of the lower left fairing.

Already one of the more rare and iconic Ducati motorcycles, this bike is one of the 2,663 916's to be hand built in the Varese factory due to a fire at the assembly line in Bologna. The 916 led Ducati to 4 World Superbike Championship victories in '94, '95, '96 and '98
While prices for the 916 have been relatively low for the past decade or so, that obviously can't continue indefinitely, and prices for pristine, low-mileage, or historically significant examples have been on the rise. How long will it take for values to reach the $18,590 Buy It Now this seller is asking? Hard to say, but I can bet that, at some point, folks are going to be wishing they'd picked up a nice example and put it on display in their living room…
-tad