Pop Quiz time! Say you live in the United States and want a voluptuous, import grey market bike that can't be easily found on our shores. Where do you go? Canada, of course! Just feast you eyes on this sexy NC30 – baby RC30 if you so care to call it – and wonder why these bikes couldn't be found on our side of the border. Today you might be able to find a few examples that have been imported after the fact, but the case can be made that you can do so yourself by looking up north.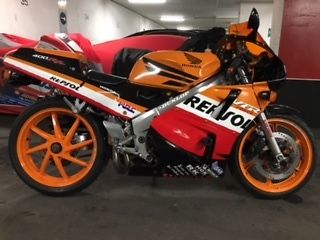 With a single sided swingarm dominating the right hand side profile, there is no doubt that the NC30 is a handsome machine. But couple good looks with a turbine-smooth V-4 engine with a noise only straight-cut, gear-driven cams can make and wrap it in one of the best frames from Honda during this era and you have a sweet handling, eager steed that can take on bikes much larger in size. Cornering speed is your friend in the smaller leagues, and the NC30 delivers.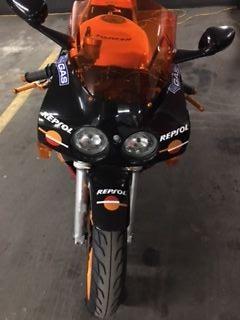 From the seller:
Super rare 1993 Honda VFR 400RR NC-30 Repsol, this is the last year made in perfect condition, never damaged, Please see pictures to answer your questions, I owned in UK and brought it here, New tires, brakes, braided lines, performance HRC Full exhaust, heated grips, Pazzo levers, chain, pinion sprocket all new, performance intake. Serious buyer please price in USD 14000km not miles. Shipping is extra and can arrange for it. Bike is selling no matter what even a min price.
This bike appears interesting in that it is indeed a rare model. Originally a UK import, this VFR400 has gone through a few updates over the years. The seller notes some performance mods, including braided steel lines, full exhaust, new levers and an upgraded intake. Looks like a rear fender delete has been performed. Not sure how I feel about the colored windscreen, but it does not appear stock to my eyes. While there are no pictures of the gauge cluster showing mileage, the seller indicates 14k in kilometers, which equates to about 8699 miles. The pictures overall are in small format and relatively low resolution, making any detail difficult to determine. Serious shoppers might want to ask more questions about detailed photographs.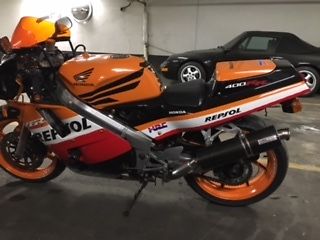 This bike is being auctioned off in a no-reserve format. The opening ask is a cool $7,500 USD – which may be a fair price for the bike. Given the details we know and the lack of crisp photos, I think the ask is a bit too high to start. If everything checks out however, then no harm, no foul; time, as always, will tell all. There are other NC30s currently listed for less, so savvy buyers might want to compare and contrast. Check it out here, and good luck!
MI